If you're feeling a certain emptiness over the weekend's graduation – over your son or daughter's passing through to another, better challenge and the change that comes with it – consider how empty it would if they didn't have something better to anticipate.
I saw it countless times over the weekend – on Facebook – the photos and messages from proud families with graduating high school seniors.
I remember it once myself, as a graduating senior, and later as the parent of a pair of graduating seniors. It was good stuff, and I confess, I know it was better for my son Matt and daughter Laynie than it was for Mindy and Sonny.
Like a lot of moms I'm reading since Sunday, Mindy took the book closing on that chapter of parenthood harder than I did. It's a maternal thing, I know. Who's going to need me now the way the kids have needed me for the past 18 years…you're thinking? It's tears and fears even while the orchestra is playing Pomp and Circumstance, the traditional graduation March.
I've had my own gloomy days over the kids leaving home and going out on their own. But I must confess, as I've shared with Mindy for a decade now…that my gloom isn't about them leaving. Rather, it's the uncertainty I had over their preparedness to make it on their own.
It's about whether I'd done my job as a dad to prepare, instruct, and show a good example of how to be a grownup – of how to handle grownup responsibilities.
Had I stressed the importance of having the kind of skills that make you desirable to hire, for instance?
Had I impressed upon them the importance of how to manage money – to save and invest?
Had I demonstrated the kind of discipline necessary to make good decisions over things to buy, and when to buy them? My own dad used to preach to buy only what you need and not to be frivolous. He'd be disappointed if he were with me today, because I have quite a bit more than what's absolutely necessary. I, like many of you, like it that way.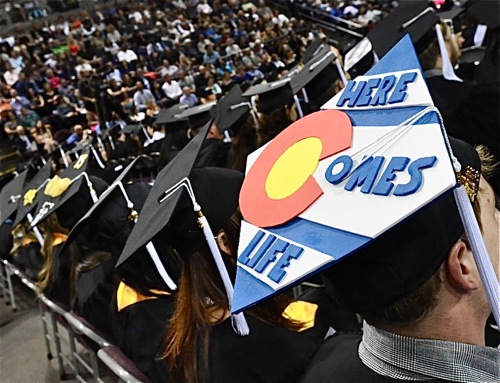 And like many of you, my kids are out on their own now and doing OK. I miss them from time to time, yes, but I glory in the fact that somehow they left my presence with the confidence, and the enterprising spirit, to seek good jobs, things they like, and have the skills and personality to make a good impression on people that matter most in the next and future chapters of their lives. I feel good about that, instead of emptiness when I look into their rooms at the top of the steps.
I feel like we've done our jobs, and done them well. And when Mindy gets gloomy about old snapshots of trips to Cedar Point and Yellowstone, I remind her of that, because you don't have to look  far to find those who haven't made such good decisions – whose futures do not portend happiness and fulfillment.  Bad choices, my dad would say, are easier to make than good ones.
I think about my own parents a lot these days, and wonder if they truly ever felt good about how my own sister and I turned out. I asked Dad more than once, and he just smiled and shrugged. They were both teachers, you see, and I think they were scared to death to consider anything for us but teaching, or something they'd never experienced or understood.
I try hard now not to be that way. Computers and technology have left me, and you, no choice. Communication and travel have shrunk the world, and perspective, to where understanding is as easy as a web page, a text, or a tweet.
I've published this website, and others, now for more than a decade. And still, I find myself being a victim of a generation that grew up with parents that were afraid of the unknown, distrustful, and cynical even in the face of contrary evidence.
My kids – your kids – are decidedly not like that. That's a good thing, regardless of what you taught them. Some things, like the next breath, just seem to come naturally.
I'm not convinced that your kids, or mine, have graduated into a better world. The headlines reminds of that face each day.
But I am convinced that they've left your house and mine for better opportunities than existed when I graduated 47 years ago. You had to know someone to get the job you really wanted back then.
Now, the onus is on that someone to get you before someone else does. Competition is a good thing – as long as you have the skills to compete.
If they don't, they soon will. Like that next breath, they have no choice but to look and see what life is going to expect from them. They have no choice but to adapt.  We always say we want our kids to have it better than us?
Well there's nothing you can do about it now. It's something, since last weekend, that they've got to figure out on their own. It's something they'll do for themselves…if you've done YOUR job.
So smile. RELAX. No one knows them better than you these last 18 years. You know if they're going to be happy and fulfilled because you've watched and listened. You've seen them compete on the field and in the classroom. You've already seen the future.  And if you like what you saw…well then, yes, you have done your job.
Magna cum laude!