The Minster offense finally awoke to support the efforts of a sophomore left-hander, and the Wildcats roared to their 7th district championship under Mike Wiss.
Coldwater – For almost two weeks, the Minster Wildcats have been looking for their offense in the opening rounds of the Division Four Tournament.
After a 5-0 win over 14th seed Waynesfield Goshen to open the post-season, Minster slipped by St Henry 1-0 and Delphos St. John's 2-0, scraping together just enough offense to support superior pitching.
Friday night's district final with Parkway started the same way, but boy, was the ending different.
Despite squandering a couple of golden scoring opportunities, the Wildcats carried a 2-0 lead into the top of the fifth at beautiful Veterans Field. Then the floodgates opened, and Minster scored 10 runs in its final two at-bats to clinch a run-rule 12-1 win in 6 innings.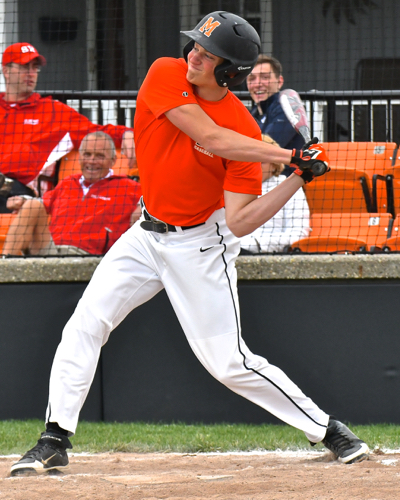 "Today we had runners on base, we forced the issue," said Minster coach Mike Wiss after winning his 7th District championship. "We hit the ball hard today, which we haven't been doing."
Minster improves to 21-7 with the win and advances to play the St Paul-New London winner Thursday at 2pm at Patrick Henry. That game is tomorrow at 11am at Galion.
The Wildcats held that 2-0 lead through 4 but it could have been a lot more. Jack Heitbrink singled home Bryce Schmiesing with the first run of the game in the second, and after Ben Stubbs drove in Isaac Schmiesing with a single in the third, the Wildcats had runners at second and third with one out, thanks to a pair of poor throws from the Panther defense. Parkway starter Clayton Agler got out of the mess, striking out Bryce Schmiesing and retiring Isaac Dorsten on an infield pop-up.
Minster had runners on the corners with two out in the fourth, but Jon Niemeyer popped out to end the inning.
Meanwhile, Heitbrink, a sophomore left-hander, was shutting down a Parkway offense that had scored 14 runs two nights earlier against Fort Recovery. Through four innings, the Panthers had two infield hits as Heitbrink threw first pitch strikes to 75% of the batters he faced.
The Panthers had their own golden opportunity in the fourth. Parkway loaded the bases with two out on an error and a pair of walks. Designated hitter Cody Kuhn then launched a high pop up down the first base line.
Heitbrink, his head up, charged toward the first base line to make the play. Kuhn, his head down, charged up the line toward first base. From the press-box, you could see the collision coming. Heitbrink didn't.
"I had no clue he was coming," Heitbrink said, able to laugh about it after the game. "I was calling for the ball and had my head up. He just drilled me. Knocked the wind out of me. I was gasping for air on the ground but after a minute it was ok."
Kuhn was called out for interference, ending the threat, and that seemed to ignite the Wildcat offense.
Alex Lehmkuhl led off the top of the fifth with a double, took third on a sacrifice by Stubbs, and scored when the Parkway shortstop dropped a pop-up for an error. Dorsten singled, Heitbrink walked, and Adam Knapke singled home a run. 4-0.
Jared Huelsman walked to force in another run, and Isaac Schmiesing was hit by a pitch to force in the fourth run of the inning.
After Parkway scored their only run in the bottom of the fifth, the first against Minster in the tournament, the Wildcats blew the game open by scoring 6 runs in the 6th. Three walks loaded the bases, one run scored on a fielders choice, another scored on an error, Isaac Schmiesing hit a sacrifice fly, and Niemeyer put an exclamation point on the evening with a line drive two run homer over the right-field fence.
"Yea, that was pretty exciting," exclaimed Niemeyer, the senior right-fielder. "It felt pretty good coming off the bat, but I didn't know if it was high enough. Then I saw the right-fielder going back and I knew it had enough to get out.
"We got off to a slow start, like 6 and 5, but the seniors got together and everyone has just gotten closer as the season has gone along. It was great to see a young guy come through on the mound tonight."
The young guy, went 5 innings and allowed 4 hits and one run. He walked three and hit a batter, while striking out two.
"I knew I had to spot my fastball," Heitbrink said, his district championship medal around his neck. "I knew first pitch curve balls were important, that was in the scouting report. We have a great defense, and I knew if I threw strikes, they would have my back.
"We are playing with a lot of confidence right now. We have great pitching and if we keep hitting the ball the way we did tonight, we'll be alright."
"Jack grew up tonight," Wiss said with a smile. "After he got run over on that pop-up, to come back the way he did, that's fun to watch as a coach. That moment when you see a kid grow up a little bit. He got a hit that scored our first run, just a big night for him."
Minster advanced with 12 runs on 10 hits and one error. The Wildcats stranded 11 runners. Parkway, which finished the season 11-12, and 1 run on 4 hits, 2 errors, and stranded 7.
"Our defense was solid again," Wiss said, adding with a laugh "But we didn't turn three double plays like the last game. No, our defense has been solid, and along with our pitching, and a couple solid hits, that's why we are where we are.
"21-7," the coach continued as he headed to the middle of the diamond to collect his own medal. "This is my 23rd year. I always tell myself if we can get to 20 wins, that's where you want to be. This is our 7th trip to regionals. I'm happy. This is a good group of kids, and we are heading to the sweet 16. It's fun."