In one of the most contested of all area games, Russia used a pair of pitchers and it took 10 stressful innings to beat the #2-ranked Lehman Cavaliers in the Division IV sectional final at Sidney.

Sidney – The comment wasn't meant as a knock on Russia Raiders' pitcher Jack Dapore. It's just that his delivery can be deceiving.
So when Dapore relieved starter Hunter Cohee – who pitched a solid 5.1 innings against the state's No. 2 ranked team – someone in the Lehman Catholic dugout wondered innocently if the Raiders were raising the white flag.
Dapore, whose barely bends his knee or even approaches his waist in the same delivery he's had since the third grade, looks as though he's throwing a batting practice session. But Wednesday was anything but that in an entertaining – if not controversial – Division IV sectional final at Sidney High School.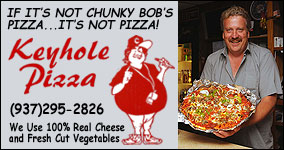 Cohee and Dapore combined to out-duel an equally impressive outing from Lehman Catholic starter Parker Riley. But in the end, the No. 2-seeded Russia earned the mild upset with a 7-4 victory in 10 innings over top-ranked Lehman.
Both teams had their chances. Russia (19-5) finally took advantage in the top of the 10th with a three-run rally.
Dylan Cordonnier belted a one-out double down the third base line. Drew Sherman followed with a rocket past shortstop that scored Cordonnier for the 5-4 lead. Lohee then singled to shallow center.
Kevin Drees hit into a fielder's choice at second base. The Cavaliers' throw to first for the double play attempt was wide and pulled Cavs' first baseman Bryce Kennedy off the bag. He fell to the ground stopping the ball but managed to swipe at Drees as he ran past. Drees was called safe. As Cavs players reacted to the call, Sherman kept running and – by the time the Cavs realized he was still going – Sherman scored to make it 6-4.
Emotions were running high from the coaches, players and fans as the umpires conferred. They stayed with the original call.
The next batter, Evan Monnier, reached on an infield single. Lehman's shortstop threw to second hoping to catch Drees off the bag, but the throw ended up in right field. Another throwing error allowed Drees to score for the 7-4 margin.
"One little thing is all it takes. A lack of concentration," Russia coach Kevin Phlipot said. "The momentum, with the play at second with all kinds of confusion, we scored one or two runs there."
Phlipot and the Raiders were just glad to be on the other side of it this time. In last year's sectional final, Russia led 6-1 going into the bottom of the fifth and lost 7-6 in the bottom of the seventh.
"We don't like talking about what happened because we are a different team, but it was in the back of our minds," Phlipot said.
Russia led 2-0 after two innings as Sherman scored on a passed ball and Trenton Monnin put down a sacrifice bunt.
Lehman (23-4) scored in the fourth when Dylan Arnold reached on a fielder's choice, stole second, stole third and went home on a wild pitch. They took the lead 3-2 in the fifth on Riley's two-run single with two outs.
Cohee's 320-foot homer to left put Russia back on top 4-3 in the sixth. The Cavs tied it 4-4 in the bottom half on R.J. Bertini's pinch-hit single.
It stayed that way until the 10th.
"We've had our share (of opportunities)," Lehman coach Dave King said. "That was a great game. Anyone could have won it and (Russia was) good enough today to win it. Wow, it was a heck of a high school game to be part of."
Cohee pitched 5.1 innings and allowed four hits. He struck out five, walked two and hit three batters. Dapore relieved him in the sixth after Bertini's single. Dapore went the final 4.2 innings allowing two hits, striking out seven and hitting one batter.
"I have to give Dapore credit. He did a heck of a job," King said. "The ball was moving pretty good and we had trouble hitting it."
Lehman had three base runners the final three innings and stranded the go-ahead run on second in the ninth inning.

"That's Jack. He can come and throw smoke," Phlipot said. "He'll throw the ball by a lot of guys. This isn't the first team he's beaten with just fastballs. … He's a basketball guy. He's raw. He's still learning and he just goes out and throws. He's outstanding.
"He's kind of been the second pitcher going against lower-tier teams. For the most part he hasn't faced the toughest competition. Now, he stepped up when he needed to."
Dapore said he's never had his fastball clocked so he isn't sure how fast he throws. As long as it gets to the catcher's mitt it's fast enough.
"The fastball gets them sometimes," said Dapore, who took a no-hitter into the seventh inning of Russia's 9-1 win against Covington on May 10. "I can work in the curve ball and come back with the fastball. When they do hit it I've got confidence in my defense."
The Raiders' defense helped strand eight Cavaliers on the bases Wednesday. And despite falling behind in the fifth inning the Raiders were never shaken.
"We've come back in games all year. … We're always confident. We have faith in our team," Cohee said. "This was huge. There's a lot of momentum now heading into Friday."
Next up for Russia is Newton 5 p.m. Friday at Springboro High School. Newton eliminated Troy Christian 8-1 on Wednesday.
"You can't ever get too high and get too down," Dapore said of the Raiders' approach. "Just stay calm and work your way through it. … Whether it's number one in the state or the last team in the state you have to come out to play."
As for Lehman Catholic's Riley, he allowed 13 hits and struck out 11 in a gutsy performance. He entered the 10th inning throwing 105 pitches. The loss was his first in two seasons after going 13-0 last year and 9-1 this season.
"Parker Riley, he was at his last there," King said. "It was his to win or lose. … The kid won 22 high school games in a row. Nothing flashy, just keeps the ball down. He moves the ball in and out. Every game he pitches he keeps us in the game.
"We had a heck of a season. We've had some quality opponents. For people to say we don't play a good schedule, we play baseball. We respect everybody. We took them to 10 innings and they were the best in the Shelby County League."