They put the wraps on their 2017 season this weekend, with perhaps more questions than answers going forward. But no individual in the media has seen them more this spring than I have, and I'll share some views pertaining to a frustrating season and the contributing issues that will soon take care of themselves.
If I've been asked once I've been asked a hundred times this spring.
"Why have you devoted so much time and coverage to Ohio State baseball, a team that's struggled to this point to win 20 games?"
And…"why not devote more time and space to local high schools, baseball, softball…and track and field?"
Well, there's any number of answers for that.
Rhetorically, you could simply say…that's baseball. What goes around comes around. Just eleven months ago they were Big Ten champs and playing in the NCAA tournament.
Realistically, you could say that showing up to write about the Ohio State brand of anything never hurt anyone. And the online stats show that more than a half million people across the state have read about them on Press Pros since mid-February. So there IS interest.
Pragmatically, you could make the point that anything good starts out as a work in progress; and college baseball is the best example of a perpetual work in progress than I can name. Graduation and the major league draft sees to that.
And of course…Press Pros is a business. And if you think of it in those terms you'll notice that there are companies interested in lending their own profile to Buckeyes baseball in respect to better days ahead, standings-wise, and for their own bottom line.
But to the point about Buckeye baseball…what goes around comes around, indeed. It's true that this time last year they peaked at just the right time, swept through the Big Ten Tournament, and shocked college baseball with their sudden emergence.
Or was it sudden?
They were talented – more talented than anyone guessed. Six players off that team would ultimately be selected in the June MLB draft and sign – Tanner Tully, Ronnie Dawkins, Nick Sergakis, Mike Horejsei, Jacob Bosiokovic, and Troy Montgomery. And in addition, there were some 17 seniors in the program that graduated and left, and some significant ones at that – Troy Kuhn (second base), Craig Nennig (shortstop), and John Havird (starting pitcher).
It left Greg Beals in the familiar college quandary of finding replacements, through recruiting and the JUCO pipeline, who could come in and make an immediate impact. Think of it in terms of the biggest challenge, and change, in the lives of freshmen Dominic Canzone, Conner Pohl, Noah West, and transfers Noah McGowan, Tyler Cowles, and Bo Coolen.
And think, too, in terms of former pitcher Shea Murray, coming back for his senior season as an outfielder, because he was an athlete who had pop in his bat and believed he could contribute…when a contribution was needed most!
Think of it historically, as well. Teams that have peaked like OSU did in 2016, teams that won the Big Ten league title or tournament, have nearly always suffered a slide the following year. Illinois won 35 in a row two years ago and were the talk of the country.  This year they sit one spot ahead of Ohio State.  Only in the rarest of occasions have you seen programs sustain such success in succeeding seasons. If they have the players to do it with, they end up being drafted and they sign after their junior seasons…or their 21st birthday.
So it brings us to my making a bold conclusion about what we see now, as opposed to what we'll see in the 2018, and beyond.
This is a more talented group in 2017 than many recognize. Sure, it's easy to look at Dominic Canzone's .350 batting average as a freshman and project great things for him.
But Noah West has played out of position for much of the season at second base. Recruited out of high school as a natural shortstop, it's easy to see him taking over for Jalen Washington next year.
Conner Pohl came as a preferred walk-on, worked his way onto the field, and has steadily improved with playing time. It's still to be determined where he plays, but his batting average has climbed to .300 presently, and he's been anything but intimidated while facing older, more experienced Big Ten pitchers.
Sophomore catcher Jacob Barnwell was a defensive upgrade at the beginning of the year, and for the first six weeks of the season hovered at the .300 mark, offensively. He's dropped back some since, but through last weekend was still hitting above .260.
Another sophomore, Brady Cherry, has made a long journey from being benched last year to his current .250 average, 4 home runs, and 23 RBIs. Strikeouts are still his nemesis (they've been a team-wide nemesis), but he's shown signs that he'll complete his time as a Buckeyes as a dependable bat in the middle of the order…and a dependable corner infielder.
Tre' Gantt will be eligible to return in center field next year as a senior, and will bring back defense and the .300 batting average he's accumulated through the 50 games of the 2017 season.
If you chart all this out (and they've been doing that for a couple of weeks), it portends to a very strong unit up the middle – catcher, shortstop, second base and center field – with plenty of competition in fall baseball from new recruits and returning lettermen to fortify a  competitive step towards next season.
There was no way that Beals could have foretold the injuries that have taken a toll on his pitching staff – Adam Niemeyer (elbow), Kyle Michalik (ankle), Yianni Pavlopoulos (hamstring), and Jake Post (struck with a line drive at Michigan State) – or that sophomore Ryan Feltner would have struggled to harness his 94 mph fastball the way he has.
But if there's a blessing in it consider the emergence and experience gained by Connor Curlis (sophomore), Jake Vance (freshman), Thomas Waning (sophomore), and Reece Calvert (transfer). Seth Kinker, the Mr. Do Everything of this staff, is draft eligible this June, but if he returns in 2018 he would be the notable complement to an experienced staff that's going to get better through the addition of recruiting and those not quite ready this year, like Gavin Lyon.
The point is…there are good enough arms returning, and more good arms on the way. And health is a factor you can never foresee.
Personally, I would have loved the opportunity to play for Greg Beals as a college baseball player. He's highly introspective, committed, and respected across the landscape of Big Ten baseball.
There's a discipline about him that I admire, and one that players notice and respect, whether they appreciate it now or not. Frustrating as this 2017 season has been, he's seen it before, and he's seen others. He's probably seen worse. It's a very important element to success in college baseball to have patience, while recognizing if one has the true skills worth the time and effort to develop, or refine…and Beals has that, I'm convinced.
There's no way short of Heaven and Earth trading places that the Buckeyes are going to make this year's Big Ten Tournament, but if you ask Beals after this week's season finale he'll tell you…he's hardly ready to throw the baby out with the bath water.

And neither am I. These are his guys, the ones Beals has recruited, and he's confident in what he sees for the future. He's fond of talking about the culture of Buckeye baseball, and its blueprint for success, and here's what I expect to see between now and next September.
You'll see Canzone, West, Barnwell, Cherry, Pohl, Curlis, Gantt and others spend a enlightening summer in a good collegiate league. You'll see the them sift through this 2017 season, and put it into perspective. With the stress of losing baseball behind them, they'll relax, the game will slow down and each at bat will take on a different, formative significance.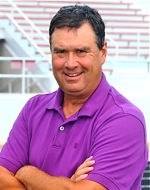 With perspective they'll absorb confidence, and see their talent comparatively with players from other top schools. They'll build on the fact of knowing…that if they weren't good enough they wouldn't be there.
Most important, they're going to see and hear from other players across America that have gone through their own season of '17 – with the same obstacles that hobbled the Buckeyes. They'll process that, file it for future reference, and be determined come fall baseball to overcome the mental hurdles that have marked this season. Mark my word on that…because this is a proud 'culture' of baseball.  Once you've tasted the reward of being a champion you develop an appetite for it.
I once heard a director of player development in the minor leagues make the statement, "All it takes is the tincture of time."
What he meant was: Don't throw out the baby…with the bath water.