Thwarted by what coach Greg Beals cites as a fear of failure, the Buckeyes continued in their error of their ways, losing in their series opener with Iowa.
IOWA CITY—It was more of the same for the Ohio State Buckeyes Friday night. They lost, 9-5, to the Iowa Hawkeyes, falling further behind in the Big Ten race.
Once again, they were—in part—the victim of self-inflicted wounds, hurting themselves as much as they were hurt by the Hawkeyes (30-17, 12-7).
The same mistakes emerge, game after game. As a result, OSU stands 19-31, overall, and 6-13 in the Big Ten.
Following the loss, Coach Greg Beals considered what he had just seen. In many ways it was a re-run.
"Base running mistakes that took us out of scoring opportunities…We had three errors tonight. All three errors contributed to runs…Strikeouts (10)…We're still not getting that clutch hit, stringing hits together…They get nine runs on 15 hits. We get 12 hits, five runs…We're overly aggressive, at times, in the outfield…"
There were matters he didn't mention, but all of it begs the question:
After 50 games and despite the fact the season began with 17 newcomers and five new position players, shouldn't this team be past the point where so many of the same mistakes occur so often and prove so costly?
"Yeah, you would think we would be beyond this at this point in the season, and we should be," Beals said. "But I think what's happening with our ballclub is that (the mistakes and failures) are building instead of getting better."
In other words, the desire to be better, to perform more efficiently, is creating tensions and anxieties that lead to more mistakes and a lesser caliber of play.
"It's compounding," Beals said. "We're playing with the fear of failure instead of just trying to win, putting ourselves in a position to win."
A perfect example occurred in the fourth inning, the game tied 1-1. Dominic Canzone singled to right to open the inning and took second on Brady Cherry's single to center. Canzone, the team's leading hitter and emerging leader, had to hold at second. But with Bo Coolen at the plate and no outs, Canzone attempted to get a big jump and was picked off, 2-to-6.
Coolen went down swinging, but Jacob Barnwell followed with a single past third base which forced Cherry to hold at second. The next hitter, Conner Pohl, went down swinging.
The inning line: no runs, three hits, no errors – two men left on base.

That's a line no one wants to see in their scorebook. Yet, it was the kind of play that typifies OSU's play during the meat of this season. Canzone was doing his best to make something happen, and it backfired.
"Yes, you want to be aggressive," Beals said. "You need to be aggressive…But you have to bounce back (to the base) in that situation. You can't get picked off by the catcher."
There have been and are signs of growth. Some were present Friday night.
"We did have 12 hits today," Beals said. "We rolled up three double plays and we weren't turning double plays at all earlier in the year…In the seventh inning (Iowa leading, 6-2) we get the bases loaded (with two outs) and Brady Cherry hits one to the base of the fence in left. We're two feet away from a tie ballgame.
"It sounds good," Beals continued, "but it wasn't. It didn't happen. We were short again."
He's talked about it. He's thought about it. The lights have stayed on late in his office at Bill Davis Stadium and his den at home. As time runs out on this season, what is the solution? Is it a solution that will be reached in 2018, probably so, but for now, what?
"We just need to keep playing, working on the fundamentals, the process stuff," Beals said. "That's all we can stick to as a ballclub, just trying to get better at the basic stuff and not try to do too much so much of the time."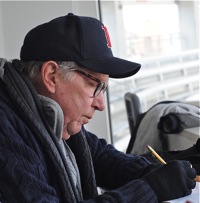 Over the next two days, Beals is confronted with an Iowa club he referred to as "very solid."
Three of their nine runs came after two were out. Five consecutive hitters reached in their three run fifth. In the sixth, seventh and eighth innings, they did what tested clubs do. They scored four runs on eight hits with the help of two OSU errors.
The Hawkeyes entered the ninth with a comfortable 9-2 lead. Shea Murray singled to open the Buckeye ninth and one out later Tre' Gantt drew a walk.
Jalen Washington belted a three-run homer to left to make it 9-5, but Ohio State could do no more.
Saturday Connor Curliss (3-3, 4.53) starts for the Bucks. Ryan Erickson (2-2, 2.70) goes for the Hawkeyes. Game time is 3:05 Eastern.