Jack Dapore came within two outs of a no-hitter, and Russia's offense 'ran' in high gear, knocking Covington from the Division IV sectional tournament.
Russia – In all of sport there's no more dramatic achievement than the 'no-hitter' in baseball.
And coupled with the drama of a 'one-and-done' single elimination of the state tournament chase…it's about all you can ask for in a mismatched first-round game.
Russia's Jack Dapore experienced both on Wednesday afternoon as the Raiders' junior came within two outs in the top of the seventh inning of tossing at no-no at the Covington Buccaneers (4-17), ultimately settling for a 1-hitter and 9-1 win.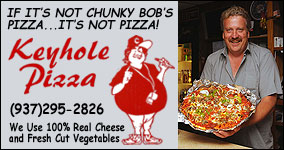 Dapore was, in a word, dominant, striking out nine of the first ten batters he faced.  The only Covington batter to reach base off him the first time through the batter order came as a result of a strikeout and a passed ball, allowing the hitter to reach first base.
By the end of his day – Dapore was replaced on the mound one out deep in the seventh – he had struck out 13, walked 2, hit a batter,   and allowed just the one hit…a single in the top of the seventh by Covington first baseman/pitcher, Kenny Atkinson.
"We knew what was going on,"  said Atkinson.  "But I would have rather won the game than break up a no-hitter."
Dapore was somewhat of a surprise starter, but a calculated one by coach Kevin Phlipot.  Facing Fort Loramie on Thursday afternoon with the Shelby County League title on the line, Phlipot decided to hold back his #1 starter, Hunter Cohee, to pitch against Bill Sturwold's Redskins.
"We weren't pitching 'off',"  said Phlipot, in response to the obvious question.  "We had scouted Covington and I had confidence that Jack would come out and throw strikes, throw the breaking ball, and pitch well.  He's already had some outings like he had tonight.  We were concerned about facing their starter (Nathan Blei), because when he's on he can shut teams down.  It was a calculated risk on my part, but we took the chance and it turned out fine."
Of course it did not turn out fine for Blei, who gave up six runs on four hits in the first two innings (five in the second).  Normally a control pitcher, he went to the mound without his usual command, walking one, hitting two, while giving up a pair of singles, a double and a triple in the five-run second.
But staked to that early six-run lead, Dapore, who's a prominent starter on the Raider basketball team, simply cruised, retiring the side in the first, third, fourth, and fifth innings before walking his first hitter to lead off the sixth. In the meantime his offense was running wild at the expense of Covington pitchers Blei and Atkinson, who took over for Blei in the third inning…and catcher Mason Dilley.  The Raiders took advantage of every runner they got on base, stealing nine times, seven of the nine coming without as much as a throw.
Dapore led off the seventh by walking Blei, just the third man to reach base.  He then struck out catcher Mason Dilley for the first out before facing Atkinson.  Atkinson hit a sharp one-hopper back through the box that Dapore got a glove on…just enough to deflect it off line from a waiting infielder.  The ball squirted into center field, the no-hitter was history, and Kevin Phlipot was on his way to the mound to make a pitching change.
He promptly took out Dapore for third baseman Kevin Drees, who induced Tristin Francis to pop out to center field…and struck out Davin McReynolds for the game's final out.
You know basketball's the big sport at Russia, the Raiders having appeared frequently over the years in the district and regional round of the tournament.  But on a day when he came so close to doing what so few can claim to have done, Dapore made the boldest of confessions.
What's better, he was asked…scoring 20 points in basketball, or pitching a no-hitter in the baseball tournament?
"Pitching a no-hitter,"  he said without hesitation.  "There was a lot of pressure today because it was the tournament and you want to win as long as you can for the seniors on the team.  But I was prepared because I've known for a couple of days that I would be pitching.  This was fun because each game gets bigger from now on for the next two weeks, starting tomorrow."
Which is exactly what Kevin Phlipot told his team prior to this week's schedule and start of the tournament.
"Loramie's very important tomorrow because of the league, but I told them that the next 10 days are going to be a lot of fun,"  said Phlipot.  "Each game gets bigger as you go.  You want to win as many as you can because you're going to remember them for the rest of your life."

Which makes what Jack Dapore almost did all the more significant.  He came within two outs of doing what former Raider Nolan Francis did just two years ago when he no-hit rival Loramie in the same sectional tournament.  Trust it, if you ask him Francis can tell you about every pitch and every out in that game.
So yeah,  you better bet Dapore will remember Wednesday.
The game, the score…and Kenny Atkinson!