The Buckeyes used a 6-run inning in Saturday's suspended game to beat Nebraska, but for lack of imitating that effort in game two they split their double-header with the Cornhuskers.
Columbus – They say all's well that ends well.
They say that necessity is the mother of invention.
They say that good pitching beats good hitting.
And, they say that imitation is the sincerest form of flattery.  They say a lot of things about baseball.
Well, those things said, on a day that saw the Buckeye Diamond Club welcome back and throw a party for the last Ohio State team to appear in the College World Series (the 1967 team), the present-day Buckeyes turned their necessity for a win into a 6-run fifth inning in the suspended game from Friday night…and lefthander Connor Curlis made an 8-5 lead stand for an eventual 9-7 Ohio State win over the 24-16 Cornhuskers.
Trailing 5-2 as the game resumed with the Buckeyes batting in fourth, they came to the bat in the fifth and opened the inning with a groundout by Jacob Barnwell.  But then freshman second baseman Conner Pohl continued his hot streak at the plate with a line single off Husker reliever Matt Waldron.    Shea Murray flaired another single into right field.  DH Andrew Fishel then reached on a fielder's choice, leaving runners at first and third with two out.  Then…it got really good for the Buckeyes.
Jalen Washington singled to right field to score Pohl (5-3).  Then, the other freshman meteorite, Dominic Canzone, hit a laser shot double to right center field to score Washington, Gantt, and Fishel.  Suddenly the score was 6-5 and the Buckeyes weren't done.
Brady Cherry, who would end the game with two hits and three RBIs, doubled to right field, scoring Canzone (7-5).  Bo Coolen singled to score Cherry. By the time the third out was recorded on a fielder's choice, the Buckeyes had scored six times, prompting first base coach Chris Holick to add, "That hasn't happened very often."
Well, imitation, you know, and that '67 team that sat in the stands watching was known for its ability to put crooked numbers on the scoreboard.
They gave one back to the Huskers in the top of the sixth, but answered in their half of the inning when Jalen Washington tripled to center field and scored on Brady Cherry's RBI single.  Curlis, who was credited the win (3-2), then watched as Seth Kinker provided some drama in the top of the ninth.
Nebraska scored once off Kinker, and had the winning runs on first and third with two out when the Buckeyes' closer got the final out on a strikeout.
One would have hoped that some offensive momentum would have carried over, but the regularly scheduled game turned out to the a pitchers' duel for the first five innings – OSU's Jake Post vs. Nebraska's Derek Burkamper.  Both threw zeros through five before Nebraska broke through for three runs in the top of the sixth on a pair of singles, a walk, a wild pitch, and a double to left center by Nebraska's Luis Alvarado.
"It was a catapault for game one,"  said Greg Beals later, speaking of the the six-run fifth in the first game.  "You know hitting is contagious, and it's contagious both ways.  But we need to do a better job of having someone be the one that passes the contagious part down the line."

Ohio State did get on the board with a single run in the bottom of the seventh, courtesy of a Shea Murray single, a walk to Andrew Fishel, and an RBI single by Jalen Washington.  But Dominic Canzone then struck out…and Brady Cherry bounced out to the pitcher on the first pitch he saw from sophomore reliever Robbie Palkert, who features a nasty changeup.  Good pitching beat the good-hitting Canzone (hitting .343), and Cherry, whose recent surge has seen his average climb to .246.
Palkert was no fluke.  He ran through the Coolen, Barnwell, and Conner Pohl in the bottom of the eighth…on a popup, a strikeout, and a fly ball to center.
And closer Chad Luensmann was just as formidable, closing out Shea Murray in the bottom of the ninth with a strikeout, Tyler Cowles then had an infield single…but Tre' Gantt hit the first pitch he saw for a game-ending 4-6-3 double play.
"The difference in game two was their ability to get a two-out hit (double) and we didn't,"  added Beals.  "Last year when we won 40 games we could have passed that off as losing in a good baseball game.  This year we're at a point in the season where we can't afford that.  We need to find a way to get that big two-out hit.  Had we done that we could have had a better day with a victory in game two."
Bright spots?
Connor Curlis was as good as he could have possibly been in his four innings of relief work in game one.
And Jake Post, coming back from the scary accident at Michigan State where he took a line drive off his ear, was dominant into the sixth inning of game two.
"I thought everyone pitched well for us today, starting with Connor.  He allowed our offense to take the lead and then gave the ball to Seth (Kinker) in the ninth to close it.  And Jake was really good into the sixth.  Then things got a little loose.  I did think he made some good pitches in the sixth inning, but he didn't get rewarded for them, and that happens in baseball.  They got the one big hit that cleared the bases.  The bullpen guys, Stoll and Michalik did their thing – it was a pretty good day for everyone because they gave us a chance."
The split took the shine off some good individual performances.
Shea Murray, getting time in left field Saturday, went 2 for 4 in both games.
"You would have thought the big inning in the first game would have kick-started us,"  said Murray in the post-game interview room.  "But in the second game we hit it around, and hit some balls hard, but we just didn't get the big two-out hit that we needed.  I don't think we hit as poorly in the second game as the scoreboard looked (1 run on 9 hits)."
And freshman Conner Pohl continued his steady play at second base, and had another strong day at the plate, getting a hit in both games while hitting the ball hard in other at bats…that were right at a Nebraska outfielder.
"It's definitely more fun now that I'm playing more,"  said the Arcanum, Ohio native.  "I'm getting more at bats and more reps in the field.  I haven't played a whole lot at second base, but I'm getting more comfortable with the position.  I'm a lot more comfortable at the plate now because I had limited at bats early in the year.  But the more you play the more you get in your stride and the better you see the ball.  The more you play the more you get used to college pitching."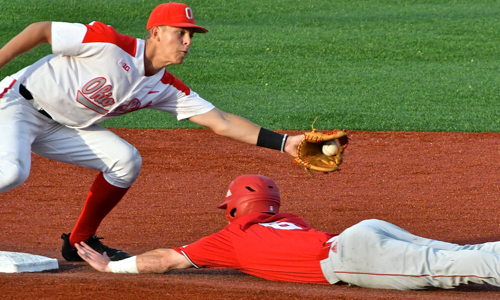 And well…all's well when it does end well.  And to a man in scarlet and gray Saturday they admitted that it would have been a much better ending if they had indeed gotten that big two-out hit somewhere along the way in the second game.
And, if there had been more imitation of the six-run fifth that vaulted them past Friday night's deficit and past the 'Huskers to win game one – what Greg Beals called 'contagious'.
They do say that good pitching beats good hitting, and Nebraska certainly got that in game two;  while Jake Post, Kyle Michalik, Joe Stoll and Thomas Waning were good enough themselves to give the Buckeyes a chance.

But above all else…they talk about another game tomorrow in baseball, which is exactly what Beals and the Bucks are pointing toward, a win that would give them a badly needed series win over a very good Nebraska team, sitting at 25-16-1.
These are the things they say, but the time's well past the talking stage now.  They still have a shot at the Big Ten tourney.
They'd like to – if they could – imitate last year!