"Mays was great," Joe Nuxhall once said. "And (Orlando) Cepeda could hurt you, too. But when McCovey came to the plate, Gawd, how you hated to see him stepping in with that bat in his hands." 
Ed. Note:  One of the most frequently asked questions on Press Pros is about Greg Hoard's reminiscinces about the iconic names from major league baseball growing up…Musical, Mays, Maris, and Vin Scully, he's done 'em all, including today's encore on one of baseball most over-looked sluggers – the Giants' other Willie, Willie McCovey.
CINCINNATI—The first time I saw him in person he was an afterthought. It was 1963. I was sitting in the Moon Deck at Crosley Field. It was a cool night in early summer and, like a lot of other kids, I was there to see the great Willie Mays. Everything else was gravy.
We were all the same. Black kids. White kids. We wore white t-shirts and blue jeans. The lucky ones among us wore Converse All-Stars. I was nearly lucky. I had a pair of blue Keds.
Before the game we chased around slapping and tagging and arguing about who was better? Was Frank Robinson better than Orlando Cepeda? Was Juan Marichal better than Jim Maloney? Yeah, we all loved Vada Pinson, but Vada was no Willie Mays. No one was Willie, and then one kid said, "Micky Mantle," and then there was a scuffle and two security guards appeared, big and stern with voices like grizzly bears.
"Settle down, boys," one said. "If you don't, we'll throw your butts outta here."
Back then, when an adult said something, you listened. Back then, an adult's threat meant something. A hard hand wasn't far behind, and most of us knew all too well about hard hands, switches and belts, and given that experience we weren't about to risk the chance of seeing our heroes.
So we cued up like alter boys and watched the game, all of us hoping that Willie – the greatest of all – would do something wondrous. He didn't. He drew a couple of walks. He stole a base and scored on an infield hit. That night, Willie Mays was just another ballplayer.
But that night, another player grabbed our imagination. He was big and tall and loomed over the plate. That night he hit a double off the scoreboard in left field at Crosley, and later he hit a ball that soared into the night, over our heads in the right field bleachers. We ran to the top rail of the stands.
"Where did it land?"
None of us knew.
One kid said it landed in the parking lot. Another said it hit a truck on I-75.
Still another swore that it cleared the highway. We were delirious. Who was this guy?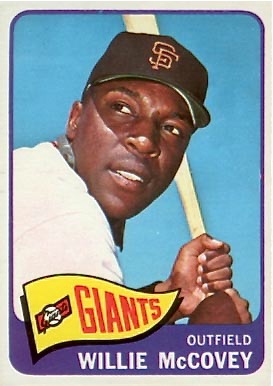 He trotted around the bases with grace, as the Reds pitcher drooped on the mound. "Who was that guy? Who the hell hit that ball?" We were a curious chorus making our way back down those metal bleachers. "Who could do that? What was his name?"
As we clattered back to our seats, still jabbering and wondering, two men in suits, one smoking a pipe, turned and said, "McCovey, Willie McCovey. They call him 'Stretch'. Now, settle down boys. Take a seat. I mean it."
We took a seat.
We asked about McCovey. Was he better than Mays? The man with the pipe, said, "Different." He told us this McCovey would be great, but a different kind of player.
We didn't understand. "Study up, boys," he said. "There's new ones coming. Now sit down and watch the game."
We sat down and watched the game. Not much else happened. It seemed this man, McCovey, had, on this night, broken the Reds' spirit.
Some of us walked home. Some of us took busses. The most favored, those with the best sneakers, rode home with dads and uncles, but we all left Crosley knowing there was more than Mays. There was this man, McCovey.
What was it the man with the pipe had called him? "Stretch," he said. "That's what they call him 'cause he's so big, so strong."
Though the memories of our youth are often susceptible to embellishment, I still believe that home run was the longest and most impressive I ever witnessed. That one stopped traffic.
Years later, when I was under the tutelage of Hall of Fame baseball writer Earl Lawson, he collared me and said we were going to the ballpark early. "There are some people I want you to meet," he said.
The Giants were in town so I assumed he meant Jack Clark, Darrell Evans, Vida Blue or "The Count," John Montefusco, San Francisco's headliners of the day. When we had arrived at Riverfront Stadium and stowed our gear, Earl said there were two people he wanted me to meet.
"Dave Bristol," he said, "and Willie McCovey. Bristol is one of the best baseball minds in the game. He was partially responsible for building the team Sparky (Anderson) inherited and took to the playoffs. And McCovey, well, he's McCovey. On his way to the Hall of Fame."
I told Earl about the night I saw McCovey hit the home run out of Crosley Field. He just smiled. "He did that a lot and in a lot of ballparks," Earl said. "You know what Bob Gibson said about him. He called him 'the scariest hitter in baseball.' That's coming from the most feared pitcher in the game."
Bristol had a voice like a Carolina breeze. He almost seemed to whisper. He and Earl were clearly good friends and had shared many miles. We talked for the better part of a half-hour. When we made our way from his office, he shook my hand and said, "Any friend of Earl's is a friend of mine." And, over the years, he stayed true to his word.
We left Bristol's office and walked into the visitor's clubhouse. The players milled about readying themselves for batting practice.  There was a nervous energy about the place, but there was McCovey seated at his locker stall, one hand resting on two bats and the other holding a large cup of coffee, braced with heavy cream and lots of sugar.
As we approached, he smiled at Earl. "Well, hello 'Poison Pen'. How we doin'?"
They shared a laugh and then Earl introduced me to McCovey. When we shook hands, it felt like his hand would extend to a normal guy's elbow. He was kind and soft-spoken, all the while tolerating the empty energy in the clubhouse.
After a while, I told him about that night at Crosley and the home run ball that traveled toward I-75. He only smiled. He sipped his coffee and said, "I'm afraid there's not many more of those left in me."
Earl just laughed. "Sure there is. Besides, how many do you need, 'Stretch'? How many do you want?"
McCovey smiled. "A few more would be nice," he said.
McCovey was a gentleman standing at the brink of a glorious career's end. He wasn't happy. He wasn't sad. He was a man facing the realities of age, but in that moment I wished I had met him year's before when his very presence at the plate sent shivers through opponents.
"Mays was great," Joe Nuxhall once said, "and (Orlando) Cepeda could hurt you, too. But when McCovey came to the plate, Gawd, how you hated to see him stepping in with that bat in his hands."
When I met McCovey, it was 1980, his final season. That year, he made just 132 plate appearances. He hit one home run, the 521st of his career. He played his last game on July 6th, 1980.
His last home run did not stop traffic, but in a 21-year career he left an indelible impression – and memories across the land, young boys and grown men looking into the night sky, tracing the flight of a marvelous missile.
This was the man, McCovey.