Duane Leugers, state winning quarterback turned strike-throwing pitcher, was dominant start to finish, and Marion Local used a pair of unearned runs to grab a rare win over Versailles.
Versailles—The Marion Local Flyers arrived in Versailles Tuesday afternoon looking for a signature win under second year head coach Casey Witt.
Behind a soft-throwing righthander, who also was the quarterback on the Flyers state champions last fall, they got exactly that.
Senior Duane Leugers handcuffed the Versailles offense on three hits, and his mates pushed across a pair of unearned runs in the 6th for a 2-0 win. Marion improved to 8-9 with the win, while the Tigers fell to 10-3-1. Both teams are now 1-2 in the wide-open MAC race.
That's a terrific win for us," said a smiling Witt outside the Flyers dugout. "Especially with the way Duane pitched. We rewarded him the right way with a win."
"There are days when we score 13 to 15 runs, and other days when we can't get on base," said a disappointed Tigers coach Ryan Schlater. "We had a couple of hard-hit balls early, and our pitcher was throwing well, and you figure some of those will fall in later on. Didn't happen today."
Versailles right-hander Jacob Heitkamp matched Leugers zero for zero through five innings. After two routine outs in the top of the 6th, disaster struck for the Tigers.
Heitkamp induced a routine ground ball to short from Ryan Thobe, but Austin Knapke failed to make the play for an error. Nate Moeller followed with a single, moving Thobe to third, and Jon Schmitz singled to plate the first run of the game. Trent Bohman then doubled to center to make it 2-0.
That rally changed what had been a frustrating afternoon for the Flyers offense. Marion left 2 runners on in the first, a runner at second in the second, Thobe was thrown out at home in the fourth trying to score from first on Moeller's double, and another runner was thrown out at third to end the 6th.
The chances were few and far between for the Tigers. A third inning threat ended when Thobe made a perfect throw from center to wipe out Kyle Subler at the plate. Subler was attempting to score on a hit by Kurtis Rutschilling, but was out by a good margin.
"Big, big play," enthused Witt. "Ryan Thobe is one of the best center-fielders I have ever seen, and that play kept some momentum on our side. Key play in the game, no question."
"We had a chance there in the third," Subler explained. "Their guy made a near-perfect throw to get our guy at the plate. You have to take that chance, especially in a low-scoring game. If we get that run there, maybe it's a different ballgame.
"We just didn't string good at-bats together. We have to do a better job of extending innings, getting on base any way we can. Give Leugers a lot of credit. He threw strikes, and was around the plate all day. He made it tough to get anything going."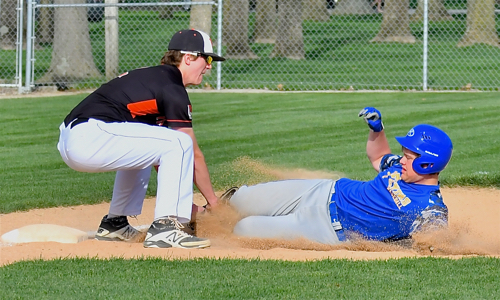 The Tigers only other threat came in the bottom of the 7th. Noah Richard walked on a full count pitch, the only walk Leugers issued all day. Cole Niekamp then drilled a drive between the legs of third baseman Jared Bergman to put two on with none out, and bring Witt out for a quick visit on the mound.
Leugers was up to the challenge. Issac Ruhenkamp flied to left, and Leugers 93rd pitch of the game resulted in a one-hopper back to the mound that the Flyers turned into a game-ending double play.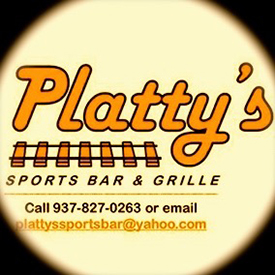 "I just try to work quick and throw strikes," Leugers said before boarding the bus home. "I don't throw very hard, so I just try to pound the strike zone and let my defense make plays behind me."
The Numbers: Marion Local 2 runs, 9 hits and 2 errors, while the Tigers had 0 runs, 3 hits and an error. The Flyers stranded 7 and the Tigers left just 4 on base.
Schlater, is his fourth season as Tigers had coach was happy with Heitkamps' performance.
"We talked about that after the game. He gave up two runs, and usually that's enough to win. It just goes back to the offense. We pitched well enough, our defense was good enough, we just didn't hit."
Leugers said having success on the baseball field matters to him and his teammates.
"It really does mean a lot. Marion Local baseball is working its way up. Every win means a lot to us. We have 6 seniors and we want to have a winning season and this win means a lot to us. We have had a lot of close games and haven't been able to finish, and hopefully this will be a sign that things are changing."
This is a great win for our program," Witt agreed. "Versailles is a great team with a great tradition, and you know you have to play well to beat them. This is a standout win, and if we can string some wins together, we can point at this game as a turning point"
Witt said the Flyers have been improving since the start of the season.
"Defensively, we have gotten better to the point that we can stay in ballgames, and we are finally starting to get clutch hits, like we did today."
Schlater said the Tigers are still in the MAC race despite the 1-2 league mark.
"We told the guys after the game that we can't hang our heads over this one. There are still a lot of league games left. We have to get ready for Fort Recovery on Thursday. They are a great team too, and we have to get back on track and figure out ways to win ballgames."
Witt is obviously aware of the Flyers championship pedigree in many sports.
"It means a lot to me, because I want to try and instill that kind of tradition in the baseball program. I love the kids that I am around every day and I want them to be able to do something special and leave their mark on this program as well."