It doesn't seem possible, but 19 years ago today the woman known as the "First Lady" of country music moved on.  Her voice, thankfully, through her recordings…stays behind!
As you know, I like to write tributes about entertainers who have passed on because, well, we forget them all too soon – George Jones, Ray Charles, Sinatra, Brook Benton, Ernie Ford, Patti Paige, Patsy Cline and Dusty Springfield.  I've written them all, and many of you have shared that you enjoy being reminded.
Voices that have no equal…distinctive, one-of-a-kind, and memory-evoking.  There will never be another that sounds like them.
And on a nasty, wet April day I'll add another, as I was reminded this week by a reader James Clark that country legend Tammy Wynett died at age 55 on this date, April 6, in 1998 from a blood clot in her lung.
Wynette was dubbed the "First Lady" of country music, for her sound, her story, and her determination to succeed, and yet her career was relatively short in comparison to other notables in her field.
She earned every bit of the characterization that comes with being a country star.  She grew up poor in Mississippi, as Virginia Wynette Pugh.  Her father, an amateur musician, died when she was nine months old.  Her mother subsequently moved to Tennessee to take a job in a defense plant during World War II, and a month before she graduated from high school she married a man named…Euple Byrd.  He had the distinction of being Tammy Wynette's least-famous husband, and little did he know how many more there'd be.
She eventually studied cosmetology, got a license and worked as a hair dresser.  Ironically, she maintained that license for the rest of her life, even at the height of her fame.
She supplemented the family income by performing in small clubs and eventually left Byrd prior to the birth of her third child because he would not support her dream of becoming a country singer.  Faced with the option of making it or starving, she got her first break and began appearing on a local television show in Birmingham, Alabama.  A year later, she packed up her daughters and moved to Nashville.
She met record producer Billy Sherrill who suggested she change her name.  She dropped Virginia, took on Tammy as a first name and adopted her middle name as her last.
A string of hits and heartaches followed.  The hits included classics like Stand By Your Man…Apartment #9…Take Me To Your World…and D-I-V-O-R-C-E.
The heartaches included bankruptcy and a string of failed marriages, including one with another country icon, George Jones.  Their six years together were challenging ones with rumors of alcohol abuse by both and Jones' issues with drugs…and a downward spiral of his career and reputation.
But they also included a number of duet hits that they performed together…Golden Ring...All I Have To Offer You Is Me…and Two Story House.  The marriage produced one daughter, Georgette Jones, and they separated in 1975.
Apart, Wynette's and Jones' careers recovered to boom.  Wynette, along with Dolly Parton and Loretta Lynn, set the standard for the role of women in country music.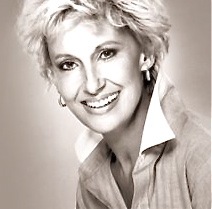 By the late 80s, however, her health fell in decline.  In 1993 she became critically ill with a liver infection, and in 1996 nearly died as a result of a mysterious abdominal disease.  She suffered through 26 major surgeries during the course of her career and quietly died in her sleep on April 6, 1998.  Posthumously she was elected to the Country Music Hall of Fame the following year.
Tammy Wynette's voice has no equal, her unmistakable "twang", and not even a credible imitator for her ability to phrase and evoke emotion with a lyric.  In later years she achieved crossover status, recording with likes of Elton John.  Her intonation was perfect, and her arrangements and recordings were among the best ever produced in Nashville.
Sadly, the "First Lady" has left us…nineteen years ago today.
Her sound, however, lives on forever.