As young as they've ever been under Bill Sturwold, Ft. Loramie overcame an early deficit Tuesday to stage an impressive comeback win over Marion Local.
Fort Loramie –  They're doing a lot of renovation on the baseball facilities at Fort Loramie – new dugouts, press facilities, infield surface of gleaming new bluegrass sod.  It's impressive, and well deserved.  They play good baseball at Loramie, winners of the Division IV OHSAA titles in 2007 and '10.
Baseball's always been popular there, as it should be when you win.  There's always been a strong senior foundation of veterans, year after year.  They grow up in the tradition of Shelby County League competition and talk of championships past.
But this, in Shakespeare's terms, would be the season of discontent in Loramie, as it is with numerous programs across the area.  Baseball numbers, for whatever reason, are down.  Some blame class sizes.  Others blame the culture.  Some say baseball simply comes to quickly on the heels of basketball with no time in between.  Still others ask…who's want to play weather in this kind of weather?
That said, it's left Loramie coach Bill Sturwold without a junior varsity baseball roster, for lack of numbers;  and a varsity group so young as to have but two seniors…and a starting infield too young to drive.  They're learning to win as they learn the game, and if they have to take a few lumps along the way no one seems to be discouraged, as evidenced by their 1-3 record entering Tuesday's game with Marion Local.
Marion came in with more size, more experience, and some offensive thump under a young and enthusiastic coach, Casey Witt.  And in fact, behind a strong start by righthander Kendall Bruns, the Flyers jumped out to an early 3-0 lead.
But owing to the legend of all those Hoyings, Boergers, and Ratermanns of years past, Sturwold's sophomoric lineup (four of the five infield positions are sophomores, counting catcher) came roaring back to win, 8-4.
They did it, in large part, through the effort of starting pitcher Daniel Berning, one of two seniors, who pitched a complete game 4-hitter and punctuated that effort by going two for four at the plate.  Berning, who ignored the gusting wind and dropping temperatures, went to the mound in his shirt sleeves while everyone else was bundled in Under Armor and hooded sweatshirts.  He just played ball.  Undaunted by giving up a single run in the first, and a pair of Flyers scores in the second, he threw strikes and took his chances.  It worked.
In the meantime the Loramie offense came to life, scoring a single run in the third, and took the lead for good in the fourth when they parlayed three hits, a walk, and an error into a four-run outburst.  They hit balls hard – Ethan Pleiman, Carter Siegel, and a bases-clearing triple by Dylan Albers – and got into the Marion relief corps.  They showed no signs of awe, or backing down.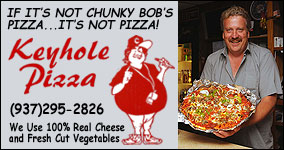 "It kind of sucks to fall behind the way we did,"  said Berning later.  "But we've been in that situation already this year and it was uplifting to see us come back like we did.  We've lost to three good teams already so to come out tonight and beat a good team like Marion is a good morale boost for us."
One of Bil Sturwold's baseball tenets is to add on whenever you can, especially with a young team.  They came right back in the fifth with a pair of runs on hits by Devin Wehrman and Jared Middendorf;  and another run in the sixth all but sealed Marion's fate when Dan Berning, himself, doubled and scored.
He left very little to chance in the top of the seventh when he retired the side in order with a pair of strikeouts.  In all, he struck eight and walked one after surrendering those three runs early in the game.  Marion could muster but one hit over the last four innings.
"He put us on his back,"  said Sturwold of Berning's effort.  "I mean, he was impressive because it all starts on the hill and that was a senior that just stepped up for us tonight.  This is a pretty young team and we got some good clutch hitting…Alber's triple for us was huge because we ended up scoring four runs in that inning.  But we hustled, we played hard, we had a couple of bad things happen early in the game, but they got into and I'm happy for them."
And with a lot of baseball coming up this week, including their traditional rivalry double-header with Minster on Saturday, Dylan Albers, the owner of that fourth-inning triple, was encouraged to get back out as soon as they can.
"We're young guys but we have to get into a varsity mindset of hitting and making plays,"  said Albers.  "We're starting to get into it.  Tonight was a good example.  And I just hope it carries over."
And go ahead, young man…talk about your triple that ignited the comeback.
"Well, I've always been told to look for a first-pitch fastball,"  smiled Albers.  "He threw a curve and I hadn't seen him throw it twice in a row, so I was looking fastball and got it."
It was cold, it was dark as it usually is for April baseball in Ohio, but no one seemed to care among a Loramie group of baseball neophytes so young that even the seniors only shave once a week, as Daniel Berning admitted.  It doesn't matter.  Tuesday they played a lot like Hoyings and Boergers, Ratermanns and Goldschmidts.  And don't forget Andy Long.
They played like Loramie!