Pursuant to the recent columns on "winning" and reader reactions on the current reader comments page, I'm amused to share the words of one of this week's hottest names in basketball…South Carolina's Frank Martin.
Following Monday's "Reader Speaks" post of reader comments on recent Press Pros columns, I was amused to read these words sent to me, spoken by South Carolina basketball coach Frank Martin, who will lead the Gamecocks into their first-ever NCAA Final Four appearance this weekend.
This came from a reader named Patrick Murphy, and Martin's quote reads:  "You know what makes me sick to my stomach…when I hear grown-up people say that kids have changed. Kids haven't changed.  They don't know anything about anything!  We've changed…as adults.  We demand less of kids.  We expect less of kids.  We make their lives easier instead of preparing them for what life's really about.  We (the adults) are the one's that have changed."
Whew!  And take a deep breath now.
There were a number of responses to the early March column on "Winning", and the alternative to winning, relative to the OHSAA, the Browns and the Bengals' effort to create a correct perspective on the topic.  We shared at least a half dozen of those reader replies on Monday, but there were  too many for one page.  And the one prominent theme to people's rejection of winning as an expectation was…we already expect too much of kids because of mandatory testing in school, social pressure, the pressure to make right career choices, etc.
Others said:  "I rather have my kids have good sportsmanship and humility than an obsessive attitude about winning,"  in the case of one.
Frank Martin has long made a name for himself as a basketball coach, in high school and at Kansas State previous to taking the South Carolina job, for demanding an ultimate commitment to success from those in his program.  Meaning, it's all or nothing in terms of work, preparation, and effort;  and you'd better not get to familiar with humility from not winning, if you get what I mean.  As I've written before, there simply is NO ALTERNATIVE to winning at that level of competition.  It's about jobs and careers.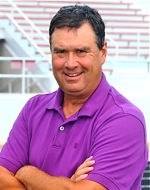 And while Martin's words are not directed toward the subject of basketball, you cannot escape the veiled reference that by demanding less of kids – by expecting less of kids – we're telling them that it's OK to be average, or less.  And that if you don't achieve much in life on your own society will feel sorry for you and extend its hand.
So thank you, Pat Murphy, whoever you are, for sharing the words of one with national credibility who's bound to get a lot of attention this week for his court-side manner, the scowl, the booming voice, and the unmistakable body language of one who's committed to…winning!  That's what demanded of him;  that's what's expected of him…and he expects and demands no less from his players.
If you don't believe me, perhaps you'll believe Frank Martin.  And if you don't believe Frank Martin, don't bother encouraging your son or daughter to play college sports where coaches' jobs are on the line.
If you don't believe either of us…then ask Tom Crean.