It doesn't seem possible that the names and heroes of your youth can possibly be gone, taken away, but thanks to baseball cards – and memories- they live on as if those times were only yesterday.
Colleague and  friend Greg Hoard and I talk a lot with each other, and more often than not the subject is baseball.  What a shock, eh?
I've learned a lot from "the Breeze", a nickname given to him why he was traveling with and writing the Reds for the Cincinnati papers, but that which I appreciate the most is our shared obsession with nostalgic stories of baseball and baseball personalities when we were mutually growing up, him in Indiana, and me in southeastern Ohio.
Just this week he called me to share that he was completing a column on former Cubs great, and hall-of-famer, outfielder Billy Williams.  Williams was always one of my favorite Cubs, possibly more favorite than the great Ernie Banks, who I met during my times in the minor leagues and wrote about on these pages.  And Hoardie's Williams piece will be here for you in a matter of days.  I know, without reading it, that it'll be worth the wait.
But rummaging on Google this week I ran upon an obituary from the Pittsburgh Post-Gazette, from March 17, 2008, sharing the details and the loss of former Reds pitcher, and personal favorite, Bob Purkey.  Purkey pitched for the Reds from the late 50s through about 1964, when he was traded to the St. Louis Cardinals for a ballbag and a fungo bat, I suppose.  Such were some of the trades made by Reds owner Wm. DeWitt in those days.
I particularly remember Purkey because back in the old days of Crosley Field, before terrorism, streakers, and the need for security people to keep distance between fans and the players, you could walk right down behind the left field bullpen and watch pitchers warm up, or throw their in-between-starts workouts from as close as 20 feet away.  I mean, it was head-spinning for an impressionable kid like me from Chesapeake, Ohio to actually be that close to the names I'd heard Waite Hoyt talk about for years on WCKY and my old $7-dollar transistor radio.
It was on one of these days, during the 1964 season, when I had the opportunity to see Bob Purkey close-up.  Purkey was the first pitcher I'd every seen that threw the knuckeball.  Oh, my uncle Joe claimed at family reunions that he could throw one, when he'd take the time to play catch with some of the nephews.  But Purkey actually threw a big league knuckleball that from 20 feet away looked un-catchable.  I remember Johnny Edwards wearing a mask and chest protector as he'd squat there and catch that dancing baseball…up, down, and side to side.  It was mesmerizing to watch.
It was also at that time in my life when I discovered baseball cards.  Every spring some of the older boys on my school bus would go across the street from the elementary school I attended at lunch and buy packs of Topps baseball cards.  Then, they'd open 'em on the bus on the way home and pass them around for everyone to see and smell.  The Topps bubblegum odor lasted for days.
I begged incessantly for nickels from my dad so I, too, could buy baseball cards.  And Gerry Jerrells, one of the kids on the bus, bought for me my first baseball cards during the spring of 1962.  Lord, I literally wore the print off those things, reading them, stacking and re-stacking them, and playing all the imaginable card games you can think of.  As luck would have it, Bob Purkey's cards were in that first collection I began to amass;  and that was a big deal because we all followed the Reds and Purkey actually won 23 games for the team in 1962.
So, on that trip to Crosley in 1964 I had my Purkey cards in my pocket, and sure enough when he was done with his bullpen session I respectfully asked him if he's sign them for me – something no one else on the school bus could claim.  Purkey, dripping with sweat and wearing a broad smile, was only too kind to stop and oblige.  You're looking at them here on this page.  I was proud of those for decades until the internet came along and then I discovered that Purkey had signed thousands of the same card, in the same place, over the years.  Still, I was there…….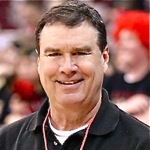 His obituary made me think of those times, of baseball cards on the school bus, and of Gerry Jerrels.  Gerry was an important component to all this because I was in the fourth grade, Gerry was in the seventh grade, and you had to at least be in the seventh grade to leave school for lunch.  And my mom, bless her heart, for being understanding enough over the years to not throw them away.  Now Purkey, as well as some of those kids on the bus, is gone.  He died eight years ago this week.  Too bad.
I'm so thankful to have the cards…and the memories!