While we worry about teaching our kids good sportsmanship we too often fail to realize how important disappointment really is…if you want to appreciate true happiness.
Outside the losing Troy Christian boys locker room Friday night, Ray Zawadzki, Sr., former coach at Vandalia Butler, and father of Troy Christian coach , Ray Zawadzki, Jr., waited patiently.
He had just observed a 52-21 lashing of his son's team…and you could tell by his look that he, too, was processing the disappointment of a tournament loss and the end of a season-long journey. He'd been there before; he'd had his own share.
"You waitin' for him," asked Senior, nodding toward the locker room.
"No hurry," I asked. "He's got more important things to do right now."
Zawadzki smiled, and nodded…without words. There really are no words at a time like that, contrary to this day when often there are too many words spoken hastily, and later regretted.
"It wasn't a good night," he said, his smile never dimming. "We got beat pretty good."
A couple of weeks ago I wrote about a conversation that I had years ago with the late Carl York, an iconic basketball coach in the community of Lawrence County, Ohio, where I lived my adolescent years. York won a ton of games and tournament crowns at Proctorville Fairland High School, but in his 30 years of coaching he made but one trip to the state Final Four, in 1961. His Fairland team on that day built a huge first half lead only to see it slip away, as he ultimately lost to Ayersville at the buzzer…by one point!
I asked York, 50 years later, if he had ever gotten over that day, and that experience.
"Well, I learned how important disappointment is in your life if you ever want to appreciate being happy,"  he said.  "I had a good life in coaching. I had wonderful players that went on to be wonderful men, dads, husbands, and community leaders. I've had a wonderful life. That day was probably my worst in coaching, but I'll never forget how quickly those boys got back to being good people after that game.  I'll always believe that their priorities in life were shaped some by the outcome of that basketball game."
Stopping to reflect, I suspect, he concluded. "There's a lot worse things than losing a basketball game. Competition just helps you realize that."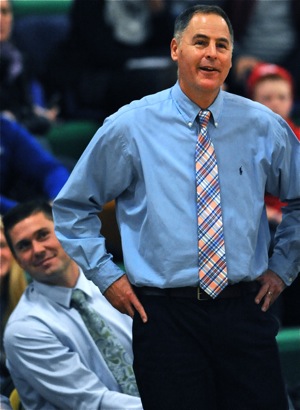 When he finally did emerge from his locker room Friday I shook hands with Ray, Jr., and congratulated him on his latest journey. He smiled just like his dad, with understanding and perspective. After all, he, too, has known the disappointment of the state tournament…and many other sad days while sitting alongside his dad during their years together in basketball.
"There were tears in the locker room," he admitted when I asked about his team. "How you lose at this time of year doesn't matter. It's about this being the end of a season and a journey together. We had five seniors there who've poured their life into this basketball team. It's very hard. It's hard for us coaches. It was touching because my juniors took the time in there to speak about the privilege of being with this senior class.
"We turned this thing around this year," he added. "We only had 9 wins last year, and to bounce back with 17 this year is a pretty good change. That took a lot of senior leadership. So it was a hard locker room in there."
There are no mulligans in basketball, or in golf, really, from which the term comes. It means…that you "whiff" on your first try and someone's gracious enough to allow you atone instantly, you get a do-over.  But tournament losses don't come with mulligans!
The thought brought a smile to Zawadzki's face.
"No, there are no mulligans in the tournament. You're one-and-done," he nodded. "And it hurts all the more because it was our last game together. And no, we really didn't play our best. So that hurts, too. But still, it's more than winning and losing. It's the unity that you form as a team and family."
He stopped abruptly, turning to watch his dad, Ray. Sr., walk by with Sharon on his arm, his wife of 50 years – Ray Jr.'s mother – as they leaned on each other on the way to the parking lot and home.
"How about that?", Junior offered, nodding in their direction as he continued his thought. "It's the family that's born…how your freshmen grow to be seniors. To see how everyone buys into the same passion and same goal. And when that ends it's hard.
He paused for a second, and then said proudly of his parents. "They've been going to basketball games together since 1963,"  as the Zawadzki's disappeared into the night."
There was nothing left to say. There was no need to say more. Words could not trump the image of such devotion to each other on such a sobering occasion – one they'd shared for so many times in these past 55 years.
It was a picture of true happiness, as Carl York once shared. Born from years of disappointment at something as unsuspecting as a basketball game.
And with no mulligans!