You can agree or disagree, that's fine.  And in some cases we hope you do.  But here's our picks for area boys coach of the year in basketball.  And in terms of competitive criteria…we can't be too far off.
Talking with a Press Pros sponsor this week, he asked about the possibility of supporting an annual pick for "Coach of The Year" in area basketball, both boys and girls.
"I really enjoyed what you guys did in football,"  he mentioned.  "There should be something like that for basketball, don't you think?"
Well, perhaps, although we never arrived at a conclusion about sponsorship.  That's yet to be determined.  But as for the idea of recognition itself, I'll share some opinions.
Generally, I thought area basketball was down a bit this year.  Yes, there was the occasional record, or scorer, or standout in leadership that seemed to lift one program over another, but as we wrote last week…the general consensus among a lot of basketball people across the state is that the sport has suffered for lack of the rudimentary skills necessary to be successful.
"It's made it very hard to coach,"  said one retired coach from central Ohio.  "The game is more physically competitive, but it's hard to count on the basics of ball-handling, shooting, and rebounding to help you win a game."
Another adds:  "You spend too much time in-season teaching what should have been learned and perfected in the off-season."
Yet another claimed:  "The attitudes about hard work and patience aren't the same as they once were.  And there's too many outside distractions."
Which makes it both tougher, and easier, to talk about the relative and individual merits of those who indeed deserve mention for winning despite the cultural handicaps.
In boys basketball you can make a number of cases for men like Scott Elchert, at Jackson Center, whose obsession with tough defense helped the Tigers overcome their obvious deficiencies in scoring early in the year.  And as of this week, they'll play again at UD Arena in a few days for another district title.
At Russia you can't underestimate the value of Spencer Cordonnier, who without some of the attributes of Raider teams of the past has molded this year's group into another competitive juggernaut capable of winning by whatever means possible on a given night.
Fairlawn can claim the area's best scorer in Nate Lessing, but coach Justin Tidwell is largely responsible for orchestrating what another rival SCL coach calls, "one of the toughest offenses to guard you'll face all year."
Ft. Loramie has made its annual late-season push, overcoming a mid-season swoon, and Corey Britton's team is honestly good enough to knock out any tourney opponent in Division IV, regardless of league.  They'll get that opportunity, as well, later this week in Dayton.
At Coldwater Nick Fisher played the first month without his best athletes as they made the transition from football – and the first two months without Neal Muhlenkamp, still recovering from a football injury.
Brett Kopp has certainly opened some eyes this year at Bethel;  and Josh Sagester opens eyes, it seems, every year at Tri-Village.
And at Ft. Recovery, Marion, Minster and St. Henry, those coaches, Chris Guggenbiller, Kurt Goettemoeller, Mike McClurg and Eric Rosenbeck, simply ran into bad karma.  Meaning, sometimes the immovable object is simply bigger than the irresistable force.  On a given night, you know…..
But through it all our pick for COTY (Coach of The Year) in area boys basketball is the quietest, and least-known, of all…Versailles' Travis Swank.
If he was more publicized, or had longevity,  you could make a helluva' rebuttal about Swank and the old adage about "nice guys", and whether they actually do finish last.  He appears to be the antithesis of that axiom, because at this writing he's 24-1 by way of record, on his way to the district round of the Division III tournament, and yet…the subject of irony.  And really, what's not to like about 24-1?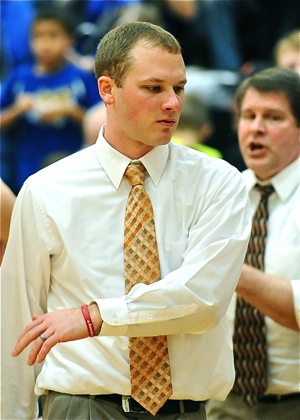 You see, in Versailles, where winning is anticipated, and appreciated as much as Weaver eggs for breakfast, I know there had to be questions from inevitable doubters – about age, experience, personality, and after all…Travis Swank isn't even from Versailles.  Nope, he's the product and pride of Franklin-Monroe High School, about a decade ago.  And later, that youthful face graced the red and white uniform of Wittenberg University.
The JV coach last year for Scott McEldowney, there were those who must have wanted someone with a more "sure thing" coaching pedigree to take over the reins of an obviously talented group that includes Ohio State commit, Justin Ahrens.  And like every community that's obsessively involved with its athletic legacy, there was plenty of criteria.
But if any of that has bothered Swank, or gotten in the way of his commitment to his opportunity, you wouldn't know.  He's quiet, reserved, and apparently willing to be well in the background of his program's success.  You don't see a lot written about him, and that which is is more personal than about basketball.
And to any who might question his grasp (or grip) on the individual and collective talents and personalities of whats now a #2-ranked team in the state, consider again.  He's bear-down competitive, and has obviously made his mark with a group that's withstood the basketball gauntlet of the MAC Conference and all that can, and usually does, go wrong at least once between December and March.  His only loss, way back in December…was to Dunbar, multiple state champion, and always among the state's best.
As with football, and our pick of Marion Local's Tim Goodwin as our COTY back in December, there's no loot of any kind that comes with our public recognition of Swank.  Just an appreciation for a job well done, and the irony that's so often the story behind the story in high school athletics.  You should know by now…that nice guys, quiet guys, and guys that do their best work with anonymity…actually can finish first.
Tell him when you see him again – congratulations.  Travis Swank is our choice for area boys Coach of The Year, 2017!
Note:  Our COTY choice for girls basketball will appear later this week.