Behind Justin Ahrens' 24 points and a ferocious defensive effort, Versailles' motivation from last year's finals letdown pushed them past Dayton Christian for the D-III sect. title.
Englewood – Every team needs some motivation at times. Even those with 23 victories.
The Versailles Tigers got theirs in the days leading up to Saturday's Division III sectional championship against Dayton Christian.
The Tigers certainly hadn't forgotten how last year's sectional title game ended. Miami East hit a pair of free throws with 2.7 seconds left after a controversial foul call for a stunning 51-49 win. But just to make sure, Versailles coaches posted photos of the dejected Tigers as a reminder of how much that lost stung.
"We just couldn't let it happen," Versailles junior Keaton McEldowney said.
They didn't. Versailles' start was self described as "sluggish," but the Tigers' spirited finish was … well … picture perfect.
Versailles used a second-half surge – keyed by some decisive defensive stops – to score a 54-39 victory over Dayton Christian at Northmont High School. The win moves Versailles into a D-III district championship game against North College Hill at the University of Dayton Arena 5:30 p.m. Thursday.
"I think it motivated us to really work harder and get this win, go to UD and hopefully keep this going," junior Justin Ahrens said of the motivation tactic.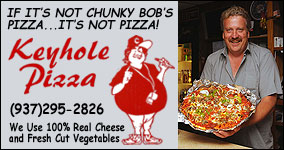 In the second half the Tigers (24-1) put together some plays worthy of framing. Perhaps the highlight came with 5:53 left in the fourth quarter. McEldowney started it with a block under the basket. And like a flash the ball was launched down court to a sprinting Ahrens. He completed the series with an emphatic one-hand slam.
"Coach has really hammered that defensive mentality into our brains," Ahrens said. "We're an offensively skilled team. We're not going to have problems scoring, usually. We can shoot, we can get to the hole. We play as a team and have fun. But we know as a team we need to step it up on defense. Our goal is to hold every team under 40."
Dayton Christian – led by junior Matt Welker and his 16.5 points per game – led 13-8 after one quarter. The Warriors (18-7) took their biggest lead, 15-8, on a Dominic Wilcox basket to start the second quarter.
Then the Tigers took over. A little more than a minute after his first dunk, Ahrens hit a 3-pointer to pull Versailles within 19-16. He hit a step-back 3-pointer with a defender on him 30 seconds later to tie the game with 2:50 left before halftime.
Junior A.J. Ahrens gave Versailles the lead for good with an offensive putback that bounced off the rim and down with 0.2 seconds left to cap an 8-0 run to end the quarter.
The third quarter was much of the same. McEldowney opened the half with a 3-pointer and capped the Tigers' third-quarter scoring with another Tigers' hustle play. Ahrens leaped over the half court line, grabbed a loose ball and threw it to a teammate to save an over-and-back violation. The ball was then rifled to McEldowney in the corner, who drained the 3.
In between that an A.J. Ahrens' steal led to a Justin Ahrens basket. A.J. Ahrens also scored on a reverse layup off a nice assist from Conner Custenborder. Justin Ahrens scored a pair of baskets off a steal and a jumper before McEldowney capped the Tigers' scoring run at 22-4 run.
"We talked this week in practice when you're not guaranteed any more tomorrows, you have to lay it out there on the line," first-year Versailles coach Travis Swank said. "They brought the energy in the third quarter and decided we're not getting beat tonight. Dayton Christian has really good team and they played hard, too. But our kids just didn't want to lose here today."
That kind of floor-burn play was keyed by McEldowney. He had three blocks and took a couple charges to keep a Warriors team averaging 58 points per game out of rhythm.
"Anything to help the team win," McEldowney said. "Just knowing last year we didn't get it done. Getting that loss really sparked us as team to getting back here and getting that W."
Added Swank: "He gets off his feet so quickly. He might be all of 5-10, but he gets off the floor so quick and he jumps really well. He has a knack of providing a spark for us on defense."
Versailles led by a game-high 17 points as many as three times in the fourth quarter. Coming in, Dayton Christian's offensive game plan was to slow down the tempo. But once the Tigers took off there was no stopping them.
"Kind of our game plan offensively was to really be patient," said Dayton Christian coach J.T. Holliday, who said experience was a concern after graduating eight seniors off last season's team. "I wanted 45-second possessions to limit their opportunities to score. It's tough when you don't have that maturity of being there before. Yeah, the third quarter was tough. They're just a good team.
"We are a run-and-gun team. We are pressure, go, go, go. But you have to be wise. When you have a guy like Justin out there you can't play their game. We still did at times and had some good looks, but it's tough when you have to make some adjustments. But I'm proud of them."
Justin Ahrens led Versailles with a game-high 24 points. McEldowney and A.J. Ahrens both added eight points.
Welker led the Warriors with 15 points and Wilcox had 11.
The sectional title was the second for Versailles on Saturday. Jacki Stonebraker's girls team routed Bethel-Tate 72-21 in its D-III sectional final in Springfield.
"We always support each other and it's just fun to live in this town because everybody knows everybody," Justin Ahrens said. "We have another team to support that can really make a tournament run, too. That makes it fun."