The man who once wrote that Arizona is untamed and unspoiled didn't live long enough to see it now.  The snowbirds are all here…for life, and baseball.
Surprise, Az. – You may or may not remember the old Arizona Highways magazine from the 60s, or even 70s.
I do, because I used to pick it up at the dentist office and stare at those beautiful color photos of the desert – gorgeous sunsets of monument valley, cactus plants, and long stretches of highway without a car in site.
The editor once wrote:  "Come to Arizona where the Old West still looks like it did in the days of Cochise."  Obviously, he hasn't seen it lately.
What was once characterized as untamed and unspoiled, is now nearly unapproachable.  Fifty years of development and migration of retirees out of the snow has more than changed the landscape of Arizona.
Streets are full this week, as spring training camps are open and the already busy communities of Surprise, Goodyear, Sun City, and Tempe are swollen by baseball fans here for a glimpse of major leaguers up close…and for free.  Believe it or not, there is no charge to walk in on morning workouts and watch Adrian Beltre belt baseballs over the fence and onto Grand Boulevard.
But unspoiled?  It's hard to drive, and you can always tell the 'snowbirds' by how long it takes one to make a right turn into a parking lot or driveway.  They don't turn…they try to get out of harm's way!
Standing in a local McDonalds this morning for a breakfast sandwich, I wanted to badly to ask the average Arizonan if they ever wished for their state back, without the influx of those here just for the weather.  But I don't know if there are any average Arizonans out and about.  I wonder if they even leave the house?
And the McDonalds here represent anything but fast food, or accurate, for that matter.  The one I stopped by this morning had a predominantly Latin wait staff with very poor English skills.  I observed one patron ask for extra cream for his coffee.  He got a hash brown instead.  Something in the translation, I suppose.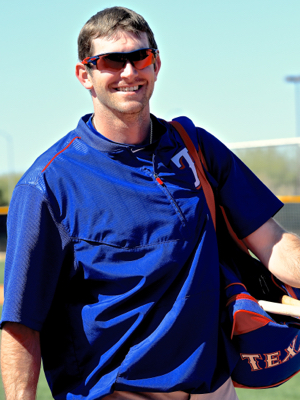 As for baseball, we took some time to look up Ft. Loramie native Jared Hoying at the Rangers complex, just blocks from the Ohio State baseball team's hotel.  He was easy to find, smiling broadly, while driving one baseball after another into the left and right field gaps.  When he wanted to he easily breached the outfield fence.  Adrian Beltre had nothing on him.
Well established as a talent in the Rangers' organization, and with time on his side (Hoying is 27 years old) he spent time on the big league roster last season, made appearances in the American League  Divisional Series, and is hopeful of making the big league roster to start the season.  You never know.  Baseball, as Joe Garagiola once wrote, is funny game.
The Big Ten – Pac 12 Challenge is also being held here this weekend, featuring teams from the respective conferences tuning up for their home openers that come in just three weeks.  Ohio State is here to play Utah and Oregon State, and we'll have features on college baseball in the desert this weekend, in addition to area sectional basketball action.
And actually, the weather in Miami County, Ohio is warmer today than in Phoenix.  The snowbirds have no idea.  So for at least another month…it's gonna' be hard to make a right turn in the desert.