A game that featured a fast start, a slow middle, a furious comeback, and a questionable finish was everything you'd expect to decide the Shelby County League title.
Russia – Titles, they say, don't come easy. There's usually some ups and downs. There's always some tense moments. Even a little blood.
That's exactly what the 1,500 that packed Naveau Gym at Russia High School witnessed Friday night as Spencer Cordonnier's Raiders (15-4, 4-1 in league) somehow outlasted a furious comeback and determined effort by the Fairlawn Jets (16-3, 8-3 in league) to capture their fourth consecutive Shelby County League basketball title…48-46.
It was a game of runs. Title games usually are.
It was a game of mistakes and missed opportunities.
There was a period of recalculation, and just standing around doing nothing.
There was defense and intensity. Lord knows there was intensity. Cordonnier called it a "pressure cooker" afterwards.
And a classy Justin Tidwell, Fairlawn's coach, even rose above his disappointment to credit the four-time champions, calling the game, "a great Shelby County League basketball game.  It's something you have to earn."
The Raiders started fast, shooting well, hustling, up in the bit as they scored the first six points and took a 9-2 lead.
Russia's Jack Dapore hit a pair of three-pointers, while Fairlawn's Nate Lessing struggled to get open looks at the rim. Lessing, the SCL's all-time leading scorer, had a couple of shots blocked, got decked a couple of times without benefit of a call, and struggled to score 7 points by halftime.
The Raiders, in the meantime, got balanced scoring from all five starters; and Fairlawn got untracked to actually tie Russia 16-16 in the second quarter. Still, they trailed at the break, 29-22.
"You knew they would make a run," said Cordonnier afterwards, assessing how a ten-point lead got away. "I thought the first half was played pretty clean, but Fairlawn is so hard to guard, and you just knew that Lessing was going to get his points. But the second half…well, it just wasn't very pretty."
In a nutshell, Spence.
Whatever they had at halftime lit a fire under Fairlawn. They came out and outscored Russia 10-2 in the third quarter, a run highlighted by a monster three-pointer from NBA range by Luke Hickman, his only bucket of the night, and at the 3:04 mark of the quarter the Jets actually took their first lead of the game, 32-31.
Pretty?
Russia uncharacteristically turned the ball five times in the quarter; and Fairlawn scored on four of the five extra possessions. Poor decisions, bad passes, and sloppy ball handling had Cordonnier's Raiders looking like Red Klotz and the Washington Generals. Having seen enough, he took a risky measure. He stalled.
"Fairlawn had all the momentum and we were in foul trouble," said Cordonnier. "We couldn't afford to guard and have Dylan (Cordonnier) and Jack (Dapore) pick up a fourth foul. We had to change something. It was risky because it took us out of any flow we had, but we weren't doing much, anyway.  We just needed to get to the fourth quarter."
It worked.
The game went into a back-and-forth cadence for the next eight minutes that saw the lead change twice…and the intensity heat up.
"It was a pressure cooker out there for those kids," said Cordonnier. "Really, it was that way for both teams. We turned the ball over and that's not like us. We average about ten per game and we had five in one quarter. The pressure got to us, we did things we don't usually do. And even in the fourth quarter we're ahead and we're still making bone-head passes that helped them catch up."
Not to Fairlawn's benefit, a game-long habit of having point-blank looks go empty continued to haunt them – especially Nate Lessing.  As evidence, he finished the game shooting 5 of 18 from the field (27%), and of his eventual 20 points, ten came from the foul line. Those misses, along with Hickman shooting 1 for 7 from the field and having but three points, cost the Jets dearly.
That, and just plain bad basketball luck.

Down by three points with a minute left to play, Lessing drove the lane for an apparent layup that would have at least cut the margin to one, or with a three-point play tie the score. He got hammered, and got no call.
"You give Russia credit for their defense," said Justin Tidwell. "(Cole) Tebbe did a great job defending Nate, and sometime the ball just doesn't roll your way. It was a great Shelby County League basketball game and this is what a league title is all about. Any way you go you gotta' fight tooth and nail for everything you get.
"Unfortunately tonight the ball didn't bounce our way, and the calls didn't go our way, either."
But the Raiders regained their mojo in a major way, helped immensely in the fourth quarter by a Jack Dapore 'three' that rattled down from the left corner. It seemed to anchor the effort, so to speak, and put confidence back in their effort.
"It was such a game of runs, we just couldn't keep the ball under control the way we needed to," said Dapore, who fouled out late in the fourth quarter. "There was pressure, but we've had so many close games this year I think we're used to that by now. I was waiting for my shot the whole game and I didn't get many shots up in the second half. But I got that open look from the corner, took it, and it went in."
Still, with less than 15 seconds left, and trailing by four, Nate Lessing found himself at midcourt with the ball and a long three-point heave that would have cut the lead to a point. One more head-scratcher for Spencer Cordonnier…Cole Tebbe fouled Lessing, who went to the line and hit all three shots. Titles…you know.
Forced to foul, Russia sealed the game with a remaining free throw.
There was obvious joy in "Mudville", to parody Casey At The Bat.  After all, they're in the habit of winning at Russia. Friday's was the just the latest of nine Shelby County League championships for the Raiders since 2000. They earned this one, outscoring Fairlawn down the stretch 17-15, while catching a couple of breaks on missed 'bunnies' and a couple of calls. That's basketball.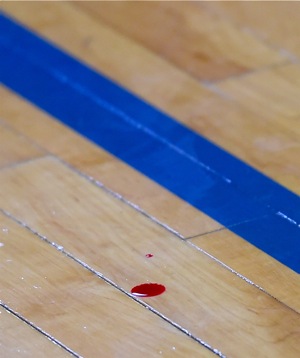 In winning the Raiders were led by Dapore's 10 points, but six others contributed with four or more points each.  Daniel Kearns and Dylan Cordonnier both had 8 as Russia shot 50% from the field (16 of 32) and 45% from three-point range (5 for 11).  They were 11 of 20 from the foul line (55%).
In losing, Fairlawn was led by Lessing's 20, followed by Drew Brautigam's 11 points and 7 from Nick Brautigam.  The Jets shot just 36% from the field (15 of 41) and 16% from three-point range (1 of 6).  They hit 15 of 21 free throws (71%).
"It feels good," said Cordonnier. "It's great for these kids. They always want to win a league title and they fought their tails off all year and their backs were against the wall a few times. Tonight was a close game, they responded, and that's very important to them."
Pausing to consider, he put the finishing touch on what a title means in Russia.
"When they come home from college someday and they come in and see their class up there on the wall, and four titles in a row…you have to be extremely happy for them."
Titles, you know, just don't come easy.