The Versailles girls got help from the young and the old(er) to hand Tri-Village its first loss of the season on Senior Night.
Versailles—On paper, it was the showdown of the season in Darke County girls basketball.
The Tri-Village Patriots brought a perfect 19-0 record and the state's number 2 ranking in Division Four to Versailles High School to face the 16-3 Lady Tigers, ranked 8th in the state in D-III.
A large crowd came in anticipation of a repeat of last year's thriller, which the Tigers won 53-52 after trailing by double figures in the second half.
Those who came looking for last second drama this time went home disappointed.
After an even first quarter, the Tigers took control in the second quarter, and pulled away in the second half for a convincing 52-38 victory.
"The girls were really ready to play tonight," enthused Versailles coach Jacki Stonebraker. "The seniors came out and lit it up in the first quarter, hit some threes, and just played our game. Our style of basketball."
"They physically out-manned us" said Tri-Village coach Brad Gray. "They were physically tougher, mentally tougher. Nothing hurts as long as we learn from it. I think our kids had a big eye-opener tonight. One of the unfortunate things about the schedule we play is that we don't see teams like Versailles every night. Versailles does see teams like that in the MAC. We need to get mentally tougher. We need a lot more want to in us in a game like this where teams are in your face."
Kami Ording, one of six seniors celebrated in pre-game ceremonies, got the Tigers off to flying start with a pair of first quarter threes. Ording sank another triple in the second quarter and finished with ten points.
"I just went out and took a shot and said, hey, it's Senior Night, lets try to go out with a bang," Ording said after posing for pictures with her senior teammates. "We just came together and tried to put our emotions on the game instead of the other emotions of Senior Night."
"Those threes were awesome," said Stonebraker with a smile. "When I saw her line her feet up on that first one I said 'It's in there.' She is that player that no one knows about, the player no one puts in their scouting report. I love that we can put her in and scare some people with her."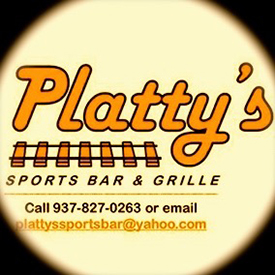 Kami McEldowney, who didn't start because five seniors did, took over in the second period. The 5-7 junior had her own personal 7 point run that turned a 12-11 lead into a 19-12 advantage. After Tri-Village narrowed the gap to two, freshman Lindsay Winner beat the first half buzzer with a jumper from the lane to give Versailles a 24-20 lead at the break.
"Those baskets by Kami were big for us," Stonebraker said. "It gave us some confidence that we could run a little bit and put some pressure on them. These girls like to run and it's when we are playing our best."
Winner started the second half as she ended the first, scoring from the paint to start the third quarter. The Tigers held the Patriots to four points in the quarter in 1 of 10 shooting and carried a 39-24 lead into the fourth quarter.
"Lindsay didn't play like a freshman tonight," agreed her coach. "There were a lot of situations where she grew up tonight and played well, on both ends of the floor. I am very pleased with the way she played."
Tri-Village, which scored 102 points against Twin Valley South on January 26, and averaged nearly 70 points a game, finally got some offense going in the fourth quarter. The stingy Versailles defense, however, never let the Patriots back in as the home team led by as many as 19.
The Tigers defensive effort had the Tigers coach smiling.
"Really happy with the way we played defense tonight. We had to know where 14 (Emma Printz) and 20 (Allie Downing) were because those are the two that get their game going. The girls followed the game plan perfectly tonight."
"We really didn't want to get into an up and down game with them," Gray explained. "They like to play that way too and they are pretty good in the open court. I thought we would have a better chance in a half-court game, but our shots weren't falling and that allowed them to stay in that zone. When the three-ball goes in it looks great, but when it doesn't it makes it tough to get anything else going."
Neither team shot the ball well. Tri-Village was 13 of 45 for a chilly 29%, while the Tigers canned 17 of 48 for 35%. The Patriots were 5 of 22 behind the arc for 23% compared to the Tigers 4 of 14 for 29%. Tri-Village went to the line just 11 times, making 7 for 63%, while Versailles was an inconsistent 16 of 31 for 52%.
The Tigers won the rebounding battle, 32-28, and had 17 turnovers to Tri-Village's 22. The Patriots committed 14 of those turnovers in the second half.
"We have really been preaching defense to the girls lately," Stonebraker explained. "There are going to be nights when we don't shoot well, but we still have to figure out a way to win. That way is playing defense. We have been talking about it for the last couple of weeks and the girls are starting to respond."
"This is a good learning experience for us," Gray concluded. "If we learn from it. We will have to see how we respond. We play this game to try and get better. No one schedules Versailles because they are looking for a W. We don't talk about wins at Tri-Village, we talk about championships. We can secure our conference title on Thursday, and what really matters is the post-season. If you can get some championships there, nobody cares what happened in the Versailles game."
"We are excited about the tournament," Ording said. "We are ready to get going and keep improving every day in practice. I think we can make a good tournament run if we stay focused and do what we know how to do."
Stonebraker always has her eye on the post-season, and feels her Tigers are ready for what lies ahead.
"I think tonight we came in prepared, with energy, enthusiasm, and effort. That's what we are preaching constantly, and it's what we need every night once the tournament begins. I do think we are ready for that."