This weekend makes 51 of them, and I confess that I've seen parts of all of them. But given a choice of watching the Super Bowl or the local teams play for a state title, here's my answer, and why.
This Sunday's Super Bowl game between the Patriots and the Falcons makes 51 since the first one back in 1967.
And, I vividly remember watching that game between the Packers and the Chiefs because I was a fan of Paul Hornung and Bart Starr, having read about them for years in copies of the old SPORT Magazine. I had a subscription back then, it cost four dollars a year, and I kick myself still for not keeping those old issues.
That game was played in Los Angeles, it was aired on both CBS and NBC, and I remember my dad huffing about how much wasted time there was before they actually played the game. Get this now, the pre-game lasted something like 15 minutes.
That's right, Dad thought it was awful because they made such a big deal out of a football game, how wasteful and boastful it was to release 10,000 balloons into the sky and tie up two networks for broadcasting it. God knows what he would think now if he was alive. I read where coverage begins at 11 am on Sunday. Kickoff isn't until after dark, of course.
I've watched them all, or at least parts of them. Some have been interesting. Most have just been OK. And I'll share that I think many of them have been forgettable because…well, I guess you have to be a fan of the NFL, and I'm not.
That may come as a surprise, being as I write about sports 365 days of the year and watch a football game every Friday night and Saturday afternoon between September and December.
It may come as a surprise when I share that I actually enjoy watching those Friday night and Saturday games more than the Bengals or Browns on Sunday, while others set their watches by kickoff and "fantasy football".
Friday night games are played for fun, by kids I know and feel comfortable with profiling because almost without exception…they're good kids playing the game for the right reasons. I don't get that feeling with the National Football League.
I read about Pacman Jones and it sickens me.
I listen to Richard Sherman and Michael Bennett and it angers me, the arrogance and the politics.
I watched Terrell Owens back in the day and realized that the game meant nothing to him except what he could glean from it – that teammates and organizational success were secondary. Purely, it was about him.
I'm not naive. I know that it's professional football, and there's a reason why Tom Brady and Dez Bryant hold out for more money. But too much money and entitlement have made those people questionably credible and largely unapproachable, even on media days. Trust it, five minutes with Chip Otten (Coldwater) or Joel Derge (Tipp City) is worth five hours with Bill Belichick or Bill Parcells.
It's all the same game, or so they say, even the best of the pros who occasionally wax nostalgic about the fun they had as high school football players. Some say they'd trade now for the camaraderie and excitement of playing on Friday nights, and I guess you might believe a few. But not all.
So I'll think about those previous 50 Super Bowls this weekend and I'll tell you now that there's very few that stand out in my mind.
Certainly the first one does because…it was the first. And there was much to do about aging Max McGee catching a pair of touchdown passes for the Packers…when he wasn't even supposed to play.
I remember Super Bowl III and Joe Namath boldly predicting that the Jets would beat the heavily-favored Baltimore Colts from the NFL. They did.
I remember that the Minnesota Vikings got to the game four times – and lost all four times, a feat later matched by the Buffalo Bills.
Of course, I remember the Bengals-49ers games, and never having taken the Bengals that seriously I remember, too, being surprised that the Bengals even made it that close.
But for the most part these are vague remembrances, as compared to those of many high school and college games I recall more fondly.
The first Ohio State game I really remember was the '69 Rose Bowl, when the Buckeyes beat Southern Cal and O.J. Simpson, 26-17.
The first Ohio State game I attended in person came the following fall on a visit to campus. I bought a ticket outside the stadium for $10 and sat on the track bleachers. Ohio State beat TCU that day, 63-7.
I remember far more high school games, because generally big high school games have a more competitive outcome.  You can't say that about enough Super Bowls.
I would start by pointing out the Troy-Piqua game in 2007. Troy won that game on the last play of the game and it featured a remarkable performance by Piqua's Justin Hemm in a losing effort. Troy's Cory Brown rushed for well over 240 yards behind a left tackle named Jake Current.
A year before I stood on the sidelines at the state tournament and watched Piqua and Brandon Saine win the GWOC's first football title ever in the Division II final, over Pickerington. What I remember most, besides Saine, was the Bill Nees calling and executing a fake punt perfectly to extend a scoring drive.
A year later it was Coldwater and Cardinal Mooney at the state tournament in a classic comeback by the Cavaliers to win coach John Reed's second state title.
In recent years the Marion Local-Coldwater games have been memorable, right down to the field goal in the last two that won it for Coldwater, 17-14.
And last year's Marion-Coldwater game will long be remembered for the 50-50 drawing – a record $14,450, give or take a couple of bucks.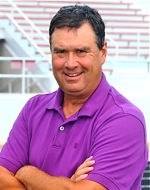 There are at least a dozen more – Tipp-Milton, the Covington-Marion Local game from 2013, St. Henry-John F. Kennedy title game, etc. And I remember those games because they came with more casual access and relationships with coaches and players that were convenient and natural. Nothing like the  feeding frenzy of covering the typical Ohio State game on a Saturday in Columbus.
Nothing like traveling with an NFL team to a Super Bowl event, where there's such a competition for questions and answers that sometimes it's just plain silly. Someone asked a Patriots player this week what Tom Brady smelled like on a typical day. Memorable stuff.
I can only imagine what Dad would have said about that. Probably nothing.
I'm sure he wouldn't watch two weeks of promotion.