Russia used a revived defense and sharp second half shooting to beat Anna Monday and keep pace with the Loramie and Jackson Center in the SCL.
Anna – It isn't often that teams look forward to make-up games in January. It's late in the year, a lot of times it's obligatory, and seriously…on a Monday night, who's paying attention?
But that was not the case Monday when Anna and Russia got together to keep a date postponed back in December. Russia wanted to play because they were 14-4 coming in, and 6-2 in league play, and still in the hunt for at least a share of the Shelby County League title and a high tournament seed in the coming draw.
Anna, at 8-9, had different prospects, struggling through what's been a difficult and uncharacteristic year. But with the chance to play spoiler against a team like Russia? Game on.
It was slow; it was lethargic, at least for the first 16 minutes. Russia got an early lead and kept it – 16-9 at the end of the first quarter, and 35-25 at the half. The Raiders are a talented young group with speed, some shooting skill, and lacks only another player or two in first-year coach Andy Timmerman's rotation.
Anna has suffered through injuries and at times the inexplicable for coach Doug Martin, often close through 17 games, but too often unable to close the deal. Monday was another such case.
They made runs at Russia, before the half, only for the Raiders to extend their lead to 10 points before the half on a late three-pointer by Maria Herron, one of only three seniors on Timmerman's roster.
In the third, more struggle for the Rockets as Russia streaked out to a 17-point advantage at one point, only to see Anna reel them back in to 7, but Maria Herron and Whitney Pleiman caught fire in transition and before you knew it the lead was back to double digits.
"Our defense was better in the second half," said Maria Herron. "And our offense gets going when it feeds off our defense."
And the offense got going again in the fourth quarter when junior Whitney Pleiman popped a pair of three-pointers on her way to a seven-point half and 13 points for the game. This time, though, Anna could not keep pace.
The combination of Pleiman, Herron, Tiffany Hatcher and Laurissa Poling scored 16 points while Anna could only muster three field goals in the final eight minutes, and pulled away to an eventual 61-41 win.
"It's a hard place to play (Anna)," said Herron afterwards. "But it's a good win for us because it keeps us close with Loramie and Jackson Center for the league, and they play on Saturday."
Jackson leads the SCL standings at this point with just one league loss, that to Loramie.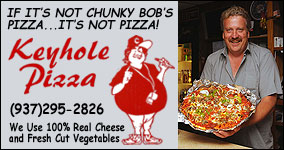 "We're young," added Timmerman. "But this was a good win for a team with so many sophomores and juniors playing. It is a tough place to play, and we always respect Anna. But when you play defense and have four players in double figures you feel pretty good.
"It's also good for the tournament draw coming up, but we have to keep winning and see what happens Saturday when Loramie plays Jackson Center again."
Jenna Cordonnier and Cameo Wilson each had 10 points for the Raiders, who now stand at 15-4; while Pleiman and Herron shared team honors with 13 points apiece.
For Anna, they got plenty of participation from a young roster of their own (just three seniors) – ten different players scored – with senior post player Brook Gaydosh heading that list with 7 points. Jada Rowland and freshman Sophia Aufderhaar added 6 apiece. The Rockets fall to 8-10 overall, and 3-6 in the SCL play.