It was nothing pretty, and not what you might have expected. But it was competitive…intense. It was Loramie vs. Anna…kind of!
Anna – Loramie coach Carla Siegel smiled wanly and shook her head Thursday night, the ink hardly dry in the books after a 42-34 Redskins win.
Some perspective. It marked the fifth in their last six starts. And, it marked a season sweep over arch-rival Anna, for years one of the area's truly great matchups in women's basketball.
Perhaps more impressive, it marked the ninth win of the season for Siegel's young roster against four losses, most of which came before the turn of the calendar.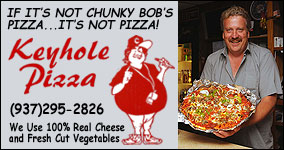 But if Siegel, Loramie's all-time leader in basketball wins, was shaking her head Thursday there had to be a reason. After all, she likes to win and has her share of those inexplicable ones over the years. But this one….
Well, it was a struggle, and a struggle for both teams. Call it a learning curve, probably. Anna has but three seniors on its entire roster this year. Siegel and the Redskins played three freshman and a sophomore for substantive minutes on Thursday.
Neither team shot the ball well in the first quarter, eight minutes of basketball that Loramie "won", 8-4.
For their part, Doug Martin's Rockets not only shot poorly in the first, they didn't rebound, either. It's not a combination that gets better with volume.
Nor did it improve in the second quarter, another eight minutes that saw Loramie catch fire to the tune of – wait for it – 7-6! It was 15-10 at the break, both teams so cold from the field that athletic director Mike Muehlfeld must have been searching for a Knipco heater.
There must have been some old-fashioned Loramie fundamentals taught in the halftime locker room, because when they came out the Redskins got into the basics of many of their past wins, ugly and otherwise. They pressured the basketball.
They created turnovers in the open court, got into their transition game, and benefited from easier shots at the rims. They're called layups! They hit some of them…not all. But enough to move out to a 17-9 advantage for the quarter and a 32-19 lead after three.
At one point they turned the Rockets over in four of five possessions, and scored on all of them. And get this, senior Reyan Frey actually capped a 13-0 run with a made three-pointer, her second of the game – the only two for Loramie all night!
Anna, however, was not about to lie down, and Loramie did all they could do to prop them up. The Rockets' Breah Kuck, just a sophomore, caught fire with a pair of threes and an 8-point third quarter – 8 of her team-high 10 for the game.
They returned the favor (the pressure) on Loramie, forcing turnovers of their own in the fourth, and got enough transition attempts and free throws to actually outscore the 'Skins 15-10 in the final eight minutes.
They played percentage basketball by sending Loramie to the foul line, where Siegel's youngsters were sketchy, just 50% for the final minutes, but good enough to close out the 42-34 win.  Reyan Frey led them with 16 points;  Hattie Meyer joined her in double figures with 12.
For Anna, Breah Kuck was the only one to crack double figures with 10…Jada Rowland had 8, and Macy Huelskamp finished with 7 points.
This was not vintage Anna vs. Loramie. Not by a long shot. It was, at least in the summation of Carla Siegel, something like the school of hard knocks for a lineup that can barely drive a car, they're so young. Call it…Basketball 101!
"It's a great rivalry, has been for ten or twelve years. Four state titles during that time, and a pair of teams that are accustomed to dominating a basketball game," said Siegel outside her locker room.
"I don't know what Doug's numbers were, but tonight we just struggled to find any offense. We played three freshmen and a sophomore. We're young. We've lost two of our best players to knee injuries, and every game we play now feels like the first game of the season to me. We don't execute very well. And we have rebounding issues. There's too many peaks and valleys.
"But for three and a half minutes there in the third we looked like a Loramie team, thanks to Hattie Meyer," she continued. "We defended, we got some easy baskets. But our leading rebounder for the night was a 5'4" freshman (Taylor Ratermann). I'm exhausted," she concluded, still able to summon a smile.
Still, the glass is half full and there will be class tomorrow…more Basketball 101. The Redskins are 9-4, sitting second in the league behind Jackson Center and Russia, and have return engagements with both left on their schedule.
And, they are talented. It is a much-anticipated freshman class that Siegel liberally dipped into early and often at the outset of the year. Players like Ratermann, Kennedi Gephart, and sophomore Maddi Rose are getting their baptism of fire.
"It's just one of those years," added Siegel. "We're 9-4 and it could easily be reversed. We could be 4-9. We've had some good wins (Versailles), but the Versailles game was one where everyone did everything right. It hasn't been that way most nights.
But not for a lack of effort. What both teams lacked in finesse and experience Thursday…they made up for with sheer effort and hustle.
"They've given me all they have," said Siegel. "And I appreciate that to the 'enth' degree. It's been a little hodge-podge here and there, anything to make things work. I think we have five or six wins simply from playing hard, but that's a great trait and I love that about this team."
What's exhausting…are those nights when the fundamentals have let them down.
"We have to get better. I shouldn't have to tell players to come to the ball when it's pressured. I shouldn't have to tell them how to set screens at this point. WE HAVE TO GROW. What's good is we've got nine more games to grow before tournament time. We tell the freshmen they're varsity players now. They will get better."
So no, it wasn't a classic Loramie-Anna game, from either perspective. But read closely into Carla Siegel's words, even in the face of frustration…exhaustion.
Tournament! A perennial regional competitor, that pride and hunger from past accomplishment will drive them come February.
Grow! She has a history of young teams that did grow and improve over the course of their final month of the regular season.
Play hard! They've always stolen a few, five or six, simply by playing harder than the other team. You don't win as many games as Carla Siegel and forget that.
Tired or not, she wore a winning smile as she turned for the bus Thursday. Anna vs. Loramie is over for another year. Tomorrow is another day in the school of hard knocks.
Class should be interesting!