The area's kingpins in Division III and IV met to sort out backyard bragging rights, and Versailles came away the respectful winner.
Ft. Loramie – The Ft. Loramie Redskins got off to a horrible start, pure and simple.
They didn't shoot well in the game's first six minutes.
They were were a little timid, even lethargic . They had the wrong body language against a team with the firepower of the Versailles Tigers.
And by the time they recovered…it was too late. Justin Ahrens saw to that with 29 points in a hard-earned 66-55 win to push Versailles' season mark to 10-1. The loss, Loramie's second in as many starts, dropped them to 8-2 on the season.
"That was a hard 29," said Ahrens afterwards. "They played hard. They're a good team. I'm sore all over."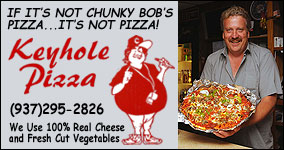 But his complimenting words did little to assuage the emotions of Loramie coach Corey Britton.
"It took us the first five or six minutes to believe that we could play with them," said Britton. "I don't know where that mentality came from, unless it was a carryover from the weekend, us feeling sorry for ourselves after losing Friday night. I don't know. I just know it wasn't the mentality we had for the first eight games. Our mentality sucked. We just weren't ready to go.
"I don't know if it was a matter of believing we weren't as good as them…I don't know. It was just disappointing."
The slow start cost them, and cost them big. Because after the 19-8 start in the first quarter Britton's Redskins played Versailles even for the second quarter, but still trailed 30-19 at the half.
It was 47-38 at the end of three. And at the three-minute mark of the fourth quarter the 'Skins actually whittled the margin down to five points…54-49.
But at that point Versailles' Austin Knapke drained a long three-pointer from the top of the key, a gutsy heave that seemed to relieve the tension of Loramie's run; and from that point the officials became involved, whistling one foul after another, sending Versailles to the line eleven times, where they connected on nine of the eleven attempts to push the final margin out to the 66-55 final.
"I was really happy with the way we started," said Versailles coach Travis Swank. "We set a good tone early and then got into some major foul trouble. We had to survive some adversity and it actually ended up a good thing.  We had a lot of guys contribute when we needed them.
"Justin (Ahrens) had a big game, but Connor Custenborder hit some big shots…and the 'three' that Austin hit at the end was huge because it kinda' put it out of reach. Everybody did their job tonight and that's all we can ask for."
Some numbers:  Ahrens 29 was a game and team high, and 23 of those points came after halftime.  But to Travis Swank's point about complementing contributions, A.J. Ahrens, Custenborder, and Knapke all had 7 points apiece…and Alex Wendel chipped in with 8 of his own.
For Loramie, the slow start took some of the polish away from Dillon Braun's game, who matched Ahrens shot for shot for the first three quarters and finished with a team-high 20 points. Evan Berning finished with double figures…12, and Tyler Siegel contributed 9.
Disappointed as he was with the start, Corey Britton saw at least some silver lining to having played Versailles to a 36-36 standoff for the second half, atoning for the lopsided beating the Redskins took last year when the game was at Versailles.
"We played much better in the second half. Ahrens is really tough, extremely hard to guard, and I'm glad we only have to play him once. But I think he had to earn everything he got tonight. He might have gotten a couple of easy ones, but for the most part we did a nice job of swarming to the ball.
"Dillon made some shots for us and that was good because he's struggled lately," added Britton.  "I'm glad he got it going because we're going into a big game on Friday (at Anna). We'll go back and look at the tape and break some things down to see what we did well, and hopefully carry some confidence from that into the next game."
Translation:  He'll take the Versailles finish as a start against Anna.
Versailles has its own challenge to prepare for Friday when they host Marion Local at home.