It's was a game worthy of watching over and over, and I will…I can. It finished so late I fell asleep and taped the ending.  Didn't you?

There's no debate about Monday's national title game between Alabama and Clemson.
It was, without argument, the best finish to a championship football game in the history of the NCAA. Clemson, down 17-7 in the second half, came back to win the game, 35-31, with one second left on the fourth quarter clock. 1 SECOND!
The problem I have with the game – and the outcome – I didn't get to see it.
No, at 17-7 in the third quarter I went to bed at 11:30 pm, putting the TV on record in case there was a surprise finish…like watching the 10th inning of the Cubs and Indians in Game 7.  So I didn't see the actual outcome (I heard about it at 6:45 am) until 7 am when I watched the replay.
In fact, I probably don't know many who did. I don't know many who could have stayed up that late to watch the finish, even of an iconic football game like that. People work and go to school. It's a shame, because the game was a classic…historic.
Historic?
Yes, because Nick Saban, when leading by double digits in the fourth quarter of a football game at Alabama, had never been beaten. It's true. He was 97-0 prior to Monday night. Now he's 97-1.
The game's advertised start time was 8 pm. I kept track just for grins, and it didn't happen. They were still gabbing between analysts at 8 pm and the actual kick didn't come until 8:21.
Then the commercial breaks were insufferable. Their were at least four official replays to review action on the field. There were a couple of injuries. At one point I had to eat – peanut and saltine crackers washed down with a glass of milk (Note to self…the milk was two days out of date).  The game dragged on and at 11:30 I woke up on the couch in time to see the start of the fourth quarter. I trudged off to bed thinking I knew how it would finish.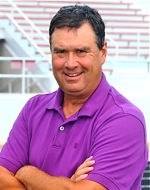 For the sake of fairness and viewer interest – for the sake of fairness to the advertisers paying millions for a 30-second spot – you'd think that they'd start the game earlier so people who work and go to school could actually survive narcolepsy long enough to watch the conclusion. I looked on my recorder this morning. Clemson scored the winning touchdown at 12:24 am.
Of course there is no recourse with events like this. You either watch it as it is or go to bed. Nothing's gonna' change because of critics like me. Broadcasts are expensive, ad dollars are coveted, and there is no competition or alternative. Take it, or leave it.
There probably weren't many who did take it.  I think a lot of people like me…left it. That's a shame. It was a helluva' game. I'm gonna' watch it a lot this spring – next summer. You're welcome to stop by.
Any time but after midnight!