Russia beat Fort Loramie at its own game, using a swarming, physical defense to hand the Redskins their first loss, and throw the Shelby County League race into a three-way tie in the loss column.
Russia — It was just another typical night in the Shelby County League.
Russia principal Brian Hogan got the evening off to a flying start with a tremendous acapella version of the National Anthem, and the Russia Raiders and Fort Loramie picked up from there, battling on even terms for three quarters before a packed house at Clair C. Naveau Gymnasium.
The Raiders opened the fourth quarter with a 9-0 run, and Drew Sherman silenced Loramie's final charge with a three pointer as the Raiders claimed a 55-43 win, handing the Redskins their first loss after 8 wins.
"It is a big win," Russia coach Spencer Cordonnier said after the Raiders won for the 7th time in the last 8 games in the series. "They have set the bar pretty high, going undefeated so far. We talked all week about playing in a big game like this, about keeping our focus. The kids bought into that and didn't pay attention to all the hype leading up to the game."
"We didn't play very well, we didn't play very smart," said a disappointed Fort Loramie coach Corey Britton. "Give Russia a lot of credit. That's a good team and they came out and made big plays when they had to have them. Something that we didn't do."
Fort Loramie had held three of its first five league opponents to under 30 points, but the Raiders had success getting the ball in the paint. Cole Tebbe, Jack Dapore and Daniel Kerns scored 20 of the Raiders 24 first half points, and the trio combined to score 37 on the night.
The game featured four ties and eight lead changes, but after the final deadlock at 27, the Raiders went on a 15-4 run to open a 42-31 lead. Loramie rallied to within 4 before Sherman, a 5-10 senior who comes off the bench, hit his second three of the night to get the lead back to 7. Dylan Cordonnier then made 6 straight free throws in the final minutes as the Raiders improved to 8-2 overall and 4-1 in the Shelby County Legue.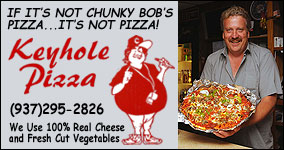 "It's a big game, and it feels great to hit those shots for my teammates," said a smiling Sherman outside the Raiders locker-room. "We just tried to stay calm all week and just take it as another game."
The Raiders are tied with Fairlawn, a half game back of the Redskins. The two meet Tuesday night at Fairlawn to close out the first half of the league schedule.
Tebbe finished with 14 to lead the Raiders, but he had plenty of help. Dapore, a 6-3 junior, had 13, Daniel Kearns, a 6-4 sophomore added 10, and Sherman finished with 10.
"It was a big team win," Sherman said, downplaying his impact on the outcome. "A lot of guys stepped up and made big plays for us. Mine is just a side role. Everyone has to do their part and tonight I did mine.
"Dylan Cordonnier never came out of the game, and was perfect at the line in the fourth quarter," praised his coach. "Drew Sherman had a great game tonight. He doesn't score a lot for us, but hit some big shots tonight. He plays so hard, and is a great defender. I can't say enough about his contributions."
Dillon Braun and Tyler Siegel each had 14 to lead the Redskins.
"This is the fourth time we have played them in the last calender year," Britton explained. "Tonight is the first of those four that was decided by more than 3 points. It's a backyard rivalry between two very good programs. It was a hard-fought game, but they made more plays than we did.'
Russia was 19 of 32 from the floor for 59%, 5 of 9 behind the arc for 55% and 12 of 17 at the line for 71%. The Redskins were 18 of 43 for 42%, but a ghastly 2 of 12 from the arc, and an even worse 5 of 15 from the free throw line.
Loramie won the rebounding battle 24-17, but had 13 turnovers to just 7 for the Raiders.
"They got a lot of offensive rebounds in the second half, but only a couple hurt us," Cordonnier continued. We did a good job of finding our guys and limiting the damage."
Loramie beat Russia 52-51 in the sectional finals last March, adding to the hype for this game. Cordonnier said he didn't think that was much of a factor.
"That's in the past. I'm sure they thought about it, but we didn't bring it up at any time during the week. This was a big enough game as it is. We didn't talk about owing them anything. Plus, we are a vastly different team than we were in March. They are the same team, and but we are very different."
Britton said his still very young basketball team, with just two seniors, needs to learn from the loss, and quickly.
"If we don't we've got bigger problems. We have Versailles coming in on Tuesday night, then go to Anna and Minster next week. If we don't learn from tonight, we are going to be staring down the barrel of a three or four-game losing streak.
"If anybody thought we were going undefeated, that was a real long shot. We play too many good teams to go undefeated. One loss is not going to ruin our season. It stinks because we didn't play very well, But we'll move on. We have to get some things figured out, because that's about the third straight game we've been about putrid offensively. We have too many good offensive players not to play well."
Cordonnier said his team has to stay focused on the next game and not look ahead to what could be a wild scramble in the second half of the league race.
"We have a good Ansonia team coming in here tomorrow night, and that's our focus. I don't even know who we play next weekend. I have the scouting report for the next game and that's all I need. We are a pretty good team. We struggle offensively sometimes, which is really frustrating. But we aren't good enough to start looking two-three weeks down the road. It's simply one game at a time and that is where our focus has to be."