The NBA scouts were there to see an over-stuffed Rhode Island roster.  What they saw was a course of grass roots basketball 101 by the UD Flyers.
DAYTON — There were nine NBA scouts strewn about in UD Arena Friday night, ostensibly to watch three prospective pros wearing University of Rhode Island uniforms and one wearing a University of Dayton uniform.
The Flyer was UD's leading scorer, Charles Cooke, but for the second straight game he was seated comfortably in a folding chair on the sidelines, a forced spectator wearing civilian clothes.
And what did the NBA scouts observe?
They saw a truly cohesive, scrappy, full-of-heart basketball team, the University of Dayton, pull together to score a 67-64 victory over a vivacious Rhode Island team overstuffed with talent.
Rhode Island's E.C. Matthews, averaging 15.3 and owner of a 31-point game, wore the tread of his sneakers to get 13 points. Hassan Martin, average 15.4 a game, was a non-factor with seven points and was able to launch only five shots.
The scouts, though, did get an eyeful out of UD point guard Scoochie Smith and inside player Kendall Pollard. Smith whipped home 21 points and when it counted down the stretch he ran the Flyers offense like Aaron Rodgers, only Scoochie did it without a huddle or a tight end.
And on his 22nd birthday, Pollard started the game as if it was a one-on-five — Pollard against the entire Rhode Island defense. He took the first five UD shots and made only one. At halftime he was 2 for 9.
But he lit the candles on his cake in the second half, making six of his seven shots in the second half en route to 18 points, helping the Flyers improve to 12-ands-3 and a 3-and-0 start in the Atlantic 10, handing the Rams their first league loss (2-and-1).
With Pollard trying to play on a one-man stage, the Flyers fell behind in the first half by 10 at 19-9.
And the Flyers didn't catch up until the start of the second half at 29-29 and their first lead of the game came with 17:25 left on a Kyle Davis three to put UD in front 32-31.
From there the Flyers were like a hamster on a wheel trying to catch up. Every time they sneaked ahead, Rhode Island sneaked back ahead. They had answer after answer after answer.
The Flyers led, 63-59, when E.C. Matthews hit a three to yank the Rams back to within one.
That's when Pollard made his biggest move of the night, something that had scouts scribbling. He faked a move to the right and drove down the left side for a basket and a 65-62 lead with 31 seconds left.
Rhode Island's Kevin Iverson hit a shot at 0:17 to draw the Rams back within one and Kyle Davis made one of two free throws.
So it was 66-64 and Rhode Island had the ball with 12 seconds left. Rhode Island missed a shot and Pollard tapped the miss out to Davis. He dribbled the floor and was fouled with :01.4 left. His one free throw ended the scoring and Pollard interrupted a full-court last gasp pass.
"That was me," said Pollard. "I had to jump up high and not let him catch it. I just didn't want him to turn around and make a Christian Laettner shot," said Pollard, referring to the Duke player who took a full-court pass in a 1992 NCAA game and fired home a shot to beat Kentucky, 103-102.
The game, though, belonged to Smith because of his guidance through numerous storms. Twice late in the game Scoochie swooped down the lane and deposited dagger layups to the Rams. After the second one, Rhode Island coach Dan Hurley called timeout and lit into one of his players for a defensive snooze and Hurley was pulled away from the player by an assistant coach.
"We had to get Scoochie going a little bit because they took away the three-point line (with a harassing half-court defense that said hello to the UD offense at the half-court line)," said UD Coach Archie Miller. "We weren't adjusting to their coverage, especially the guy with the ball. We needed our guy with the ball to be more aggressive.
"We talked at halftime so that we could put Scoochie in a better position, so he could go north-south," said Miller. Mostly in that second half he went south, because the basket was at UD Arena's south end. Smith had two three-pointers at halftime, none in the second half because his five baskets were on derring-do drives to the hoop.
And he took over the basketball late in the game, protecting it like Pinkerton's and ADT combined.
"I was just making sure we didn't turn the ball over with two minutes left in the game," said Smith. "As the point guard, you want to have the ball in my hands."
Better than All-State.
"Rhode Island is one of the best teams in the league, right up there with Virginia Commonwealth and us," said Smith. "Things didn't go too well for them tonight and credit our defense for that. We stayed tough and made it tough for them."
And how do the Flyers keep it patched together despite losing Cooke and losing inside player Josh Cunningham and losing Kendall Pollard for a few games and losing center Steve McElvene due to death by an enlarged heart?
"We're just being tough," said Smith. "You know, toughness travels. Coach tells us that all the time. We're just playing for one another, playing together. Like he told us today, no team in the conference is more together than we are. When you have that mentality, like we do now, you just have things rolling. It brings confidence instead of trying to find confidence."
"Just a fantastic college basketball game," said UD coach Archie Miller. "Rhode Island is a fantastic team, as everyone can tell. They have a great team. For our guys, it was a heck of a statement in terms of togetherness and toughness.
"Our guys are really hanging in there and we have some guys playing really, really hard," Miller added. Which guys? All of them.
"We are a very unselfish team right now and playing for the right reason — and that's to win the game," said Miller. "Against a really good Rhode Island team, we found a way to win and that's a credit to our kids."
Miller pulls back no adjectives in talking about Smith and said, "He was really good at the basket. Six assists, one turnover, 38 minutes and he played defense. It was a big game for him and he is one of the best guards in the conference. He has been in so many big, big games so we expect him to be that way, especially tonight to beat that type of team.
"He is the guy you trust with the ball because he can make the plays," Miller added. "He is not afraid to make the plays in the big moments and he has been that way since we first got him. He is underrated because he doesn't always score 22 a game, but if there is a guy in the league who has won as much as him the last three or four years I'd be surprised."
For Pollard, it was an exciting 22nd birthday.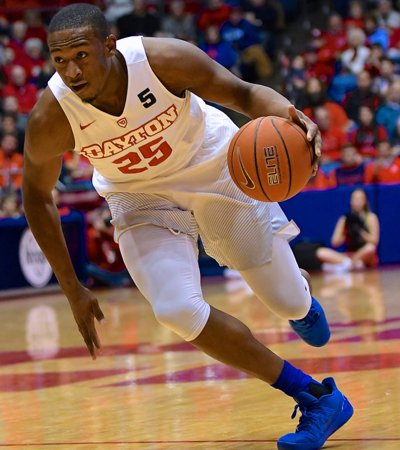 "He had a real good birthday," said Smith. "We got the 'W,' he played well, the team played well against a real good team and you can't ask for anything else. Our birthday present to him was going 2-and-0 this week (after a 90-74 win at St. Bonaventure Tuesday)."
Said Pollard, "Scooch played a great game, 21 points, and I played OK, I guess. Kyle Davis played good every game (10 points). I never had too many memories from birthdays as a kid but tonight will be one to remember."
Pollard thought he played, "Just OK," but Miller appreciates what the 6-foot-6 senior from Chicago puts into the team's success.
"Kendall is doing really, really well and he has had to do it the old-fashioned way — he didn't have an off-season so he has had to get himself in shape during games. He looks the part now, he is playing really hard for us. He is the key leader for us, especially the confidence on the floor. He is the guy that everyone looks to. When he says something, it means a lot. Having him back is really big. In these first three conference games he is playing like an all-conference player."
And one can be fairly certain that a few NBA scouts in UD Arena Tuesday night made at least a few notations on their iPads about Pollard and that kid with the silly name, uh, Scoochie.