Dunbar warmed the December evening with blistering shot making, and an impressive contribution from a transfer who once played at Piqua. Combined, it led to the Versailles Tigers' first (but impressive) loss of the year.
Versailles – Pete Pullen brought his Dunbar basketball team to Versailles Thursday night for the pursuit, in his words, of an opportunity. You see, Pullen, and Dunbar, have a history of playing all comers…any size, any time, any place. It's how you get better.
The former athletic director at Dunbar who stepped down after an incident involving Belmont High School, and allegations over a City League football game in Week 10, looked no worse for the wear and worry of what's yet to be decided by the OHSAA in terms of what happened…and who's responsible.
This is basketball season now, and the one thing that no one questions when Pullen's Wolverines show up to play is their intent and intensity. And by the end of the first half Thursday it must have felt like therapy for both coach and the four-time state champions.
Dunbar lit up the Tigers and warmed the winter evening with 30 first quarter points – 52 for the half – on its way to an eventual 79-70 win in front of a big, and at times…awestruck crowd.  It was Versailles' first loss after six consecutive wins.
The Wolverines blistered the nets for the first sixteen minutes by shooting 10 for 14 from three-point range (71%), the principals in the attack being junior guard Devon Baker (20 points), and former Piqua Indian Storm Cook (12 points).  The two combined to hit eight of ten attempts from behind the arc.
Baker would ultimately finish with a game-high 33 points; while Cook continued his 3-point mastery in the third quarter (6 of 7 for the game) to finish with 20.
For their part, Versailles didn't shoot it badly in an attempt to keep stride, but seriously…how do you compete with 70% shooting from long range? Dunbar hit 14 of 20 for the game from behind the arc!
And to make matters worse…the frustration of having no fewer than a half dozen shots from point-blank range simply roll off the rim, fueling the Wolverine's early momentum.
"We came out trying to play like Dunbar," said Tigers coach Travis Swank afterwards. "They're so athletic and we just tried to keep them in front of us…not let them into the lane because they can get to the hole with the best of 'em. We did a pretty good job of that, but sometimes what you preach doesn't work. They hit everything they threw up there."
It's a Dunbar team (now 3-1) not known for its three-point shooting, and afterwards Pullen admitted that Thursday's barrage was simply a bonus – a by-product of their game coming together in the early season, little by little.
"We're gettin' better," he smiled. "If you can shoot the ball the way we shot it tonight in that first half you'll be alright. But that doesn't happen all the time. Our game is still our pressure defense and that's something we haven't been able to work on much. Right now we've been trying to find out where the points are going to come from with our offense."
There seemed to be little doubt. But credit Versailles for a typical MAC competitive effort once they got their wind at halftime. The Tigers heated up themselves in the third quarter, outscoring Dunbar 20-18; and continued their comeback intentions with a 12-9 margin in the fourth.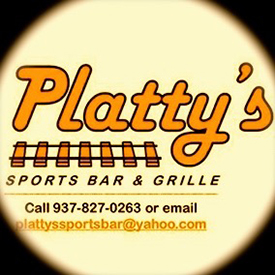 Junior Justin Ahrens got in on the three-point act, cashing in on three second half long-range attempts on his way to a 16-point half and a 26-point game.
And the Tigers actually closed what had been a 52-38 halftime deficit to 75-70 with just over a minute remaining…but never got closer. Forced to foul, Versailles sent Dunbar to the foul line where they sealed the win.
The issue, of course, was the blistering start that saw Dunbar go out 30-18 – that saw the Versailles defense fail to adequately close out on shooters Baker, Cook, and Caleb McConnell, who combined put the game out of reach with those ten first quarter threes.
"Our scouting report was a little off, I guess," said Justin Ahrens. "They got off to such a good start, but we adjusted to it better in the second half. We got more stops and rebounded better. But when you have twelve 3's in the first half that's kind of outrageous. It was a fun game, though."
"You've got to tip your hat to Dunbar for the way they shot the ball," added Travis Swank. "We pretty much shut them out from the paint and our kids were tenacious about competing and not backing down. That's what you want to see in this type of game and this was a different style of game than we're going to see the rest of the season. We still have to rest on our laurels of being a defensive team first, because it didn't work too well for us in the first half when we tried to out-Dunbar Dunbar."
Besides Ahrens' 26-point effort, the Tigers got solid contributions from A.J. Ahrens (13), Alex Wendel (10), Connor Custenborder (8) and Austin Knapke (7). Keaton McEldowney was the only other player to score with 6 points.
Dunbar's total included Baker's 33, and an equally impressive performance from Cook, who finished with 20, and talked about his assimilation into the Wolverine program after transferring from Piqua after his sophomore year. Does he miss Piqua?
"I miss the atmosphere and some of the people, sure," he said, smiling. "But this was a good move for me, for basketball. There's more athletes, it's a winning culture, and everybody is hungry for basketball at Dunbar. It wasn't that way at Piqua. It forces you to work harder to keep up."
His 6 of 7 shooting from three-point range Thursday was proof that the move, and the extra work, has paid dividends.
"When you're shooting the way we were tonight the rim looks real big," he laughed. "Devon and I was just feeding off each other tonight. They (Versailles) did a better job of stopping us in the second half, but it was a good game. They fought hard. They were a good team."

Versailles (6-1) will now regroup for a surging Anna Rockets team that comes to town next week.
"They're going to be a tough opponent and they're playing well right now. There's no rest for the weary," said Swank.
"We were just a couple of shots short tonight. We didn't hit many of our outside shots, we didn't do much from the foul line, we had some shots roll off the rim from close range…that's just the way it goes."
But if Pete Pullen appreciated the chance to compete…the chance to play a team that's accustomed to tough basketball, most of the home contingent left frustrated by the loss, but buoyed by the comeback. The experience will pay dividends somewhere along the way when there's more riding on the outcome.
And the opponent doesn't shoot 70% from three-point range.