The Fort Loramie Lady Redskins and Tippecanoe Lady Red Devils won 45 games between them last season, then lost 14 seniors to graduation. The re-loaded versions of two of the areas traditional powers took it down to the wire Monday night.
Tipp City – Some might call it re-building.
For two traditional powers like Fort Loramie and Tippecanoe, re-loading might be more appropriate.
Or, in the case of Carla Siegel's and Andy Holderman's ballclubs, it might be a little of both.
You can expect growing pains when two teams that combined for 45 wins a year ago, with each advancing to the regional finals in their respective divisions, lose 14 seniors and almost all of their offense to graduation. There were plenty of those growing pains on display Monday night.
One thing you don't have to worry about with the Redskins and Red Devils is competitive spirit, and there was plenty of that to go around as well at Pat Wampler Gymnasium.
Tippecanoe used a big run in the third and fourth quarters to build a 12-point lead, then held on for to beat the Redskins 43-40 and improve to 3-1. Loramie has lost three games by 13 points and is 3-3.
"It was a game of runs," explained Tippecanoe coach Andy Holderman. "We got off to a solid start then went a bit stagnant. Loramie is a great program, and with us losing 8 seniors from last year, this was a great chance to come in and get challenged."
"I liked the way our girls battled the whole game," said veteran Fort Loramie coach Carla Siegel. "I told the girls if they wanted to win we had to play great the whole game. The first half we did that. We took the ball to the hole, got them in foul trouble and got some things we wanted. We are not a very good offensive team right now and that hurt us in the third quarter."
The Red Devils bolted in front from the opening tip. Taylor Prall hit an early three as the Red Devils jumped to a 7-0 lead. The lone Red Devils senior finished with a team high 11 points.
"Coming out strong is something we like to do," Prall said with a smile. "Then in the second quarter, we kind of lose track of what we are doing sometimes. But coach always gets us back in."
Loramie steadied after that early burst and took the lead midway through the second quarter. Behind Sara Stang's 13 points, the Redskins led 20-18 at the break, despite shooting just 38% from the free throw line.
Tipp took control in the third quarter. The Red Devils held Loramie to 2 of 6 shooting and forced 6 turnovers in the period. Allison Mader, who entered the game scoring 17 points a game for the Red Devils, hit a three off an offensive rebound for her first basket of the game. That hoop, along with an early fourth quarter three from Claire Hinkle, ignited a 14-3 run which gave the Red Devils a 39-27 lead midway thru the fourth quarter.
That's when Reyan Frey took over.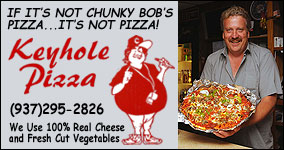 The Redskins 5-5 senior guard hit a pair of threes, and all three free throws after being fouled on a trey attempt, and scored 11 points in the final 4 minutes to get the Redskins back in it. Her second three cut the lead to 43-40 with two seconds left, but the Redskins could not get off another decent shot.
"I liked our comeback at the end of the game," stated Siegel. "But free throws win big games, and when you miss 12 of them, that doesn't help."
The Redskins are young, as Siegel started two freshmen in Marisa Meiring and Taylor Ratermann.
"I don't know if I have ever done that," Siegel continued. "They are both nice players. They didn't play particularly well tonight. I think they were a little shocked by the speed of Tipp City. But they give us solid minutes and they don't hurt us. They definitely have a bright future."
Prall led a balanced Tipp offensive with 11 points, while Cali Stewart and Mader both finished with 9. Frey led the Redskins with 15 points, while Stang did not score in the second half and finished with 13.
"It was good to see the balance we had offensively," Holderman said. "We need that. We can't be one dimensional. We need kids to step up and score and tonight they did."
"I don't really point to myself as the only senior," Prall explained. "I like to get everyone involved and make sure they do their part. It's a team game. It's not about me. Everyone has to contribute for us to win."
Loramie was 14 of 34 from the floor for 41% compared to Tipp's 15 of 41 for 37%. The Redskins were 3 of 8 from behind the arc, to Tippecanoe's 3-10. The Red Devils finished 10-17 at the line for 59%, while the Redskins were just 9 of 21 for 43%.
"We were shooting about 70% from the line," Siegel said, shaking her head. "I don't really know what caused it. Bottom line is you have to make them. If you want to win big games, you have to make your free throws."
Fort Loramie controlled the glass 27-17, including 7-4 in offensive rebounds, but committed 19 turnovers to the Red Devils 14.
Siegel said that playing a team like Tippecanoe is good for her program.
"It's non-conference and not in our division, so it's a good game for us to play. Definitely shows us a lot of our weaknesses, things that we have to work on. We have four big practices coming up and then we host Versailles Saturday, which is not going to be easy. Hopefully we can learn from tonight, get some things fixed and get this headed in the right direction."
"We schedule teams like Fort Loramie just for games like tonight," Holderman agreed. "You need to be tested and you want to have your kids play games that are intense before the tournament. Playing in the GWOC gives you a test every night, and this is a great tune-up for the league race."
While Siegel is not happy with the 3-3 record, the coach has seen positives through the first quarter of the season.
"We have lost three games by 13 points. We are right there, we really are. We lost six seniors who saw the bulk of the playing time last season. We just don't have a lot of kids with a lot of varsity time on this team. It's definitely a work in progress. We have to keep hammering away and keep working to get better."
Holderman said his team is also still trying to answer a few questions.
"We are happy to be 3-1, but we are still trying to find out who can do what and how best to use the players we have. We will get there. After losing eight seniors and all but 12 points of your offense, you know it won't happen overnight. Kids that played junior varsity for us last year have been solid for us. It's starting to come together, and it's fun to see it grow."