We've considered coaches, we've considered players, so what's left? Well, man does not live by football alone. There has to be either beer, or pizza, or burgers, or atmosphere before the game. Let me share some of the best for 2016.
Frankly, it's a sign of our times. As the sub-header reads, football in and of itself is just not enough anymore. Never has been if you consider what people ingest.
Yes, if you look around at the next game you attend you'll see a lot of people that know more about "pre-game" than the game itself. Former colleague Roger Burcham used to call it…people whose idea of a weight room is four pounds of ground chuck.
We're talking about eating, of course. And to translate Burcham's words (who died of a heart attack), the average fan actually knows more about food…than football. And the proof is as plain as asking where to hang out before the game.  Everybody knows…there's some pretty good grub out there.
In fact, for the sake of this piece there's too much good grub to narrow it down, like we would with an all-league team or coach of the year. Look, everything else in sports is ranked, or considered, today.  Why not food?  But it's hard, right?  Because no two appetites on any two days are alike.
So we won't rank, but we will share where we've been best sated these past thirteen weeks of the high school football season.
Personally, I like to get to game cities early. It drives the rest of the staff nuts when I say be there at least an hour before kickoff…because some of them have other jobs.  That's a shame, especially on nights when Sidney plays at home, because I've always enjoyed their games for one very special reason.  Memorial Stadium is just two minutes from owner Mike Jannides and The Spot restaurant, on Ohio Street, in Sidney.
I hardly doubt if there's anyone who reads this who hasn't eaten at The Spot…a Big Buy, tenderloin, strawberry pie, whatever. There is no taste like it in comfort food, only my doctor recently showed me the cholesterol numbers and said, "Lighten up on the special sauce, Son." I sadly shared this with Jannides this week and he smiled, knowingly. "It's OK," he assured. "I've had to make some changes myself." I suggested Big Buys in capsule form. He's considering.
If you go to Coldwater there's so many good eateries you might not get to the game. And seriously, the dining room at McSobers is big enough you could play the game there and watch from the bar with a plate of their wings. Yummm!
Want something of a different variety? I was surprised when owner Buck Rosenbeck of the Grill on Main challenged me to compare his seafood with anyone…anyone…in the area. He was right. Plus, the service is quick. In and out (burp) and still on the sidelines by 6:30.  Put it on your bucket list.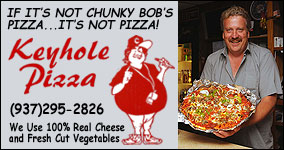 One of the best reasons for Ft. Loramie joining the Cross County Conference in 2017? Home games…because most have to drive up route 66 to get there; and that takes you right past Bob Mescher's Keyhole Pizza, in Newport. Now Chunky Bob jokes that he has the worst pizza and the warmest beer on the road, but don't be fooled. If you've ever had it you know it's the most "distinctive" pizza on the road…and he does have ample refrigeration. I've never been late for a game because of Bob, but I have been late for some post-game publishing deadlines.
There's a lot of good food on, or around, the interstate, I agree. But the problem with doing a Butler, or Tipp, home game is trying to decide what to order if you stop at Bunkers, on route 40, just east of I-75. Too much of a good thing, I frequently tell Leann Kreusch, the owner. She knows, of course. "Want breakfast, instead?" she says.  It's been voted best in Dayton.  The country friend steak and eggs is out of this world…and off my new diet.
Ah, but you're passing over too many other good ones, you'll say. Haven't you ever been to this place, or that place, or another? And why do you go to Maria Stein and St. Henry so much?
Well, for one it's hard to get past the colloquial charm of Joe and Jean's Town Tavern, in Chickasaw. People there love to talk about the Flyers, and if you can rattle off an all-time best Marion team by position someone named Moeller, or Griesdorn, or Wolters is likely to buy you a round.
Pull down the road a bit and you can enjoy the magic of the world's biggest open front window at Moeller's Brew Barn. Seriously, I think the whole west side of the building opens up so you can enjoy one of Nick's beverages while you enjoy the view of the St. Henry skyline just over the horizon.
And if you actually go to St. Henry, as we have, you find that the shrimp cocktail at 3G's rivals anything at Hyde Park (Columbus), or even St. Elmos (Indianapolis).  Sigh…!
Yeah, but who has the best food at the games, themselves? Don't you ever eat a hot dog?
I try not to, in fact. I used to work at Deckers, in Piqua, when I was growing up, so I know what goes in those things. But I will say that ones they sell at Northmont (I think they call them Thunderdogs) are so big you need a knife and fork. The bun itself looks like a canoe. Coldwater runs a close second.  Joe Neves, in particular, likes their steamed wiener.  And the best hamburger I personally ate at a football game this season came from Anna.
I have to mention Versailles because I don't know what they season it with, but hands down they have the best popcorn in all of the 820 OHSAA member schools. It's worth pulling off the interstate to put a few bags in your trunk.  And while you're there pull into Platty's downtown for one of their Philly cheese steaks.  Who knew?  In Versailles, of all places!
Yeah, I've missed a few.  Apologies to the Inn Between up on route 274, or Bruckens in Loramie.  But I won't be eating any fried chicken for a while.  Maybe next year.  A whole new list?  Count on it.
We'll meet again here…or there.  Whatever!