Short of singling out one and calling him the "player of the year", here's my group from first-hand observation that made the biggest impact, and impression, during Press Pros coverage of the 2016 football season.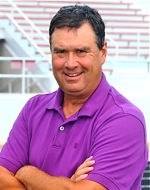 There's no perfect way of doing this…of singling out individuals who distinguished themselves for their impact during the recent high school football season.  We've tried before.
Be too exclusive, or too broad.  You only invite criticism.  Some say,  "Yeah, but you only saw him on that one night."  Or, others: "Yeah, but they didn't play tough enough competition."  Or else, "You guys just see the teams you want to see."  I've heard them all.
There are limitations, of course, with every process.  And while we say it before the season, and even during…we say it now.  We, like anyone else, lack the staff to see everyone that deservedly could be seen, or even SHOULD be seen.  Again…nothing's perfect!
But it is fair to single out those with whom we did see consistently in the GWOC, the SWBL, the CCC, the NWCC, and the MAC, the five principal conferences in the Press Pros coverage area, and fair because when you are limited to those conferences YOU DO see players three, four, even five times a year.  You do have the advantage of gauging consistency against inconsistency.  And yes…you can make an educated observation about those who helped their team win each week, many of which were equally impressive on both sides of the football, and in multiple positions.
For that purpose, I'm pleased to share the thirteen area players, a true "baker's dozen",  that distinguished themselves as the most impactful players we saw in 2016: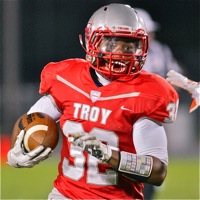 Josh Browder (Troy High School)  … We saw Troy in seven of their ten regular season games, in both of their playoff games, and on every single night the Trojans' senior running back had a hand in the outcome.  Now consider our choice of words.  He had an impact in the outcome.  There were games when he gained 200 yards, and games when he came far short.  But either way, he had the attention of opposing defenses.  Every thousand-yard rusher does.  Without question, he peaked in his five-touchdown performance in the Division II quarterfinal game against Anderson, scoring four TDs in the first half alone, but when you talk to opposing coaches this season the consensus was that Josh Browder was where you started, and often ended, in preparation to beat the Troy Trojans.  He was their most impactful player.  Stop him, or stop the rest of them…you had your choice!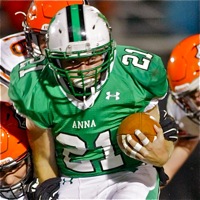 Aidan Endsley (Anna High School) … If you don't pay attention to MAC football you can easily overlook this junior who actually led the conference in yards (1,134) and yards per carry (6.10).  The Rockets had a disappointing 5-5 record this year, but the impact of Endsley, for yards, points scored, and his impact as a kicker gave the Rockets a chance in at least three of their five losses.  Durable, he carried the ball 186 times and played on both sides of the ball.  He returns next year as one of the conference's pre-season offensive highlights.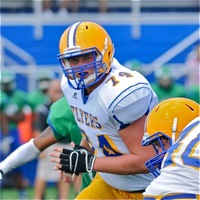 John Dirksen (Marion Local High School) … How impactful was the Flyers' junior offensive tackle?  Well, he only played in three games.  That's right, involved with a play just two minutes before the end of the first half in their game with Coldwater in week three, Dirksen snapped a bone in his lower right leg and was lost for the season.  So how do you gauge his impact, even when he didn't play?  For one, consider the words of opposing coaches who claim that Dirksen is so big (6'6″, 280 pounds), and so athletic (he easily gets to the second level after his initial contact at the line of scrimmage), that you have to factor in your preparation to stop Marion's ground game, first and foremost.  "Without a doubt he's the best player on their team.  There's no debate,"  said Chaminade-Julienne head coach Marcus Colvin after Marion's 34-14 win in the opening game of the season.  "His size and athleticism make him an impossible matchup on every play."   You will see more of him, as well.  He'll be fully recovered for his senior season next fall, and he's already on the radar of several Division I college programs.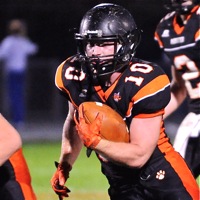 Bryce Schmiesing  (Minster High School) … I'm gonna' admit.  It was a year of impressive running backs, and not the least being this 5'10, 200 pounder, who runs hard, blocks hard, and what really distinguishes him…he has the great hands necessary to be a threat with Coach Geron Stokes' passing game.  It was Schmiesing who made the circus finger-tip catch in the corner of the end zone to beat Anna in Week 10…with 4 seconds remaining on the clock.  He runs with great leverage.  He has great balance and strength.  He can move the pile on short-yardage plays for a vital first down.  But most of all…he's durable.  He rarely leaves the field for the regional finalist Wildcats.  In first-hand observation this season, against league and non-conference competition, his impact was always the same.  In those games he averaged 20 carries, 160 yards, and two touchdowns a game.  That's all you need to know.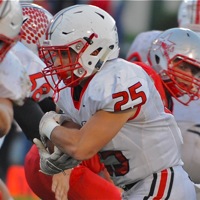 Cole Barhorst (Tipp City) … Another running back?  You cannot emphasize enough the impact that this 5'9″, 180 pound junior, who routinely carried the ball 25 times a game…and his impact was equally impressive against the very best competition on the Red Devils' schedule:  Troy, Piqua, Sidney, Butler, and in their playoff game with #1 seed Franklin.  Not as fast as some, but in games we observed his greatest assest is his patience to let holes develop in front of him…and then his quickness to get through the line and slip tackles.  Physical?  No problem.  He knows the drill when it comes to lowering a shoulder and delivering a blow to linebackers and safeties in enemy secondaries.  With still a year to play his stock will continue to rise, as will his impact.  They always run the football well at Tipp, and Barhorst will be at the head of line for opportunities again in 2017.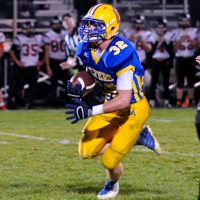 Jack Homan (Marion Local) … Aren't there any defensive players on this list?  Not to worry, and actually…there's too many good ones to actually list.  But one that stood out in the four times we saw Marion Local during the regular season was senior linebacker Jack Homan.  At 6'1″ and 190 pounds this guy is a beast when it comes to delivering a blow to opposing running backs.  He simply likes CONTACT.  Moreover, he has the speed and agility to pressure the quarterback because he's quick enough to slip the pass protection attempt of tackles and guards.  But his real impact to the Flyers is his play at inside linebacker,  where he simply loves the physical challenge of the position.  Recently voted by opposing coaches at the MAC defensive player of the year, he not only made an impact, he made an impression in 2016…on everyone!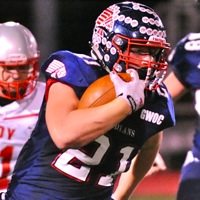 Allen Schrubb (Piqua) … I told you it was a year of impressive running backs, and Piqua actually had a pair of them…and big ones at that.  Senior Allen Schrubb was the heavy in the Indians' backfield (6′, 235 pounds), and his running mate, Ben Schmiesing (6'2″, 205 pounds) made a great impression, as well.  But it was Schrubb's ability to replace the impact of marquee prospect Darien Tipps-Clemons, who was lost to a knee injury in Week 2, that really stood out.  Schrubb rushed for better than a thousand yards, scored 17 touchdowns, and averaged seven yards per carry on 150 totes of the football.  Piqua finished 7-3 for the season, and was a controversial absentee from the playoffs, but they WOULD NOT have been considered if not for the impact of Allen Schrubb!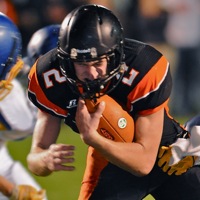 Jared Huelsman (Minster) … Prior to the season senior Jared Huelsman would have been a long shot on anyone's list to have made a list such as this.  But you cannot deny…that his 1,600 yards passing, his 15 passing touchdowns, his 1,000 yards rushing, and his 12 scores by running the football, ABSOLUTELY made him one of the most impactful players in the area.  Voted first-team quarterback in the MAC, coaches point to his ability to contribute in so many ways on the football field, and on either side of the ball. Finishing 6-4 for the season, Huelsman helped resurrect the Wildcats from a four-game losing streak in early October to finish on what's now a six-game winning streak, and a regional finalist in this week's Division VII showdown with Ft. Recovery.  Well done!
Lance Miller (Covington) … Covington had another great season, of course, (11-1, losing only to Ft. Recovery in last week's Division VII regional semi-final game), and the Buccs were voted the Associated Press poll state champions in Division VII.  But this is not really news;  Covington has been good for years, and largely because they always have a dependable running back to pick up hard yards and critical touchdowns.  Senior Lance Miller was that player for them in 2016, one of six Buccaneers selected to the first-team all Cross County Conference team…and he had help.  Covington was much more diverse team in 2016 with a potent passing attack.  But opposing coaches singled out Miller for his toughness and ability to deliver when a big play, a big yard, and a big score was needed.  We can't disagree.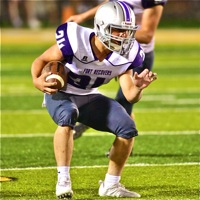 Will Homan (Ft. Recovery) … If you want to continue with the impact of great running backs in area football in 2016, you absolutely cannot overlook this 5'6″, 170 pound junior, who not only gained a thousand yards and scored 13 times, but did it while nursing a sore hamstring for much of the year;  and in the absence of several key teammates out with injuries during the course of the season.  He finished second in individual rushing among MAC leaders, by one yard to Anna's Aiden Endsley (1,133 to 1,134) and strikes terror into the hearts of opposing defenses every time he touches the ball, averaging six yards per carry.  "He's a tough runner and it was tough to get a good shot at him,"  said Mogadore head coach Matt Adorni, following last year's Division VII state title game.  He still is!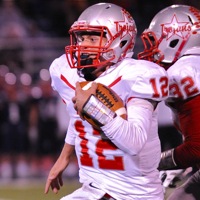 Hayden Kotwica (Troy) … Before the start of the 2016 season Troy coach Matt Burgbacher laid it on the line.  The success of the Trojans' season lay at the hands of senior quarterback Hayden Kotwica, and the ability of the team to grow around his abilities to both run and throw the football.  He wasn't wrong.  The Trojans finished 11-2 for the season, ranked #1 in their region, Division II, and Kotwica WAS a leader.  He threw for 1,852 yards, 18 touchdowns, and rushed for 754 additional yards and another eleven scores.  This guy made good on his coach's promise, and demand, and no one can make a more appreciated impact than that.
Aaron Reindel (Delphos St. John) … This 5'10, 190 pound senior would have had eye-popping impact and the numbers to back it up…had he not been hampered in the second half of the season with a painful ankle sprain that noticeably limited his mobility and speed.  As it was, Reindel still helped his team to a turnaround season of 5-5, ran for 918 yards, and scored 19 times.  To gauge the impact of his injury, Reindel actually lead the MAC at the end of five weeks with 670 rush yards and 16 touchdowns.  Statistically, others caught up and passed him during the five remaining weeks of the season.  But, Reindel continued to play as an inspiration and leader, determined to atone for a disappointing 1-9 record in 2015.  "He plays so much, and so hard, that we try to rest him on defense, but if there's a critical play it's hard to not have him out there. That's how important he is to our team,"  says coach Todd Schulte.  And that's why Aaron Reindel made our list.  His impact, on his team, was simply immeasurable.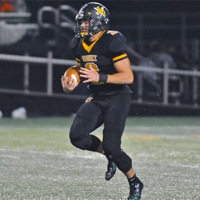 Isaiah Bowser (Sidney) … Look, a lot of people don't know who Isaiah Bowser is…because the Sidney Yellow Jackets' prospects for a winning season were shot down almost before they started.  They lost both quarterbacks to a broken wrist and a broken leg, there was the issue of inexperience in their interior line play, and they just never quite became what they believed they could be prior to the season.  But the one constant, the guy everyone had to prepare for, regardless of the other deficiencies, was running back Isaiah Bowser.  The 'Jackets' junior tailback more than took on the additional burden, running for an excess of 1,800 yards, leading all GWOC rushers, and scored a whopping 28 touchdowns.  If you're talking impact, there's simply no better example than Isaiah Bowser and what he meant to the Sidney Yellow Jackets in 2016.  All things being equal, you can expect him to be even better in 2017!