Troy Christian rallied from a big second half deficit, but Upper Scioto Valley made enough defensive plays down the stretch to win the first ever playoff game in school history.
Troy — There was adversity for the Troy Christian Eagles from the opening snap.
Austin Sloan raced 67 yards for a touchdown on Upper Scioto Valley's first play, the Rams opened a 20-point lead in the third quarter, and held on for a 27-21 win in the opening round of the Region 28, D-VII playoffs, their first post-season win in school history.
"That's the way it goes sometimes," said a disappointed but proud Troy Christian coach Ryan Jones. "Give credit to Upper Scioto. They played a good game defensively. We had some opportunities but couldn't punch it in when we needed to. Sometimes a game comes down to one or two plays, and they made them tonight."
The loss ended a magical season for the Eagles, who were hosting their first home playoff game. Troy Christian finished 9-2 when yet another second half rally fell short.
After Sloan's big run, the Eagles drove from their own 30 to the Rams 10-yard line. Troy Christian could not convert from there and turned the ball over on downs after an 11 play drive.
That would be a bad trend for the Eagles, who moved the ball all night. They would turn the ball over three times on downs deep in USV territory, including with 4:33 remaining in the game.
Sloan, who came into the game with 1,444 yards and averaging 12.6 yards per carry, lit the Eagles up again with 2:51 remaining in the opening quarter. The 5-10, 163 senior took a pitch around right end and out-ran the Eagles defense for an 84 yard score to make it 14-0 Rams.
"They hit us early," Jones acknowledged. "We have been down at halftime before and came back, like we did tonight. We fought hard and were able to get the momentum for awhile, but we just came up a couple of plays short.
"We had some near misses, and that's just the way it goes. We have to feel good about the season that we had. It's been a great season."
Sloan was hurt after a 37 yard run late in the second quarter, and left the game for good after suffering an apparent leg injury in the third quarter. He finished the night with 230 yards on 11 carries and three touchdowns.
Troy Christian finally got on the board with 7:42 left in the second quarter on a 16-yard run by Jacob Calvert. The Eagles leading rusher was kept under wraps all night by the USV Defense, managing just 57 yards on 11 carries.
"Their defensive line did a good job stopping our running game," explained Jones. "They took some things away from us and their linebackers were blitzing and doing a good job against our blocking schemes. We made some adjustments at halftime, and threw the ball a little more in the second half."
The Rams restored the lead to two scores before halftime. Chase Rose picked off a Hayden Hartman pass and returned it 32 yards for a score, and the Rams had a 21-7 lead at the break.
The Eagles were outgained 231-195 in the first half, despite running 38 offensive plays to the Rams 16.
Things got worse for Troy Christian at the start of the third quarter. Quarterback Justin Moots had runs of 39 and 24 yards during a 7 play, 78-yard drive, and Sloan scored his third touchdown of the night to make it 27-7 USV.
"Our defense did a great job in the second half, holding them to one score." Jones said. "We have made good adjustments at halftime all season long. But give credit to Upper Scioto Valley. They came in here and played hard, and have a really good team."
Momentum started to swing toward the Eagles side of the field on the next three drives. Browns caught a 47-yard scoring pass from Hartman, Sloan was injured and left the game for good, and Hartman hooked up with Brown again, this time from 30 yards out, to cut the lead to 27-21.
Moots ripped off a 49-yard run midway thru the fourth for the Rams, but fumbled when he was hit from behind. Brown recovered for the Eagles, who then launched what appeared to be a game winning drive.
Troy Christian drove deep into USV territory, but a key pass interference call stunted the drive. The Eagles got the ball back with 2:37 left, but could not mount a drive, and finished the season at 9-2.
Hartman, in his final game in an Eagle uniform, had a night to remember. With the Ram defense keying on Calvert, Hartman ran 27 times for 119 yards, and completed 16 of 30 passes for 244 yards and two touchdowns.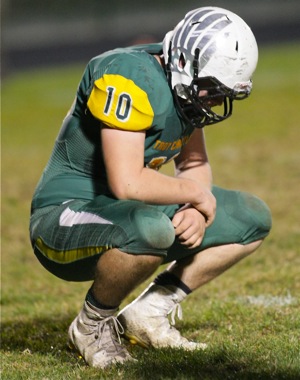 "Hayden Hartman and Jacob Calvert are two of the toughest football players that you will come across." Jones said, smiling at the thought. "They never want to leave the field, and you usually have to drag them off. That's a rarity sometimes these days, but those guys would do anything to help their team.
"It's always tough to see the season end," Jones said, nodding toward a number of players who were in tears. "Everybody ends the season with a loss except for the champion. But it's tough to end with a loss like this. It's heart-breaking for everyone. You put your heart and soul into it and it's always disappointing when it ends.
"I couldn't be more proud of my team. They didn't quit, and that a quality that will last them for a lifetime, not just in football. That's the great thing about the game of football. You learn lessons that are carried on throughout life. One thing we had this year was chemistry. You can't make that as a coach. It's hard to define, and if you never played on a football team, you probably won't understand it. But we had it. I'm lucky to be associated with this team."