You might not have heard of him, but those who've seen him wrestle, and increasingly, those who see him quarterback the Mechanicsburg Indians, believe there's no one better for his size anywhere in Ohio…than Kaleb Romero.
(Ed. Note:  At the time of its original appearance in August of 2014, our feature article then on Mechanicsburg quarterback Kaleb Romero received more than 30,000 hits from area football fans in Champaign County and across those communities a part of the Ohio Heritage Conference.  On the eve of this weekend's Round One playoff games, we were recently asked, "Whatever happened to the kid who played quarterback at Mechanicsburg.  We thought you'd enjoy catching up if you missed Kaleb Romero the past three years.)
In the aftermath of his winning the state wrestling title last March in the 152 pound division, someone…a coach, perhaps, or one of those wrestling fanatics who tend to speak from an out-of-body experience at times like those…made the boldest of statements about Mechanicsburg sophomore Kaleb Romero.
"Pound for pound Kaleb Romero has to be the best athlete in the state."
Boom!  That's a bombshell in an arena full of testosterone-charged adolescents all committed since first grade to what afficionados of wrestling call the toughest six minutes in sports.  But consider.
This came after an impressive showing as a freshman the year previous when Romero also claimed the state title at 138 pounds.
It came after a freshman season of varsity baseball in which he hit .430 and played centerfield, and one rival coach called him the best player on the team and one of the top three in the Ohio Heritage Conference.
And, it came just five months after the eye-popping opening-round playoff game in football against Minster…a game in which Romero carried the ball 28 times for 158 yards and a touchdown, and was stopped a micro-millimeter short of the goal line on a hell-for-leather two-point conversion attempt in overtime that would have given his team the win. Denied, Mechanicsburg lost, 42-41.
Minster coach Geron Stokes and Mechanicsburg coach Kurt Forrest have been life-long friends since growing up together in Champaign County.  They hang out together and they share their football.  Stokes knew all too well Forrest's roster (including Romero) prior to that game and Forrest knew plenty about Minster.
"We knew they were talented and we knew that Romero was quick and a great playmaker,"  said Stokes afterwards.  "Just a great, great football game.  We were fortunate to win."
So, was such lavish praise of one so young really a bombshell?
"I'll tell you how competitive and what kind of wrestler he is,"  said Forrest of his then junior quarterback.  "They have those state wrestling tournaments for little kids growing up, like from the first grade on…and Kaleb has been a state champion every year.
"And here's what kind of student he is and how competitive he is in school,"  he continued.  "It's not uncommon to see Kaleb sitting by himself in class at the end of the period or day, the last to hand in a test paper.  If you ask him what he's doing he'll tell you that he's just making sure it's perfect.  He's a perfect 4.0 student.  He wants to do everything perfect."
Obsessive compulsive? No.  He laughs at the suggestion relative to the things over which he has no control.  But is he a perfectionist over that which he can control?
"Absolutely,"  he assures, with a broad smile.
"It's part of the reason why I like wrestling so much,"  he says.  "I've never heard anyone say anything like that (being the best, pound for pound), but that feels kind of great.  I've been working extra hard all my life with all the sports I play to be the best that I can be.   I like wrestling because you control everything you do.  I like the team aspect of football, where you rely on each other, but when it comes to wrestling no one but me can control the outcome of the match. You have to have that kind of discipline and I like that.  I like everything about the sport."
He talks modestly about the work ethic that drives him to be the best.  But others, including Forrest, are anything but modest in sharing the lengths Kaleb Romero goes to just to maximize on his window of opportunity as a high school athlete.
"On a typical day we're out of school between 2:45 and 3:00 pm, and then we're on the practice field for football from 3:15 to 5:45,"  says Forrest.  "Then he goes home, eats, does some homework, and a lot of times he'll drive to Springfield or Columbus just to wrestle for a couple of hours.
"He's full bore every day and every play, on offense and defense.  We've had a couple of scrimmages and I tell him not to take any unnecessary hits just to be cautious…to make sure he's healthy for the start of the season.  He's having none of that.  He's out there to play and compete.  That's the kind of athlete he is."
What he is, is about 180 pounds, packed on a 5'10 frame.  If you ask him his 40 time he shrugs and says, "Coach tells me I'm in the 4.5 range."  But he smiles and adds, "But I know I'm faster than that."  One look at his chiseled physique and there's absolutely no question about athletic profile.  Not an ounce of fat.  His square chin and jaw frame eyes that snap with competitive enthusiasm.  The name Romero is not common in Champaign County.  His father, Pat, is of Latin descent.  "Mexican or Italian," says Kaleb, with a shake of his head.  "I really don't know."
He'll tell you that he loves wrestling because it probably offers the best opportunity for him to earn a scholarship to compete at the college level.  But in the next breath he gushes over the coming football season and the opportunity to atone for last year's bitter, season-ending loss to Minster.
"I don't know if I could play running back in college football, coming from a small school,"  he shares.  "I could probably see myself like a Brody Hoying, as a strong safety.  I watched him play on TV in the state tournament.  But I also know about A.J. Ouellette.  He walked on and made the team at O.U. and played his freshman year.  Hopefully, he opened some doors for the rest of us who can play, but play at small schools."
That withstanding, the memory of last year's finale has been a motivation for the off-season.
"Kaleb was the last one left in the locker room after the Minster game,"  says Kurt Forrest.  "He was really down.  I just hugged him and told him that I'd go to war with him every day.  I told him…let's go home and get better for next year."
Whether or not he scored on the final play (the two-point conversion attempt) is anyone's guess and was the subject of a lot of post-game conversation.  Romero smiles when he recalls it now, without any question as to whether he scored.
"I was sure I crossed the plane of the goal line with the ball,"  he says.  "Then I looked up and saw the official waving it off.  I wanted to cry.  We worked so hard to get that far and we were sure that it was our year to go (to the finals).
"But we train to be champions every year and that's our goal again this year.  We lost a couple of great players.  Ayerton (running back Ayerton Erwin) is gone, but Phil Cook has stepped into that spot and he's looked great.  Our line is good and we've got some guys who can catch the ball."
Pound for pound he's spent the summer overcoming the bad memory of last year's no-so-happy climax to an 8-3 season by working to become even better.
He's worked tirelessly on improving his speed.
"I'm know I'm faster than I was…faster than 4.5.  Nobody has chased me down from behind yet."
He's worked on becoming a better thrower.
"With Ayerton gone Coach told me we'd have to throw the ball more."
And, he's bigger and stronger.  He's spent his time in the weight room.
"Right now I'm 180 pounds and I bench press about 325."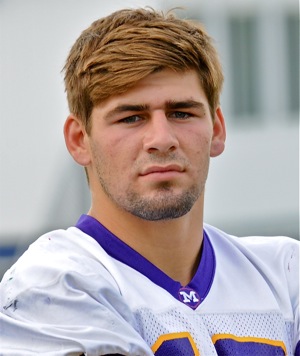 And by the way, if the memory of the Minster game is still on his mind, it's crossed the minds of a few Minster players since November 6th, as well.  More than one remembers Romero's 158 yards rushing, the 404 yards rushing as a team, and his frantic lunge for the goal line at the end of overtime.
"Those guys were really good,"  said Wildcats' quarterback Josh Nixon recently.  "They're not in our division anymore, and that's OK.  I don't know if I'd want to play them again like that with so much on the line."
And that business about pound for pound?  Remember, those were not Romero's words, even though he smiles when he hears them.  Rather, from one who obviously saw something on the mat at Value City Arena;  that knows something about the virtues of being a champion wrestler.
"Wrestling definitely makes you a better football player,"  says Romero.  "It's the discipline you have to have to overcome adversity.  That's why I like our football team here so much.  A lot of us wrestle (at Mechanicsburg)."
And to those who watched from the stands on that cold night in Minster, breathe easier.  You won't have to think about Mechanicsburg anymore.
Not this year, anyway!
Note:  Follow the outcomes of this weekend's Round 1 playoff games on the Wilson Health Minute-To-Minute Scoreboard!