A dramatic comeback in the third quarter and a nail-biting finish handed Minster its sixth win of the year…and a heart-breaking loss to Anna.
Minster – For three years now Minster coach Geron Stokes has been preaching competitiveness, toughness, and resilience. That combination took the Wildcats to the 2014 Division VI state title…and Friday night it again delivered them to the threshold of the 2016 playoffs.
A dramatic third-quarter comeback, and three touchdowns by senior running back Bryce Schmiesing…his third a finger-tip catch in the corner of the end zone with 4 seconds left in the game…delivered a breathtaking 27-23 win over the Anna Rockets and first-round playoff game next weekend with a yet-to-be-confirmed opponent.
The nuts and bolts of the back-and-forth game are almost secondary, so apparent was the winning instinct of a Minster team that down 16-6 midway through the third quarter, simply refused to lose…twice!
They jumped out to a lead ten minutes into the first quarter when quarterback Jared Huelsman ran it in from three yards out. A missed PAT left them ahead, 6-0.
On the ensuing possession Anna answered with a 36-yard field goal from Aiden Endsley to cut the lead to 6-3.
Then, at 6:33 in the second quarter, Endsley broke a tackle at the line of scrimmage and bolted 50 yards through the Minster secondary to score and send the Rockets out to a 10-6 halftime advantage.
Anna took the second half kickoff and promptly tallied again, this time on a 1-yard quarterback sneak by Travis Meyer…16-6.
And then…a critical three minute sequence that saw Minster, and Schmiesing, literally will themselves back into the game and the lead.
Capping a seven-play drive, Schmiesing bolted into the end zone from 14 yards to cut the deficit to 16-13 with 2:02 left in the third quarter. Three minutes later, almost to the second, on the Wildcats' next possession Schmiesing opened the fourth quarter with an 11-yard run to take the lead, 20-16.
The Minster sideline was delirious over the comeback…the turn of events. Only, Anna quarterback Travis Meyer wasnt that impressed. He promptly drove the Rockets 64 yards down the field and connected with Trey Cates on a four-yard touchdown to retake the lead with 1:33 left in the game. Anna 23…Minster 20.
Refuse to lose?  On a night when Minster, despite the comeback, had done just about everything you can do to shoot themselves in the foot and deny any chance for positive fate (five holding calls, procedure penalties, and a drive-stopping interception), they somehow found a way.
Starting at the 35 yard line with 1:33 remaining, Huelsman methodically worked the Wildcats up the field…five yards here, eight yards there. A run, a dink, a dunk, get out of bounds and stop the clock. Minster had expended all three second half time outs already. Their backs were to the wall.
Huelsman and company converted three consecutive third downs, and drove the ball to the 25 yard line, where on a first and ten pass play to the end zone to Jonathan Niemeyer Anna's Wyatt Bensman committed the unthinkable…a pass interference call that gave Minster a first down and the ball on the twelve yard line.
With 20 seconds on the clock Huelsman misfired on his first two attempts at the end zone, Anna's secondary playing superb defense on Niemeyer and Schmiesing. But on his third attempt, with 8 seconds remaining he found Schmiesing, this time in the corner of the end zone where the 5'9" senior cradled the ball to his chest, getting one foot down, before being pushed out of bounds. TOUCHDOWN!
"I knew the defender was playing over the top of him so I knew that back shoulder was my best chance to get it to him," said Huelsman afterwards. "I just threw it and let Bryce do his magic. I knew he would make a play."
"I really didn't run a good route, and there wasn't much room," admitted Schmiesing. "But Jared threw a perfect ball…a perfect ball…right where I could catch it. Give the credit to him. He put it right on the spot."
It sealed the win and Anna's fate, the Rockets literally playing for their football lives, needing a win to have any chance for first-round playoff bid next week.
Minster, despite eight penalties and the five holding calls, still managed 373 yards of total offense. Anna countered with 292.
Bryce Schmiesing had one of the more efficient games of his career, scoring three times while carrying the ball 14 times for 76 yards.
Jared Huelsman statistically topped him, running 26 times for 108 yards, while connecting on 17 of 30 passes for 187 yards and a touchdown. He was intercepted once.
Anna's Aiden Endsley ran 22 times for 130 yards, highlighted by his 50-yard run in the second quarter.
And teammate Travis Meyer threw it well…13 for 20 for 165 yards and no intercepts.
But the story of the game was the savor of what Geron Stokes has been cooking now since coming to Minster four years ago. Play tough. Be tougher than the circumstances. Compete and overcome your mistakes when you make them. And that's exactly how Minster won Friday, finishing 6-4 for the season, and qualified to host a first-round tournament game next week.
And those critical three minutes between the end of the third quarter and the start of the fourth….?
"We just kept shooting ourselves in the foot," said Stokes. "We felt good about what we were doing tonight, but it also felt like we were battling to be the dumbest, too. We just had to settle down and do our stuff at the end; but credit Anna, too. They played hard and Nick (Marino) did a great job of getting them prepared.
"But our kids were resilient. They competed, and that's what I told them in our huddle. Tonight was an example of the work and time they've put in. When you've invested so much time into something the way they have…they refused to lay down tonight. We tell them all the time…it's the time of the year for 'dudes to be dudes'. And tonight Bryce Schmiesing was our dude."
And in the rarest of circumstances, they used Stokes' recipe to somehow manage the last 93 seconds of the game, without a timeout, and win.
"Man, the percentage of us converting on that drive was really small," he admitted. "But Jared was composed, we trusted our stuff, and kids just made plays. They were comfortable. They weren't rattled. And that's really cool, especially for a young, immature team that's suddenly maturing.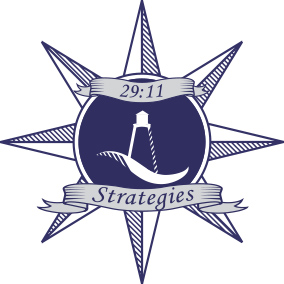 "We liked our wide receivers in that situation at the end. We felt like they were going to go make a play, and they did. Our kids were awesome. They were phenomenal. I can't say enough good things about them. It's cool to see a bunch of kids grow up and mature they way they're doing."
So one chapter closes as another opens next week with Stokes and the Wildcats hosting a first-round game, and possibly against Lehman, a team they beat convincingly in the season's third week.
But it doesn't matter. One game at a time is the new message from the irrepressible Stokes, his words seemingly building blocks for a program that no one expected to go 6-4. "Let's keep it together, the group together for as long as we can…five more weeks," he told his team afterwards.
Cool…awesome…phenomenal!
Note:  Minster will host Lehman Catholic in the first round of the Division VII, Region 28, playoffs.