If you're paying attention to the league championship series, don't be naive to think what a lot of people believe about baseball and competition. Nothing's guaranteed, and the most unappealing to those who never competed…it isn't fair!
Sitting with a friend from Shelby County last week, trying desperately to stave off the life-threatening effects of dehydration and starvation, that person made the following observation about local favorite son, Jared Hoying, and his brief opportunity to play in the Texas Rangers' loss to Toronto during the American League Divisional Series.
"It's a shame that Jared only got to hit once…and struck out,"  he said.  "I mean, I think he only saw four pitches, and boom…he's gone.  That doesn't seem fair."
"Is it supposed to be fair?"  I asked.  "And by the way…what is fair?"
"You know what I mean,"  he added.  "You wait all that time to get an opportunity, and it's over just like that."
This person may never have played baseball. If he had, he'd know without question…that there is nothing guaranteed, or fair, about baseball, or sports.  Now it helps to be good at what you do, and Jared Hoying is a very good baseball player and there'll be more opportunities ahead.  But just as I discovered in my seven years as a professional baseball umpire, timing and opportunity is everything.  That is, it sure helps to be the right person, in the right place, at the right time.
One poignant example of this that I personally know is Troy's Heath Murray, who spent parts of five seasons in the big leagues, pitching for the San Diego Padres, the Detroit Tigers, and the Cleveland Indians…pitched in a total of 88 games, 158 innings pitched…and won exactly two games.  Now you can't diminish his accomplishment for even becoming a big leaguer, like Jared Hoying.  But proportionately, to have spent parts of eight seasons in the minor leagues, five in the major leagues, logged all the miles, and absorb all the career stress that comes with being a professional athlete…to win two games and leave the game prematurely due to injury doesn't fit the modern demand for being what's fair.
He deserved better, we're prone to say.  Or…isn't that a shame?
What's logical though, Murray doesn't question his time spent and experience in terms of fairness.  Rather, he's now able to focus on the moments where he did happen to be the right person, at the right place, and at the right time.
On June 2, 1997, in Atlanta, he made his first big league start for San Diego against the Braves and 355-game winner (and fall-of-famer) Greg Maddux.  Maddux, who had won his five previous starts entered that game with a 1.97 earned run average, and the Las Vegas odds-makers made him a 3-2 choice to win against the rookie lefthander from Troy.  Murray talked about the game, and his pinnacle experience as a professional last week.
"I remember that there was a rain delay and sitting around all day to go to the park.  And rain delays are just painful,"  said Murray.  "I remember Wally Joyner coming up to me before the game and asking me how I felt, knowing it was my first major league start.  I told him I was fine, and he told me to do him one favor…just go out and have fun.  'You only get one first start,'  he said. "So enjoy it.'
"That helped take the pressure off.  I had pitched in a handful of games in relief already, but this was my first major league start and Joyner's words stuck with me the rest of the night.  I remember getting to the park, getting prepared, doing my warmup routine, and going over the scouting report with Dan Warthen, who's now the pitching coach with the Mets.  John Flaherty was my catcher that night, a veteran, and he told me to just follow his lead.  If something went wrong he'd come to the mound and we'd work it out.
"I had pitched in relief against the Braves in San Diego and I knew they were a left-handed dominant lineup, so I felt pretty good about the matchups…Ryan Klesko, Fred McGriff, Kenny Lofton and Chipper Jones.  And then there was the part about pitching against Greg Maddux, and while you never think in terms of pitching against the other pitcher, still it was Maddux and he was at the height of his career.  And get this…I hit against him three times that night and he didn't strike me out.  I grounded out twice and walked…and he screamed (and not nice things) at me all the way to first base because I didn't swing the bat.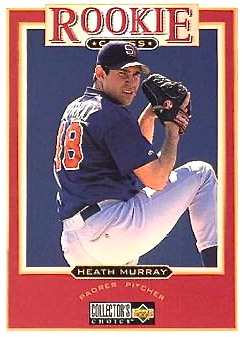 "I also remember standing on the mound and thinking to myself, 'Oh my God this is loud' (33,722 people in the stands).  I had been on the field at Michigan Stadium for football games, and this just seemed louder to me.  I remember us taking the lead early.  And then I got into trouble in the fourth with the bases loaded and nobody out…and got out of it.  I struck out Eddie Perez, got Maddux to pop up, and then struck out Lofton for the final out.  I went into the seventh inning before they took me out and the bullpen held the lead for a 5-4 win.
"The next day I was running in the outfield and Maddux was out there at the same time doing some work of his own.  I'm standing there wondering, 'Will he even recognize me, or speak.'  And of course he did.  He congratulated me for having pitched well and wished me luck going forward.  Yeah, it was pretty cool.  You know that you just beat Greg Maddux, the best pitcher in baseball the day before and you're standing there thinking, wondering if this is all real.  That moment, and that game, still means a lot to me."
Yet, baseball could have been kinder, and more fair to Murray.  Up and down with the Padres over the course of the next year and a half, he came back in 1999 to start eight more games without a winning decision.
"I actually left the game five times that year with a lead,"  he remembered, shaking his head while gnawing on a Hinder's chicken wing for lunch.  "And our bullpen lost the lead all five times.  I always felt good if we could take a lead to the ninth inning because we had Trevor Hoffman (future hall 0f famer, 18 seasons and 601 saves)."
But the Padres, and Murray, could never get to Hoffman with the lead.  And ultimately, his only other win came in a start for Detroit four years later against the Toronto Blue Jays.
Of course, Murray will tell you that everything happens for a reason and today he has a successful insurance agency in Troy, married with a family, and sees the experience gained from baseball and all those hard knocks as his competitive advantage for life.
"There is nothing fair about baseball, or life,"  he asserts.  "It can be a cruel and humbling game.  As my boys grow up I'm going to teach them to compete and to win.  That's all you can do."
But as for Jared Hoying, and his present experience….
"Looking back at that night in Atlanta, there were eight hall-of-famers or future hall-of-famers on the field that night…Maddux, Tony Gwynn, Bobby Cox, Rickie Henderson, Hoffman, Chipper Jones, Fred McGriff, and Bruce Bochy,"  adds Murray.  "Baseball isn't always fair but the experience of rubbing elbows with the game's immortals is something they can never take away.  And that's why it's important to Jared Hoying, the same as it was for me."
And another reason why the the smallest life experience growing up can still yield the largest of opportunities.
"I think it's pretty special that Jared and I were just two kids from Shelby and Miami County,"  he says.  "Just two local kids who got to the big leagues without playing for a 'select' summer baseball team growing up.  Just played for the local high school and legion teams.  The example for other kids out there today is…they can do it.  They can work hard and get there, too."
Translation:  Sometimes "fair" is what you make of it…never more and often less!