If anyone wondered how Coldwater would respond after their first loss in 29 games…how about a win over Versailles, and an even bigger, more convincing, win Friday over Anna.
Anna – Zach Klosterman, all 6-feet, 5-inches of him, is listed as the tallest player (along with a few other teammates) on the Coldwater Cavaliers football roster.
And when all is said and done this season, his biggest contribution might not be using that tall, slender 195-pound frame to haul in touchdowns – including a pair of highlight-reel receptions in Friday's 34-0 win against Anna. Klosterman stood the tallest following the Cavaliers most difficult moment this season.
Following Coldwater's stunning 33-18 loss to Minster on October 7, Klosterman challenged his teammates – and himself – to play better. The loss was as Klosterman put it "a long bus ride home. I don't like to talk about it."
Instead, Klosterman and his Cavaliers teammates have let their play do the talking. And Friday, Klosterman displayed his gift of grab.
Coldwater led 14-0 with a minute left in the second quarter. The Cavs defense had just stopped the Rockets on a fourth-down incompletion from the Cavs' 36-yard line. That's when Coldwater coach Chip Otten's staff pulled out a play the program hadn't used in about two seasons.
Dylan Thobe took the snap and handed off to Neal Muhlenkamp. He pitched it to Nate Rindler on a reverse. Rindler slowed in the backfield and unleashed a pass down the Coldwater sideline, hitting Klosterman in stride. Klosterman capped the play 64-yards later – and avoiding getting tripped from behind around the 10-yard line – for the game-breaking touchdown with 42 seconds left.
"That was probably the play of the game," Otten said. "We hadn't run that since probably the state championship a couple years ago and we threw an interception on it. … It's a pretty safe play. We tell the reverse guy if he doesn't like what he sees just run it."
The victory kept Coldwater in contention for its 19th overall Midwest Athletic Conference title and second straight. Coldwater (8-1 overall, 6-1 MAC) is tied with Marion Local for the conference lead. Coldwater can clinch a share by beating Delphos St. Johns next Friday. Marion Local can grab a share by winning at Parkway.
"More than anything it makes us feel good going into next week with a chance to win the league at home," Otten said. "We talked this week about putting it all together. … I'm really proud of our guys."
While Coldwater's offense took advantage of enough opportunities to put up points, the Cavs defense turned away the Rockets three times in the first half on fourth-down conversion attempts in Coldwater territory. Anna (5-4 overall, 3-4 MAC) reached Coldwater's 10, 45 and 36-yard lines in the first half. The Rockets also reached the Cavs' 37 to start the third quarter.
The game ended with the Rockets' best chance to score. Anna faced third-and-8 from the Cavs' 8-yard line only to see its final pass attempt fall incomplete out of bounds as time expired.
"We gotta take care of that and punch it in to keep ourselves in the game," Anna coach Nick Marino said of his team's missed opportunities. "We'll look at what we can do as a coaching staff to get better."
Anna, sitting just outside the Division V, Region 20 playoffs after Friday's loss, needs to beat Minster next Friday – and maybe get a little help – to qualify for the postseason.
"Next week is a must win for us," Marino said.
Riding running back Aiden Endsley might be a good start. Endsley was the Rockets' workhorse with 26 carries for 126 yards. Anna finished with 184 yards rushing on 41 attempts. Anna quarterback Travis Meyer connected with seven different receivers to complete 15-of-26 passes for 134 yards.
"We ran the ball decent for a lot of the ball game. We just didn't punch it in," Marino said. "We didn't finish drives. That's what we gotta do better."
Coldwater took a 7-0 lead with 4:52 left in the first quarter on Brad Giere's 9-yard touchdown run. Giere, who led Coldwater with 63 yards on nine carries, ran into a pair of Anna defenders near the goal line but kept his feet moving and powered into the end zone.
Coldwater led 14-0 on Klosterman's first touchdown catch with 7:58 left in the second quarter. Thobe stood in the pocket waiting for an open receiver. He found one – well, sort of – with Klosterman working in the back of the end zone. Thobe let it fly and Klosterman hauled it in despite a defender providing excellent coverage and dragged his feet as he went out of the end zone.
"I looked down and was just barely in the end zone. It was awesome," Klosterman said.
The Cavaliers made it 21-0 with that reverse pass.
"Just a little trick play," Klosterman said. "Big plays are what we really like to use. That's where our offense likes to strike."
Nine different players had rushing attempts for Coldwater, which finished with 196 yards on 37 carries. Thobe completed 3-of-8 passes for 47 yards and a TD. Rindler completed his one pass for the 64-yard TD strike to help the Cavs roll up 307 yards of offense.
"I think we can keep getting better," Otten said. "At the beginning of the year we were really inexperienced. We have some big offensive linemen who are starting to play better. … We've got everybody playing and that's a good sign."
Especially since the Division V playoff field was looking at Coldwater wondering how the Cavs would respond to its first loss in 29 games. Coldwater followed the Minster loss with a 14-7 win against Versailles. Otten said Coldwater's struggles last week included a dropped punt, a touchdown called back and a punt return to the Tigers' 5-yard line that was called back.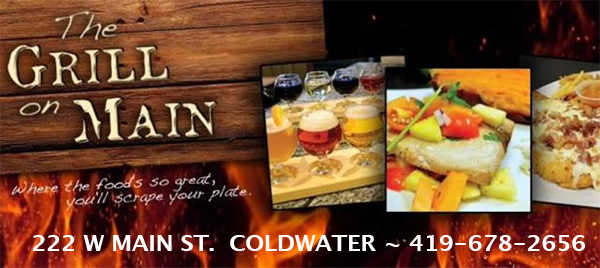 "It's not frustrating from what the (program's) expectations are," Otten said of the state-wide scrutiny and interest in his program. "But it's frustrating when you're not playing as well as you can. … At the beginning of the season, if you would have said we'd be 8-1 at this point there would be a whole lot of people who would've said there's no way. The seniors want to keep it going."
Klosterman included.
"We really needed this," he said. "After that Minster game we really needed to start stepping it up. We're starting to step it up and get ready for the playoffs. Next week, we're playing for the MAC title. We're really excited and jacked for the playoffs. … I definitely feel like we're back to the level when we played Marion Local (and won 17-14)."