There's a fix that needs to be made.  But will it happen.  The Brown family is loyal to a fault and forgiving to a flaw.  In the meantime there's a feeling that the season is lost…and it's only six weeks old!
Cincinnati – The Bengals lost this game before it started. They lost it the second New England rolled up on the schedule, right after they took an embarrassing beat-down in Dallas last week, 28-14.
Today's tally in Foxboro: Patriots 35, Bengals 17.
Cincinnati is now 2-4. The Bengals are now close to irrelevant, insignificant. Like former coach Sam Wyche said during dark days, something like: "There's grass to be cut, tennis to be played…" If you yo-yoed with this team for long, you remember.
They're done. They need a fix. Something isn't right. Ah, but we've sang this song before. This is just another verse.
Really, there was no hope for this game.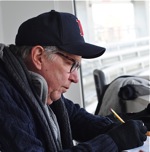 As early as this past Monday, Dave Lapham, the Bengals radio color analyst was saying, "Nobody expects you to win this game. The world expects you to lose."
Statistics were popping up all over the place. The Bengals had not won in New England since December 1986, when Boomer Esiason was the quarterback and much of today's audience wasn't born.
The Bengals had lost six straight games in New England. Sunday's performance—another affair where penalties and lack of composure played a pivotal roll—made it seven straight.
Tom Brady was back and fresh off a 400-yard performance against Cleveland. Brady was lauded as a football saint, unmatched in skill and demeanor.
The airwaves dripped with praise and envy. He was unstoppable, unbeatable.
They were asked about Rob Gronkowski, the All-Pro tight end with loose habits.
The praise was just as effusive as it was for Brady.
And Coach Bill Belichick, the Almighty, the colorless master of the NFL, he was described as the enigmatic genius who outworked and out-thought all those who crossed his path.
Even Bengals owner Mike Brown got into the act. In a Sunday column written by The Enquirer's Paul Daugherty, Brown was quoted as saying this of Belichick and Brady:
" There is a similarity of intensity and focus, of doing everything necessary to be ready. (Brady) doesn't stint on his effort off the field. I think a lot of that comes from Belichick."
I like Mike Brown. He has always been kind and gracious. His father, Paul Brown, took me under a wing 35 years ago, a kindness I will never forget.
But, I can't imagine PB—under any circumstances and particularly leading up to a game against a formidable opponent—offering elaborate praise for those on the other side of the field.
If his players chose to do so, I'm sure they would have met with extreme measures.
All week long, I waited for one of the Bengals to say, "Hey, they bleed, too. They are no different than we are."
But then it hit me. Maybe they don't believe that. Maybe they know it's not so, and if that's the case, the season is lost because the coaching staff has lost the team.
It's apparent after six weeks—losses to Pittsburgh, Denver, Dallas and New England—that something is not right, many things are not right: the offensive line, the running game, the propensity to make mental and physical errors at critical points of the game, and a big fix is needed.
The question remains. Will the Brown family make a move? Odds are, they won't. They are loyal to a fault and forgiving to a flaw. Besides, this season appears to be lost and it's six weeks old. So, just ride it out, see who becomes available in the off-season.
Maybe, I'll be shocked. Maybe this week they will pull the plug on offensive coordinator Ken Zampese, who has one trick pony in his bag—Dalton to Green—or defensive coordinator Paul Guenther, who with all that talent we keep hearing about puts together a defense that has allowed 26.5 points in the team's four losses, and worse, makes mistake after mistake when the game is on the line.
And what about the man in charge? What about Marvin Lewis? Surely, Brown is as tired as we are of hearing Lewis say, "We got to get better. We got to work harder. We have to put this thing together."
How long does it take? How long does it take?
In the meantime, winless Cleveland comes to town next week and then the Bengals go to London, England to play Washington.
Wonder how many folks will get up early to watch that game. By then, there'll be a lot of leaves to rake.