Baseball's over and now I'm right there with the rest of you trying to find something to watch, to follow, and believe in.  Here's my list of pluses and minuses.
 If you are a football fan in Ohio, here's hoping you are a college fan and a supporter of THE Ohio State University. If you are an Ohio pro football fan, take a knee and say ten Hail Marys.
And the Buckeyes better be at their nuttiest best Saturday night because Wisconsin, winners over LSU and Michigan State, lay in ambush at Camp Randall Stadium. Their one defeat was to Michigan by 14-7.
Speaking of the Big Ten, why is Rutgers a member? One reason….$$$$. The Big Ten wanted the New York market and Rutgers was the answer. The Scarlet Knights are more scarlet than knights. They lost to Ohio State 58-0 and followed that up by losing to Michigan 78-0. Rutgers probably couldn't finish in the top half of the Mid-American Conference.
If you are a Notre Dame fan, take both knees and say 20 Hail Marys. The Fighting Irish don't seem to have much fight this year. They are 2-4 and have lost to Duke and North Carolina State. Wait until Navy unleashes its triple option at them.
Coach Brian Kelly, a demon on the sidelines, likes to point blame at his players, the players he recruited, and after the North Carolina State game he blamed his center for poor snaps and fired his defensive coordinator.
First of all, the game at North Carolina State should not have been played. Conditions from Hurricane Matthew were deplorable. Snapping a football in that rain and wind was like trying to catch a balloon with the air escaping. Does Kelly own a mirror?
If you are a Cleveland Browns fan, you are getting what you expected. Not much. If you are a Cincinnati Bengals fan, you are getting what you didn't expect.
The Browns are close to checking jobs.com for a quarterback. The latest guy to bark signals was Charlie Whitehurst. Have you seen his photo? He looks like all the paintings you've seen of Jesus Christ. And, frankly, it isn't likely the Almighty could help the Browns.
Why don't they just be done with it and turn it all over to former Ohio State quarterback Terelle Pryor? Could it be any worse?
Until they find some stability in the front office, the Mistake on the Lake isn't old Cleveland Municipal Stadium. It's the Cleveland Browns, who last won an NFL championship in 1964 with Jim Brown at fullback, Dr. Frank Ryan at quarterback and Gary Collins at wide receiver.
I covered that team for the old Dayton Journal Herald when I was 24 years old. I'm 76 now and the Browns haven't won a championship since. When they win their next one, stand by my tombstone and tell me about it. Jim Brown is 80 now and probably could help the Browns — not as an owner, not as a coach, but as a running back.
The Bengals? They are a one-trick donkey. If it isn't Andy Dalton to A.J. Green, it's nothing. Take away Green and the Bengals are turned black-and-blue.
So what can we anticipate, other than the OSU-Michigan game, if the Buckeyes slip past Wisconsin, other than the end of the Browns and Bengals seasons (which already are about swirling in the Kohler)?
Bring on basketball and the University of Dayton.
The NCAA ruled that UD recruit Kostas Antetokounmpo is ineligible this season. Antetokounmpo? Say that, even without a mouth full of saltines. It is pronounced Coast-us Ah-tay-toe-koon-boe. Got that?
Flyers coach Archie Miller says, "It is a blessing in disguise." Miller believes K.A. can use the year to acclimate himself in the classroom and work to bulk up his pencil-thin 6-10, 190-pound body.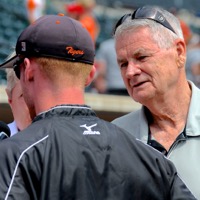 It hasn't been easy for Kostas (his first name is easy). He spent a good portion of his life living on the streets in Greece.
In the meantime, Flyer fans can enjoy newcomer Josh Cunningham, who in the words of his teammates, "Is a beast."
One last thing for Ohio sports fans? How about those Cleveland Indians? The front runners are showing up now. During the season the Tribe didn't draw enough fans to fill The 'Q,' home to the Cleveland Cavaliers.
The Indians finished 28th out of 30 major league teams in attendance and they were in first place from mid-June until the end. They averaged 19,650 fans at home. The Cavaliers averaged 20,562 last season, second best in the NBA.