Another name and face from my past, former Baltimore Oriole Tim Stoddard has found another life niche teaching his former trade to collegians at Northwestern University.  But I remember best for a rainy, foggy night in Montgomery, Alabama.  Read on.

I'd known of his whereabouts for years…Tim Stoddard, former basketball star at North Carolina State with David Thompson and Tom Burleson, and later standout pitcher for the Baltimore Orioles…landed at Northwestern University as the Wildcats' pitching coach after leaving professional baseball.
But when "I knew him when", Stoddard, all 6'7″ and 240 pounds of him was an up-and-coming pitcher for the Charlotte Orioles in the Double A Southern League, circa 1977 and 1978.  Give or take a year, I can't exactly remember.  You do the math…it's been 37 years!
After leaving NC State and basketball fame (he's the only man to have played in an NCAA Final Four and a World Series), Stoddard signed as a dominant pitching prospect with the White Sox, moved on to the Orioles after a couple of unspectacular minor league seasons, and quickly worked his way up through the minors to the big leagues, pitching with the O's in the 1979 World Series against the Pirates.  The "We Are Family" Pirates, that is, with Willie Stargell and company.  Great series to remember unless you were an Oriole.  Expected to win, Sister Sledge and fate caught up with Weaver (Earl) and company.
As a minor leaguer at Charlotte he was a feared dude out there on the mound.  He threw hard and he threw with abandon.  He pitched inside and he didn't care if he hit you with that 95 mile-per-hour fastball.  And really…who was going to go challenge 6'7″ and 240 pounds if he did hit you?
He pitched for several big league teams after leaving Baltimore, amassing a 41-35 career mark with the Cubs, Padres, Yankees and Indians before retiring in 1989.
He was in last spring, the pitching coach for the Northwestern Wildcats, and we met before the game to talk and renew acquaintances…the old days in the Southern League.  But there was little mention of "remember when", or names from the past.  Tim Stoddard, like the rest of us, has moved on with life.  Having grown up in Chicago, it was a natural move, and an appreciated opportunity, to find Northwestern after his retirement as an active player.  And these days, teaching the game to the next generation is his focus.
"I never thought about it back then, what I would do when I was through playing.  You really don't think about anything as a player except playing.  But it's been 20 years now here at Northwestern and it's been great to share my life and experience with these kids.  It's really been fun.
"I like to share where I've been and what I've seen.  I think I've had a great life and if I can help guys to do what I did I think that's tremendous.  And honestly, these guys all help me stay young and active.  It's keeps you sharp when you deal with 18, 19, 20-year-old kids.  It keeps you on our toes.  They keep trying to teach me Twitter,"  he added with a chuckle.
It's his job now to discover, recruit, and cultivate high school pitching talent at the college level.  A challenge, Stoddard admits, because of the changes in culture, in expectations, and with the variety of choices available now to potential baseball players of the future.
"I tell kids if they want to play at the next level to just go out and play, and have a lot of fun.  You have to work hard, but as you're doing it you have to be honest about your talent and your expectations of where you want to play in college.  There are limited opportunities when you consider that not everyone's going to play at a Big Ten school, or a southeast school.  But if you enjoy the game and want to play, that's the big factor.  Find a place where you can play, but remember that you can't play forever.  Choose a place that provides a good education in a field you can see yourself in after baseball, get a career started in it, and go from there."
Sage advice.  But I couldn't conclude our visit without questioning if he remembered the opening game of the 1977 Southern League playoffs (Double A baseball), when he was the starting pitcher for the Charlotte Orioles against the Montgomery Rebels, the Double A affiliate of the Detroit Tigers.
Montgomery was heavily favored to win the series because Detroit's farm system, especially at Double A, was loaded at the time.  You remember Alan Trammel and Lou Whitaker?  They played short and second base on that team.  And a young catcher named Lance Parrish was behind the plate for Game 1.
I have the lineup cards still, and the date was September 1, 1977. It had rained hard, earlier in the day, and by nightfall the temperature had dropped and it was beginning to get hazy under the ballpark lights – almost foggy.
Montgomery started a soft-throwing lefthander named Sheldon Burnside, who later had a cup of coffee in the big leagues, including a few days with the Cincinnati Reds.
But Charlotte brought out Stoddard, who was breathing fire and throwing a tailing fastball that would have intimidated even Ty Cobb under the conditions in which we started.
Montgomery manager Eddie Brinkman complained at home plate as we exchanged lineup cards.  "Can't play in this soup,"  he said.  "How can you see the ball under these lights?"
And minor league lights back then (especially in Double A) were a far cry from what they are now in Fifth-Third Field, in Dayton.
"The boss is sitting right behind the first base dugout if you want to complain,"  I said to Brinkman, referring to league president Billy Hitchcock.  And Hitchcock had told us just thirty minutes earlier that he wanted the game played, regardless of the weather.
"It's the best of five, and we can't take a whole week to play 'em,"  said Hitchcock.  "Some of these guys are going to the big leagues and they want to get 'em there as soon as they can."  He was talking, principally, about Trammel and Whitaker.
Despite Brinkman's complaints, we started.  And by the third inning the temperature had dropped to about 60 degrees, but all the rain that had soaked the field earlier in the day was warmer than that, and a dense fog began to form.  And true to Brinkman's concern, it became very hard to see the baseball.
But…Charlotte scored a couple of early runs off Burnside.  And when he went to the mound, Stoddard was throwing absolute gas – in the high 90s – and the hitters were simply defenseless.
It was an umpire's dream.  The league president wanted to play, the hitters couldn't see, and everything that the Charlotte catcher could get a glove on and hold I called a strike.  By the fourth inning Brinkman had seen enough and got ejected for complaining about the fog.  And by the seventh inning Tim Stoddard was working on a no-hitter;  because it was impossible to see the baseball.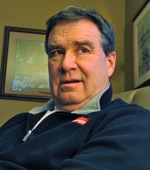 In the bottom of the eighth, however, an infielder named Tom Brookens saw enough of it to lay down a bunt and beat it out for the only hit of the game.
And by the final out, you could barely make out Tim Stoddard, all 6'7″ and 240 pounds of him, standing on the mound.  I took 1 hour and 58 minutes to play.
I reminded him forty years later, and he smiled.
"It would never happen today,"  he assured.  "Different game back then.  Tougher to play, and the players were tougher.  More fun, too."
That was all he had to say;  the extent of his reminiscing.  I wasn't surprised at all.  He was all business back then…and he hasn't changed a bit, except for his lack of hair.
I didn't bother to ask about that.