If you're amazed at the start – the record – of Matt Burgbacher and the Troy Trojans, understand that there's no limit to what one can accomplish with attitude and a little hard work.
Sometime later today the latest edition of "First Person" will be available for view on the front page of this website;  an appreciated concession to the number of people who've written recently to ask, "Why haven't you done a First Person with Matt Burgbacher and the Troy Trojans?"
Well to be sure, they're deserving.  Having more than flipped last season's 2-8 record, the Trojans through six week stand at 5-1, they're ranked #2 in their region, and #9 in the state.  Who knows if they're THAT deserving, but let's just say…they're having a good year so far.
And to be sure, fans of Burgbacher at every stop along his coaching ascendency are watching, and happy to see him recognized for what some think was the toughest turnaround in area high school football.
Troy had gone through a veritable funk in the three years immediately following Steve Nolan's retirement as head coach.  But Burgbacher saw it as an opportunity too good to pass on, a legacy worth rebuilding, and a challenge all too familiar with what he accomplished at Ft. Loramie in his six short years there, prior to Troy.
And if you listen to him in the First Person interview, the nuts and bolts of what he, his father Charlie, and their staff have accomplished is pretty simple.
"We have a great group of kids who wanted to be coached,"  he said off camera this week.  "They wanted to win and they wanted to achieve something as a group.  They're totally bought in to what we told them we could accomplish together."
Just a good group of kids, none that big, none that fast, and none being currently touted as Division I college prospects.  Troy is the quintessential Horatio Alger story of what you can do if you put your mind to it.
"They're a great group of teammates,"  you'll hear Burgbacher say on the video.  "I don't know if we have a Division I kid, or not.  We haven't gotten that far yet.  We've done a lot, but there's still so much more to do."
Among their five wins this season…an eye-opener against Trotwood Madison in the inaugural game of the year.
"That was a statement win for us,"  says Burgbacher.
But their one loss was what he calls, just as importantly, a statement loss.
"We were so close against Miamisburg (a 21-17 loss), and I think Miamisburg is one of the best Division II teams in the state.  The kids were just devastated that we didn't win that game.  We came in the locker room and you could just see it.  They sat in front of their lockers for a long time."
But they didn't hang their heads long, coming back the following week to leave no doubt about taking care of business against Tipp City, an emotional win for the Burgbachers against their old team, their old community, and protege', coach Joel Derge.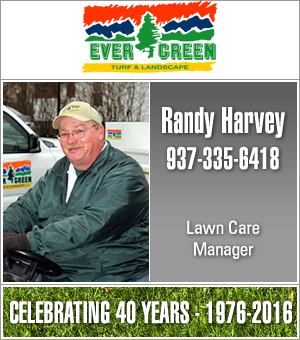 "I know it was a tough game for Dad after coaching there 26 years, but after it started it was just another football game,"  says Burgbacher.  "Of course, we knew them pretty well.  Joel coached with Dad, and there's a lot of respect there between the two programs."
And now?
Well, with four winable games in front of them (Butler, Sidney, Greenville and Piqua) the sky's the limit.  Albeit, in true Burgbacher style no one's looking any farther ahead than Friday's game at Butler (4-2).
"No, every one of our remaining games will be a challenge because they've all overcome adversity of their own to be playing pretty well at this point of the season,"  he says.  "We're just taking one week at a time, and we're enjoying this.  The neat thing is how the community has come back to support Troy football.  When you look up there the last two weeks and see our side of the stadium full you know football is back in Troy again."
They're even watching from as far away as Arizona, California, and Japan.  See the video.
The nuts and bolts of Troy being 5-1!