The Reds' season was a collection of hits and misses…and not enough hits and too many misses.  If you're wondering on who's back and who's gone, here's some thoughts of my own.
 CINCINNATI — Some losing teams hadn't even locked up the balls and bats after the end of the season when some front offices started swinging sledge hammers.
The Arizona Diamondbacks fired manager Chip Hale, fired general manager Dave Stewart and chief baseball office Tony LaRussa should hide his neckties.
Colorado manager Walt Weiss and Chicago White Sox manager Robin Ventura both resigned. That means they were told to take the honorable way out and quit or suffer public hangings.
The Miami Marlins fired hitting coach Barry Bonds after only one season and terminated long-time coach Lenny Harris.
The Philadelphia Phillies fired hitting coach Steve Henderson and the Atlanta Braves are interviewing former managers Ron Washington and Bud Black, obviously poised to show interim manager Brian Snitker a quick exit into a back alley.
It is a year exercise after the baseball season, like Oktoberfest and Halloween, without the masks.
If your team stinks, fire the manager. If your team can't hit, fire the hitting coach. If your team can't pitch, fire the pitching coach. And in third base coach Lenny Harris's case, if the team can't score runs, it must be the third base coach's fault for stopping runners at third base.
It is baseball's version of 'The Fall Guy,' and in some instances, 'The Fall Guys.'
That's what makes it interesting, and uplifting, that the Cincinnati Reds didn't dump their litany of ineptness on the shoulders and broad back of manager Bryan Price.
His three-year contract expired at the end of the season and many thought he would be dismissed with the fallback cliché, "We appreciated what Bryan did, but we're going in a different directon." Many had him fired at the All-Star break.
To their credit, though, the Reds front office took into consideration that Price managed most of the season with all the face cards and a couple of aces removed from the deck. It forced him to use 32 different pitchers, some of them merely pitching wannabes. He was forced to use 15 different starting pitchers, some of whom were not even successful in the minors.
Price, though, never complained. He played he deuces and treys against kings and aces and did the best he could.
The man deserves credit for the team's 36-37 record after the All-Star break, even though he said, "Playing near .500 isn't something to hang your hat on." But it was improvement.
So what good would it do to fire him? Who could have done better? Sparky Anderson was fond of saying, "You are only as good as those players dressing in the clubhouse." At the time, The Big Red Machine was in that clubhouse putting on their uniforms.
Price was given one year with an option to show marked improvement. And that can be done if the players are able to put on their uniforms with any degree of consistency.
Over the long haul last season, Price lost catcher Devin Mesoraco for the season. He lost pitcher Homer Bailey for all but six starts. He lost pitchers Anthony DeSclafani, Raisel Iglesias and Michael Lorenzen for nearly half the season. He lost shortstop Zack Cozart for nearly half the season. He lost center fielder Billy Hamilton and second baseman Brandon Phillips for large chunks. Jay Bruce was having his best overall season when he was traded to the New York Mets at the trade deadline.
And the bullpen? Call it a pigpen and be done with it. It may have been, statistically, the worst bullpen in major league history.
Price, though, never once mumbled a discouraging word.
But the paying public didn't understand and, like most fans, don't want to understand. Give them wins or give them the manager's head on home plate.
And while the Reds say they are rebuilding, fans continue to pay top dollar to watch major league baseball. Right now they aren't getting it in Cincinnati and have a right to be disgruntled and disenchanted and dis everything else.
Fault the front office for this mess. They are the ones who permitted things to deteriorate without fixing it, forcing them to tear it all down and try to put it back together. Does Humpty-Dumpty come to mind?
There were good signs, no doubt about it, and if most players stay healthy (when does that ever happen?) things should improve next season.
That's not to say they'll overtake the Chicago Cubs or the St. Louis Cardinals. But they could pass Milwaukee and an aging Pittsburgh team, depending upon what the Brewers and Pirates do in the off-season.
And, of course, what the Reds do. But new general manager Dick Williams already says he is happy with the regulars and that the priorities are the bullpen (massive rebuild) and the bench, and they might have some money for some low tier free agents to fix that, but won't go after high ticket free agents.
The overview: Even if catcher Devin Mesoraco can't catch next year, Tucker Barnhart established himself and is probably better defensively. Joey Votto is, well, Joey Votto. Unless the team can convince him to accept a trade, 36-year-old Brandon Phillips will be back, blocking second base from Jose Peraza, who was a hitting machine after August 20. To his credit, even though he has lost a bit defensively, Phillips had a decent season as far as batting average.

Zack Cozart hasn't played much the last two years due to a surgically repaired knee. The Reds could try to trade him to make room for Peraza, but what team wants a player who hasn't been on the field much the last two years and ended this season on the disabled list?
Eugenio Suarez keeps getting better, especially on defense after switching from shortstop to third base. He is a good plug until Nick Senzel, the team's No. 1 draft pick this year, climbs the minor league ladder.
Adam Duvall was a shocker with his power and he played outstanding left field, a position he had not played. Billy Hamilton gets better and better offensively and can't get any better defensively. He just needs to find a way to evacuate the training room. Scott Schebler came on strong and might be the answer in right field.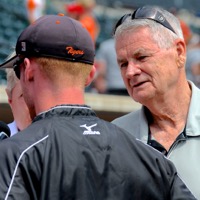 Dan Straily, Anthony DeSclafani and Brandon Finnegan showed they are major league pitchers. All can get better and all are young enough to do just that. Tim Adleman showed signs. And they expect Homer Bailey to be 100 per cent by spring training.
That's five starters right there and guys like Robert Stephenson, Cody Reed, John Lamb and Amir Garrett will be observed closely next spring.
The bullpen? Mark down Lorenzen and Iglesias as sure things and wait to see who fills in after the rest of them are swept out.
It is difficult to tell fans to be patient. They shouldn't have to be told to be patient. The expect results and a more than a few now-and-then bangs for their bucks.
They don't care how it's done, just do it. And do it now.