Sidney entered Thursday nights GWOC American North opener with Piqua averaging a gaudy 42 points a game. But it was the Indians who started fast and, bolstered by a bend-but-don't-break defense, rolled to yet another win over the Yellow Jackets.
Sidney — The Battered Helmet trophy, symbolic of the winner of each year's football grudge match between the Piqua Indians and the Sidney Yellow Jackets, means a lot to Piqua senior Allen Schrubb.
"Yes sir it does," he said with a grin. "I was real tired of not seeing it in our trophy case. We wanted to come up here and get it back."
The trophy, which was established in the 70s, has been an almost permanent resident at Piqua high school. Heading into this year's game, the Indians had beaten the Yellow Jackets 31 of the last 36 meetings. Sidney won last years' contest, 17-14 in week nine, and Schrubb and his mates were determined not to let that happen again.
They didn't.
Schrubb, a bruising 6-1, 237-pound bull of a running back, scored three times and Piqua took advantage of nearly every opportunity to thump the Yellow Jackets 33-13 in the GWOC American North division opener for both teams. Piqua is now 4-2 after its third straight win, while Sidney falls to 3-3 after its three game winning streak came to an end.
"Its big tonight," said a very happy Piqua coach Bill Nees. "Playing on Thursday night was tough on the coaches. It felt like we got done last Friday night and immediately went into the film room and started getting ready for tonight. It's good to get this win and get the helmet back. Our kids played well."
"We didn't come out ready to go, and it showed," said Sidney 6th year head coach Adam Doenges. "Once things settled down, I thought we played pretty well. The ball didn't bounce our way a couple of times, and in the end we just didn't make plays when we needed them."
Piqua got off to a blazing start, when junior Ben Schmiesing, who does everything for the Indians but sell 50-50 tickets before the game, returned the opening kickoff 47 yards to the Sidney 25. Three plays later, Schrubb was in the end zone from 5 yards out and the Indians were off and running.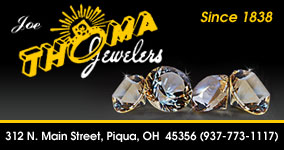 "I really can't say enough about our offensive line," Nees continued after the Indians ran for 216 yards. "Those guys have worked really hard and done an excellent job." The Indians have scored 151 points in the last three weeks, and are averaging 35 points a game.
Hunter Hawk Intercepted Dillion King, the Jackets third quarterback of the season, at the Piqua 5 to end the Yellow Jackets first drive. It started a trend for the night for Sidney, which turned the ball over four times on downs in Piqua territory, including once at the five when Sidney tried an ill-advised pass on fourth and one, and again at the 21.
"When you play a really good football team like Piqua, which is well-coached and does things the right way, you have to take advantage when you have situations like that, because you aren't going to get a lot of them during the course of the game. We weren't able to do that, and it was the difference tonight."
Schrubb found the end zone again from 7 yards out and Hayden Scrubb made an acrobatic catch of an Austin Davis pass to give the Indians a 20-0 lead at the break. The first half also saw one of the more disastrous series of the season for Sidney.
Starting at the Piqua 48, the Yellow Jackets proceeded to lose 32 yards in three plays, plus a procedure penalty for good measure. They punted on 4th and 47 and Piqua rolled downfield to score on Schrubb's second TD run.
The   second half was better for the Yellow Jackets, at least offensively. They put together a 10 play, 85 yard drive out of the locker-room, culminated by King's 15 yard scoring pass to Caleb Harris on fourth down. After Allen Schrubb scored his third TD of the game for the Indians, Isaiah Bowser, the GWOC's leading rusher through the first half of the season, returned the kickoff to the Piqua 17 yard line. Bowser scored his 18th touchdown of the year 7 plays later to make it 27-13.
The Piqua defense did a phenomenal job of bottling up Bowser. The 6-1, 195-pound junior, who combines power with plenty of speed, came into the game averaging 213 yards a game and 8.5 yards a carry. Against the Indians defense, Bowser earned every one of his 109 yards on 30 carries, an average of just 3.6 per rush.
"Our defensive line played really well," Nees said when asked the key to keeping Bowser under wraps. "I think they may have been down a couple of starters with injuries, but our line was able to control things. Then once they got behind and had to throw, we did a good job with pressure."
The Jackets had two great opportunities on onside kicks after their touchdowns in the third quarter. From the press box, it appeared that Sidney had recovered both kicks near midfield, but each time Bob Hess's officiating crew awarded the Indians the football.

"I will have to respectfully disagree," said Doenges, who had both plays happen right in front of him on the Sidney sideline. "I thought we had both of them. But, you know that's part of the game, the human aspect of the game. That's what makes high school sports great. There's no instant replay, you have to live with what is called, and obviously those didn't go our way."
"This feels great," Schrubb said of the division opening win. "I'm real proud of my line, proud of my running mate Ben Schmiesing, proud of our whole team.
Schrubb said his role has definitely changed since the Indians lost Darien Tipps-Clemmons, last year's leading rusher, to a season ending knee injury in week 2.
"I have have to step up as the lead back, obviously. Last year, my job usually was blocking for Darien. Now, we take equal reps blocking for each other and running the ball."
Doenges said it will be good to have a little extra time before the Jackets travel to Tipp City next Friday.
"Well, we have an extra day to re-group, an extra day to heal up the bruises. We get a chance to go out tomorrow night and watch one of our opponents play. It's a disappointing loss, but the sun will come up tomorrow. We'll get back to school, get back to book work, and start preparing for next week."
Nees is also looking forward to the extra day before the Indians, who play three of their final four at home at Alexander stadium, host Greenville next Friday.
"It will be nice to maybe relax a little over the weekend," he said as he headed toward the locker-room. "You know, when we lost those two games, and everybody thought we were falling apart and dead, my assistants did an amazing job of finding the right people for those spots that we had to fill. They encouraged more leadership and never let the kids get down. My hats' off to them as well as the players for the way they have turned things around."