Four games into the season, the Bengals are 2-2, with more questions than answers. They have time and room to grow. But the question stands. How much can they grow and how quickly?
CINCINNATI — There are two ways to look at the 22-7 whipping the Bengals laid on the Miami Dolphins Thursday night at Paul Brown Stadium.
One, after back-to-back losses to the Steelers and Broncos—and not looking very good in the process—they got their act together during a short week and rolled Miami, made them look just awful.
That's one way to view the game and, no doubt, there will be those who choose that perspective.
Another slant is probably more accurate, that these boys look good when they are playing mediocre or bad teams. Thursday night, it looked an awful lot like the Bengals played a bad team and made them look downright awful—as bad as those ghastly, pale orange uniforms. They looked like walking Dreamcicles.
In the end, Miami first-year coach Adam Gase looked and sounded like a man lost in a wilderness of confusion.
"We were just all over the place," he said.
Cincinnati's statistical domination of the game was gaudy, so gaudy it hardly bears review. Leave it at this – time of possession: Bengals 38 minutes, Dolphins 22, and much of that fourth quarter garbage time.
The best summation came from defensive end Carlos Dunlap, who had two sacks of the Bengals' five sacks: "Our defense played well. They didn't get to the red zone. That says it, man. Says it all."
There was more. The Bengals prevented first downs on third down 12 out of 15 times, pitched seven three-and-outs, and in the final 54 minutes held Miami to 148 yards.
The Bengals started the scoring with the first of Mike Nugent's five field goals, but the Dolphins answered quickly, Ryan Tannehill connecting with Kenny Stills for a 74-yard TD and a 7-3 lead.
After that, it looked like the Dolphins couldn't tie their shoes, much less put together a drive.
"You never like giving up a play like that, particularly that early in the game, but we rallied—to our players' credit—and put that behind us," Coach Marvin Lewis said.
All-Pro receiver A.J. Green carried the day. He had 10 catches for 173 yards and a touchdown. He also had a crucial 43-yard catch on a third down play, putting the Bengals on Miami's 16.
"Big play," Lewis said, "a clutch catch that kept the drive alive. But we ended up settling for a field goal…You certainly want to get a few more touchdowns when you get inside the red zone. Instead of settling for five field goals, you want to get two or three touchdowns there and a couple of field goals."
At his best, Lewis is quick to recognize the areas where his team needs work, and even while the sudsy crowd at Paul Brown chanted, "Who Dey!" on their way to the parking lots, Lewis was the among the first to suggest this was hardly a shiny example of championship football.
Still, there were reasons for optimism.
Just four days ago in the moments following last Sunday's 29-17 loss at the hands of the Denver Broncos, the Bengals lined up to stress the need for adjustments and improvement.
Green led the way.
"This offense has to run through me," he said. "I've got to do better…When I'm making plays, this offense—everything else falls into place. We have to be more consistent and it starts with me."
Thursday night the offense started and ended with Green. The Bengals had a total of 362 yards offense. Green's 173 yards accounted for nearly half that total.
The Bengals had just 77 yards rushing, and Jeremy Hill—for all the praise he draws—accounted for 71 yards. Gio Bernard had 18 yards and quarterback Andy Dalton was charged with -12.
A solid running game just isn't there and there's no sign it's coming.
Still, it is early in the season. As veteran offensive tackle Andrew Whitworth, the soul of honesty, said this week: "Hopefully, as we get in synch and things get going, we will have ore productivity…The reality is we have to build and get to know each other. As that happens, we'll get better."
When Adam Jones was asked about the Bengals performance and record thus far, he was a little more clipped, a tad abrupt.
"For you guys, not for us," he said. "We play 16 games."
There is a tendency here—league wide, actually—for fans to live and die, rise and fall with the outcome of each game. Last week, the capacity crowd at PBS filled the escalators and headed home halfway through the fourth quarter.
Thursday night, those "Who Dey!" chants echoed through the stadium and up and down the riverfront.
Four games into the season, the Bengals are 2-2, winners over the Jets and 1-3 Dolphins; losers to the 3-0 Broncos and the 2-1 Steelers. They have time and room to grow. But the question stands. How much can they grow and how quickly?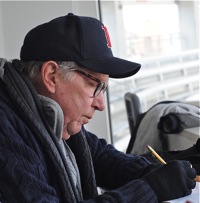 Can they develop a reliable running game that fully compliments the passing attack?
Can they find a way to sustain drives and turn field goals into touchdowns?
Have we seen the best of the defense? Is the defensive backfield as vulnerable as it sometimes seems?
Adam Jones is right. Two losses hardly amounts to a lethal blow. Eighteen teams have made it to the Super Bowl with five losses or more.
There was a team and not that long ago that went to the Super Bowl with a 9-7 record and won, the 2011 New York Giants.
Odd things can and do happen in the National Football League. The good thing about the Bengals—the interesting thing, at least—is that they keep us guessing. Or is the right word maddening?
I guess it's all in the way you look at it.