History both haunts and informs me. I'm looking at something like 9-7 or 10-6 season, and I will admit that projection included a loss to the Jets. But, I've been wrong before and the early returns indicate I might be wrong again.
CINCINNATI — It' been different around here lately. Downright calm — reasonable. But given all that happened at MetLife Stadium Sunday afternoon that's about to change. Count on it.
The Bengals weathered every kind of storm and beat the New York Jets, 23-22, on a last-minute, 47-yard field goal by Mike Nugent, and that is not a hang-dog Jets team by any stretch.
Quarterback Andy Dalton was sacked a record seven times and picked off once, yet they won.
They managed only 91 yards on the ground, but they won.
The Jets pushed into the red zone six times and four times had to settle for field goal attempts, one of which was blocked by Marcus Hunt.
They opened on the road in the New York area in front of a hostile, emotionally charged crowd on the 15th anniversary of the attack on the Twin Towers.
"The crowd. The players. The coaches. They are all on fire right now," said CBS analyst Phil Simms. "In all the games I've seen here, this is the loudest I've ever heard this crowd."
Faced with two of the most dynamic and effective defensive backs in the country – Darrelle Revis and Buster Skrine – the Dalton/A.J. Green connection made them look like scrubs.
Dalton threw for 366 yards, connecting on 23 of 30 passes, including a 54-yard touchdown to Green that gave the Bengals a 10-7 lead early in the second quarter, the second of five lead changes in the game.
The Bengals trailed 7-0 in the first, 16-10 in the second, and 20-19 in the third quarter, and, yet, they won.
For his part, Green was superb: 12 catches, 180 yards and the initial go-ahead TD.
"Nothing special," he said. "Just out there trying to make plays."
Green's performance was complimented by that of veteran newcomer Brandon LaFell, who caught four passes for 91 yards, and everybody was all worried about the departure of Mohammed Sanu (Falcons) and Marvin Jones (Lions).
Sunday a lot of doubt was dispelled, and afterward there was head coach Marvin Lewis floating a little self-deprecating humor over the airwaves – actually laughing as he spoke, trotting out all those hard-worn phrases from the past.
"Just keep workin'," he said. "Poundin' the rock, shovelin' – whatever. Just keep playin'."
Then, Lewis gathered himself.
"I do think we have a since about us that if we just keep playin' and playin' hard that good things will happen; good things will fall our way."
Dalton struck a similar chord.
"We were resilient," he said. "We played our game and we ended up coming out on top"
This is the way things go. This year, and oddly enough, there was no great fervor surrounding the start of this Bengals season. Maybe sports fans hereabouts were so numbed by the Reds dim performance that expectations were lowered, blind optimism replaced by reasonable evaluation.
In past years, the city went nuts, the madness descended like fog on the river. Always it was the same
This was the year. This was the year they would finally rise above the also-rans and became a force to be reckoned with in the NFL.
It was Who Dey all over the place. Everywhere you looked, stripes. Rich folks. Poor folks. Everybody! The city was all in on the Bengals and it seemed no failure, no matter how frequent or prolonged, was painful enough to drive the fans away.
My brother-in-law, Joe Schreibeis, and his friends Bobby and Rick Schwartz loaded up the RV every Sunday and spent thousands upon thousands of dollars watching the Bengals flop around season after season.
"Finally," Joe said, recently, "we just got tired of them ruining our Sundays. Now, we get together at somebody's house and watch. It doesn't hurt as much when they crash and you haven't spent so much to watch 'em do it."
Every week, my friend Paul Bryant, who works at St. Joe's Cemetery, would manage a ticket here or there, and most Mondays found him far more jovial tending graves than he was Sunday leaving the stadium.
Paul's still tending graves but these days he has NFL Ticket. "Now," he says, "I can always change channels."
But this year, this year it's been different. It's as though the modicum of success the Bengals have enjoyed recently – making it to the Wildcard Round five straight years and six of the last seven – has cooled the craziness; that it's somehow, someway been replaced by an air of realism.
Maybe it's because it is now impossible to avoid or ignore the national view of the team. Virtually no one on the national scene is picking the Bengals to win their division. That nod goes to the Steelers.
Vegas makes the Bengals 12-to-1 or 20-to-1 – depending on what day it is – to reach the Super Bowl.
History both haunts and informs me. I'm looking at something like 9-7 or 10-6 season, and I will admit that projection included a loss to the Jets. But, I've been wrong before and the early returns indicate I might be wrong again.
You got to consider:
Until Sunday, the Jets were 12-2 at home against the Bengals, who had not won there since 1981.
That amped up crowd might have had an early effect, but the Bengals played through it, and defused it.
Finally, I wondered about the Bengals operating with a first-year offensive coordinator, Ken Zampese, who's served as quarterback coach for 13 seasons. I thought he might be out of his depth, but that didn't appear to be the case Sunday.
Of course, in the days leading up to the game you don't have to go deep in the Bengals ranks to find those willing to pooh-pooh that reasoning.
"Zamp has a great game plan," Green said. "We've got a lot guys who can make a plays…We've always had a good running game; (rookie receiver) Tyler Boyd, Brandon LaFell. I think we'll be fine."
So, maybe I'm wrong—again.
Maybe, it's taken Marvin Lewis this long to find his way and find his team. Maybe now he has a mature, driven group of players who put team results ahead of individual recognition.
Just maybe it's time I listen to others in the business I respect.
First up, Bengals play-by-play man and my former TV partner Dan Hoard, who maintains his evenhandedness despite his position.
Dan sees the season this way:
"The Bengals were the best team in the AFC last year before Andy Dalton's injury and remain loaded. But it's hard to win 12 games in a season much less two years in a row. I predict an 11-5 finish with a playoff win.
"My biggest concern is injury probability. Before Dalton broke his thumb (in game 14), the Bengals were historically fortunate in terms of staying healthy last year. The odds of that happening in back-to-back seasons are slim."
Next up, Mo Egger, 1530 ESPN radio host and one of few in his field who is unflinchingly honest and straight forward. Mo offers this:
"I have the Bengals going 11-5.  A lot of people are talking about the team taking a step back this season, and I think they will.  I just don't think it's a huge step back.
"Mainly, it's because I think they can offset losses throwing the ball by running it more effectively behind a really good offensive line and a resurgent Jeremy Hill.  It might be hard for Andy Dalton to repeat what he did a year ago, but I think he can settle in nicely in some undefined place between what he was last season and what he used to be before 2015.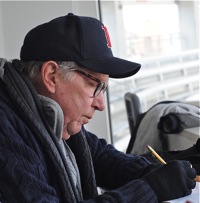 "They have a dominant defensive tackle in Geno Atkins, some defensive backs who have their best ball in front of them, and I think the Karlos Dansby signing makes a difference at linebacker.
"Will 11 wins be enough to win the AFC North?  Maybe not, because the Steelers could be very good.  Will it be enough to get them back to the playoffs?  Definitely.  Can they finally break through and win a postseason game?  Based on what I've seen time and again, no."
But, let the show begin. We can only guess at what lies ahead, and, quite possibly, the best comment on this season comes from veteran DB Adam Jones.
Jones shrugged when asked about the season, then he laughed. Finally, he smiled broadly and said: "It's going to be a challenge. We shall see."