The revamped Coldwater Cavaliers stole the show, stayed unbeaten, and delivered a devastating message to Marion Local, the MAC, and the state. Never, ever, take them for granted!
Maria Stein, Oh – There is a reason, I guess, why football games have four quarters.
That being, if you leave enough opportunities for opportunistic football teams later, rather than sooner, sometimes they will beat you.
So it was Friday night as the retooled, and largely overlooked, Coldwater Cavaliers behind quarterback Dylan Thobe outplayed, and outlasted, their favored title mates from the MAC in a Friday night thriller, 17-14. Ironically, it was the same score as last year's Marion-Coldwater contest won in the last second by Coldwater on a 43-yard field goal. The 43-yard field goal came much earlier this year, and by a different kicker.  But the outcome? The same.
"If anything I think it's almost better than last year," said an excited Thobe afterwards. "This is awesome."
Yep, in a teenager's perspective, it is awesome to win against a respected opponent like Marion, in their house, when the anticipation for the game is so high. And face it, not all of the 5,000 who turned out to see were there strictly for football. The 50-50 pot, which has become a MAC legend in an of itself on nights when goliaths like Marion and Coldwater collide, set another new record…$14,000.
Marion scored first, and predictably, behind its powerful running game and offensive line that simply pushed Coldwater backwards down the field. Quarterback Duane Leugers ran it in from three yards out to make the score 7-0 at 7:11 of the first quarter.
They (the Flyers) were driving again with :29 seconds remaining the quarter when somehow, in a pile of humanity that seems to be the treacherous trap of interior line play in football, junior Marion tackle John Dirksen got tangled and went down in an awkward motion, his right leg broken, obviously out indefinitely, and in human perspective…the worst break any football team could have.
Leugers would score again, moments into the second quarter, to make the margin 14-0. But there was no mistaking that from that point on it was not the same Marion football team, physically or emotionally.
"That was just a horrible break, a terrible thing to happen to their big guy (Dirksen)," said Coldwater coach Chip Otten, who knows the Marion roster almost as well as his own, such is the relationship and the football rivalry between the two schools. "I feel for him, and I feel for them when you see one of your buddies go down like that with a broken leg. But you gotta' keep playing.  You never know."
And play they did.
Midway through the quarter Coldwater and Thobe engineered their best drive of the game to that point, inside the Flyers' red zone. With 1:58 left before halftime Thobe scrambled out of the pocket to evade a furious Marion pass rush and found Louis Berry at the pylon for a 23 yard touchdown strike.
Moments later after a change of possession, Coldwater moved the ball to the Marion 36 but without enough time to take another strike at the end zone. On came kicker senior Neil Muhlenkamp, one of those players that seemingly can do anything asked of him, including the toughest skill in football…placekicking. From exactly the same spot as the kick that won last year's game, Muhlenkamp coolly thumped a field goal from 43 yards to put the Cavaliers within four points. The two teams went to the halftime locker room with a 14-10 score.
Two different teams came out for the second half, the emotion and momentum seemingly flipped from the beginning of the game.
"That was a big part of it," added Otten. "They came out like a house of fire in the first half and we knew we'd have to take their punch. Fortunately we made enough plays and they made a couple of mistakes for us to stay close and have a chance."
Suddenly Coldwater's defense stiffened, put pressure on Duane Leugers, and made Marion look detached from the task at hand and their typical execution.
"Give them credit," said Flyer coach Tim Goodwin later. "I don't think I called a very good game offensively, we didn't do enough good things to win, and Coldwater did. Their young quarterback really played well. He hung in there, we didn't get great pressure on him, and he played great. Their whole team did.  Usually it's our defense that plays well in the second half.  Tonight it was theirs."
Senior Zach Klosterman, and teammate Nate Rindler, played individually like men possessed.
Klosterman, at 6'5" and 215 pounds, was a force at the line of scrimmage, batting down pass attempts and disrupting Duane Leugers' vision downfield.
Rindler, at 5'7" and 155 pounds, was all over the field, chasing Leugers out of the pocket and making him throw uncomfortably on the run.
The teams traded punts and field position throughout the third quarter, both picking up yards, but neither able to score. Marion stopped Coldwater on down in the shadow of the goal line. Coldwater's defense, likewise, stretched, but never broke.
The got into the fourth with that pattern. Jack Homan, Henry Keller and Nate Moeller moving the ball on the ground for Marion. Thobe, with help from Rindler and Muhlenkamp, parried back for Coldwater, allowing the Flyers no breaks or big play opportunities at all.
But if there was a turning point, it undoubtedly came at the 4:00 mark when attempting to punt from near midfield, Marion's center whistled the snap over the head of punter Jared Bergman, who recovered the ball on his own 40, but turned the possession over to the Cavaliers.
Thobe went right to work against what seemed a stiffening Marion defense. But facing third and long, he found Muhlenkamp behind the Marion secondary for a first down near the ten yard line. Moments later, he found him again…in the end zone for a diving catch that gave Coldwater its first lead, and the winning margin.
"We ran that play twice, the same play, one we've run at Coldwater for 20 years," said Otten. "We call it inside corner and Dylan put the throws right on the money. I give him a lot of credit. He made some mistakes tonight, but he also made some plays for us under a lot of pressure. Their linebackers are big and aggressive and they were coming. And, we asked him (Thobe) to play defense the whole game, as well.
"We called this PTW night…prove them wrong," added Otten. "Everybody thought this was the class that wouldn't be able to do it. And they did it. A lot of guys made big plays."
Big plays on both side of the ball, including Dylan Thobe picking off the final desperation pass of Duane Leugers with 44 second remaining, securing the win.
"It was awesome," repeated Thobe (who wears the same number as former state champ quarterback, Austin Bruns), fighting unsuccessfully to contain and ear-to-ear grin. "I feel like Brody Hoying, the interception he made in the state championship game when he was a sophomore to seal the win. That's what this feels like."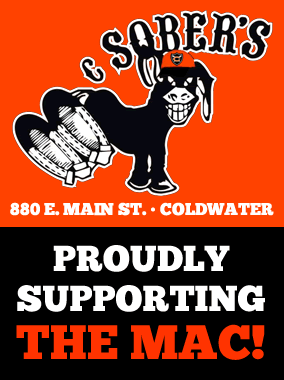 Coldwater finished with 233 total yards. Marion with 243.
Coldwater was turnover-free. Marion had two – a fumble and an interception.
Coldwater threw the ball effectively – Thobe 15 of 29 for 190 yards and two touchdowns.
Marion ran the ball effectively – Nate Moeller for 88 yards; Leugers for 95 and both touchdowns.
But the biggest stat of the night for Coldwater was simply this. They took Marion's first punch and made them earn everything they got after that. The Flyers got nothing easy, no gimmes, no breaks.
Nor did they didn't make any breaks for themselves, either. To their credit…no breaks, and no excuses.
It's how football gets played when champions meet!