Among some pretty good opening games this Friday, the one that portends the most risk is this one. And a lot of college coaches should take notice, and follow the example.
I really don't know who sought out who to set up Friday's titantic struggle as an opening game. Don't know if Tim Goodwin (Marion Local) called Marcus Colvin (Chaminade Julienne), or whether Colvin called Goodwin. Me thinks the former, rather than the latter.
Nonetheless, kudos, and "you damn well skippy", as they say in Catlettsburg. Go play somebody that's not an automatic win. Find out what you're made of. And give the anticipated overflow crowd at the new Marion Cash Stadium their money's worth.
Actually, there's a number of area high school's sticking their neck out this week.
Lehman opens tough with defending state champ Ft. Recovery.
Sidney has no gimme with St. Marys, always a tough out for the Yellow Jackets.
Troy opens with Trotwood.
And Covington hosts MAC power, St. Henry.
But IF, and I aay IF, it was Tim Goodwin who picked up the phone and called Colvin to say, "Let's play", he deserves credit for not protecting his record or his legacy. He's actually enhancing it because he's not afraid to play a team that's two divisions higher up than his own. Marion is in Division VI. Chaminade is Division IV. You hear a lot of coaches say they want to play the best non-conference team they can to prepare for league play, but they don't mean it. But Goodwin does, because he's holding all the cards.
He might tell you, quietly, that he'd love to play Sidney (Division II), Troy (Division II), or Piqua (Division III) if they would play. But they won't. Nothing to gain, the respective ADs of those schools will say. If we beat a Division VI school we gain nothing. If we lose…we lose a ton of computer points towards making the post-season playoffs. So you see, it's really not about playing the best competition available because Marion IS available…with no takers.
Actually, Urban Meyer and a lot of Division I college coaches should follow Goodwin's example of scheduling someone that might actually challenge in their opener.
For instance, Ohio State opens in a couple of weeks against…Bowling Green. Why? Little or no risk of losing, for one. A nice light workout before moving on to play Tulsa in week two, and the one people actually want to watch…Oklahoma in week three.
And by the way, for you economists out there, you'll pay a minimum of $75 to see Ohio State play BG…because it's Ohio State. You can see the Falcons play at home the rest of the year for $50 less. As an aside, I often wonder how many people would show up to see Ohio State play Ohio Northern in Ada, where tickets for a home game were $6 bucks the last time I went.  And Ohio State has played its share of Ohio Northerns in the past openers.
All of them, Clemson, Alabama, and so forth, have early schedules that feature one possible loss, but not two or three. Alabama opens with USC, impressive enough, but then ducks back into the cozy confines of Bryant-Denny Stadium on week two against Western Kentucky, and Kent State on week four.
Back to high school the Marion-CJ game is at least a two-year contract and Colvin and the Eagles are ecstatic over the opportunity of not only playing, but playing AT Marion next year.
"It's an absolute opportunity for our football program," said the affable young coach of the Eagles last week. "I have so much respect for Marion Local and what they've done. When you win eight state titles – when you win four in a row and make five trips to the state finals game you're doing something right. I want to watch Coach Goodwin and see what he does. I want to learn something from this experience. And we're very excited about going up to Maria Stein to play next year."
And lest anyone think that Marion will walk into Marion Glass Stadium Friday night in the shadow of mammoth right tackle, John Dirksen, and have their way with the Eagles…I don't think so. They might win, but CJ (2-8 last year) plays in the tough Greater Catholic League (Cincy and Dayton) has a talented quarterback in junior Ryan Peltier and a bevy of skill position players with speed. They put three scores on the board against Sidney in last week's scrimmage in the matter of 12 minutes before halftime, and they did it by getting the ball in the hands of players that could run, and run in space.
Marion Glass, by the way, is the patriarch of the Marion's Pizza chain in the Dayton area, founded in 1965, now overseen by his son Roger, who's a Chaminade graduate.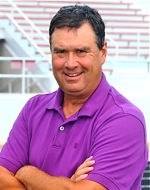 But back to football: "We're really going to have to play well to beat Marion," added Colvin. "We can't make any mistakes against a team like that, with that kind of experience, size, talent, and legacy. But man, what an opportunity!"
Hey, you hear that Ohio State, which actually has tightened its belt, and in a couple of years will begin series with the likes of TCU, Oregon, and Notre Dame, starting in 2022. I hope I live that long.
And Lord, how I'd like to have the day back I spent to take friends to OSU vs. Youngstown State a few years back. Or Florida A&M!