After a year of surgery, rehab, setback, and waiting, Craig Stammen is finally within a month of making back to the big leagues. He needs to make it…a GOOD month!
Columbus – Craig Stammen added another hat to his 12-season professional baseball odyssey Wednesday night when he made his 2016 AAA debut with the Columbus Clippers.
Including his seven seasons with the Washington Nationals, and a 26-24 career major league record, the Clippers marked the ninth professional club since his signing in 2005 out of the University of Dayton: Vermont (New York-Penn League), Savannah, Georgia (Sally League), Potomac, Maryland (Carolina League), Harrisburg, Pennsylvania (Eastern League), Syracuse, New York (International League), Washington (National League), Goodyear, Arizona (Cleveland Rookie League), Akron, Ohio (Eastern League), and Wednesday, back in Columbus for his second stint with the Clippers, the AAA affiliate of the Cleveland Indians.
And this stop, he'll tell you, may be the most important one of them all. After starting the 2015 season in the Washington Nationals' bullpen, he suffered an elbow injury last April and missed the entire year after corrective surgery. Let go by the Nationals, he was a man without a team through last fall and winter before signing a minor league contract with Cleveland in February.
Unable to perform in spring training, the Indians left him in Arizona to rehab in their rookie camp, where he stayed until the first week of July.
On July 7 he was assigned to the Akron Ducks of the Eastern League, where for three weeks he made ten appearances in relief and gave up one earned run in eleven innings.
On August 1st he got the call to Columbus, ostensibly to prove that he still had the velocity, movement, and command to pitch in the big leagues. In the middle of the pennant chase for the American League Central title, the Indians can, and will, expand their roster in September and 32-year-old Craig Stammen has now less than thirty days to prove…that he still belongs in the big leagues.
"It's a good thing that I'm in Columbus now because at least I've made it back to AAA," he said before Wednesday's game with the Indianapolis Indians. "That means I've completed all my rehab throwing in Arizona and Akron. That went well, I threw the ball really good, and I'm a lot closer to being what I was before I got hurt than I expected to be. My consistency has been good, and now it's about pitching to more experienced and better hitters and see if it still plays like it used to."
What Stammen is attempting to do, you understand, is one of the toughest things in sports. Injury is the scarlet stain, the stigma, that every pitcher seeks to avoid, or overcome. Proving you're healthy is not that simple, hardly automatic at his age, and with younger prospects continually competing to make their own case for recognition and advancement.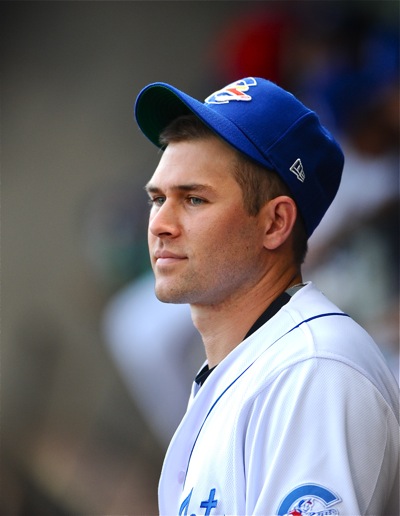 "These guys at this level have seen pitchers like me before," he continued, comparing AAA hitters to less experienced competition at Akron and at the rookie level. "They know how to approach pitchers like me. It's a little bit more of a cat and mouse game where you have to execute and pitch to your strengths and to their weaknesses.
"Physically I'm throwing all the same pitches and my velocity is very similar to what it was before my injury, and that's a miracle in itself. There was some question as to whether that would come back because I'm 32 years old and there's a lot of miles on the tires now. But things have been consistent and that's good. I'm not a young buck anymore."
It means a lot to him. Baseball, that is, and the challenge now of proving that he can still compete and pitch in the big leagues. You can see that look in his eyes, hear the determination in his voice, and sense the adrenalin surge that comes with being back in AAA and one step away from being there.
He was at the top of his game when he got hurt, at the peak of his career, and that haunts when you've worked so long, in so many minor league towns, to get there. More than one former major leaguer will tell you…it's the hardest thing they've ever had to give up when it was over. You're never ready.
But Stammen doesn't consider the last year a lost year.
"I've actually enjoyed the time away and had a lot of fun," he says. "It was the first summer I've ever had where I didn't have to play baseball every single day. I got to be home and spend more time with family. I was able to do some things for my body and spend time on the mental side of the game. I learned something about myself as a man and a pitcher, and I've come out of this as a better person. I'm excited now to see what the back end of my career is going to be like."
And he got a glimpse of that in the tenth inning of a 4-4 tie Wednesday when he got the call to go out and show what he had.
He was flawless in the tenth, throwing twelve pitches and retiring the side in order on a fly ball to center, a ground ball to second base, and a called third strike.
But in the eleventh he gave up a pair of hits and a run, and took the loss in a 5-4 verdict, losing to a guy pitching for Indianapolis named Dovydas Neverauskas. Some things never change in minor league baseball.
But the things that have made Craig Stammen successful were still there, as scouts sitting behind home plate were quick to note…the movement, his velocity hit 90, and his location, so important in retiring big league hitters, was generally good. He had brought the consistency he'd shown in Akron south with him to Columbus.
Now he has less than thirty days before the end of the AAA season to prove that he can help Cleveland down the stretch, and perhaps, beyond.
"I'm really not a worrier, or at least I try not to," he added, relative to his future fate. "But everybody worries some, and if they say they don't they're lying to you. But I've learned that worrying doesn't help. Worrying didn't help me to get healthy, but there were a few times in the past year when I didn't know if I'd ever pitch again. There were times when I wondered if it was I the plan for me to come back and get this far.
"But I put my head down and went to work, just like everybody does where I come from. I decided that if I worked hard and kept my mind right I could possibly get there."
He looked pretty good Wednesday night, and yes,  good enough to get there. Craig Stammen would like one more chance to pitch in the big leagues!