The new coach of the Covington Buccs is their youngest ever, armed with enthusiasm, appreciation for tradition, and a vow to incorporate a few new wrinkles.  He plans to throw the football.
Covington – Ironically, he met me on the 30 yard line of his old stomping (er, running) grounds, where a decade ago Ty Cates was a dependable running back and linebacker for Coach Jason Schondelmyer's Arcanum Trojans.  He still lives there.
He cut his teeth on the challenge back then of beating league rival Covington, those years where the Trojans were always a close second, along with Anna, to the Buccaneers' football dominance in the Cross County Conference.
He was "all in", to use the phrase so currently popular – a leader, vocal, and popular. He impressed even some as a prodigy, one who surely would find his niche someday in the coaching ranks. He understood, and liked, the mechanics of football.
He followed Schondelmyer to Versailles, where he served as an assistant for a couple of tough years before making the rounds, eventually landing the Twin Valley South head coaching job four years ago.  He was the right guy at the right time for what had been a struggling program, inheriting size, skill, and football work ethic in a commendable cycle of athletes. He turned the Panthers into a winning force.
So when Dave Miller announced he was leaving Covington for Fairmont last winter, after winning 86 games (86-20) in nine seasons, Cates jumped at the chance to interview and impress an old foe, and nemesis, with his enthusiasm for teaching the game and attracting the commitment of kids with a fresh perspective. He believed he had something to add to Covington football.  He was convincing, and they hired him.
He becomes the 16th coach in the 70-year history of Covington football, succeeding the likes of Burr Simpson (the original and first coach), Larrie Tisdale, Charlie Burgbacher, Ted Peacock, Kevin Finfrock, and of course, Miller.
He comes to town with fire in his belly and a world of appreciation for the opportunity presented to him. Plus, he's already made believers out of any who might question if 29 isn't too young, and too inexperienced, to take the reins of Covington's winning tradition. His Twin Valley team beat Covington in each of the last two seasons, and threw for 367 yards in last year's 34-30 win.
"We came out throwing and they never made the adjustment," shrugged Cates as he talked about it on Friday. "We really weren't a throwing team, but it was there and we took advantage of it."
Which pretty much sums up his philosophy for football as the new coach at Covington. Ty Cates wants to be prepared – balanced, in his words – to do what's necessary to win. And yes, folks familiar with Covington football…that includes THROWING the football!
"I think if there's anything I can do to put my stamp on football here it would our ability to throw the ball," he adds. "It's something I believe in because I think you have to be balanced to win. If teams are stacking the box with nine and ten defenders to stop the run you have to have that option."
Something that Covington didn't do during the Dave Miller era, even though he contended that he could. However, opponents knew…there was no commitment to throw. But Miller left precious little else to chance, a fact that Cates appreciates greatly as he assumes the responsibilities of replacing him.
"I've been impressed," he says. "We've had two camp days so far and a seven-on-seven scrimmage, and the kids, the seniors, have been great leaders and very enthusiastic. We've been able to install new things faster than I had anticipated. The kids have picked up the passing game quickly.  They bust their butts, they sprint everywhere, and I credit that to Coach Miller for setting a good precedent.
"And mental toughness…we had the scrimmage the other night with five other schools in hot, humid conditions. After a couple of games some of the other teams were hot, tired, and out of gas. Our kids were ready to go, and that's mental. Their guys were gassed and our guys were still going. There's a culture difference of just flat-out toughness. They've worked hard in the weight room, they're in shape, and they're learning on the run. They want to move fast, fly around, and that's been ingrained into the program. They're used to that because of Coach Miller. They want to do what's necessary to win."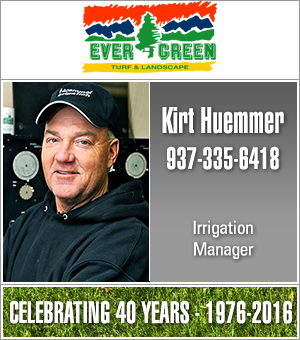 There is talent at hand, as there always is at Covington, and there's been a migration of athletes coming back to football. The reason? The rumor, now fact, that Cates has come to town with a predisposition to throw the ball, which kept some away from Miller's grind-it-out system and affection for the triple option attack.
"Well, I hope they don't think we're going to throw it all the time because we threw for 300 yards against them last year," laughs Cates. "But we have to be balanced. I don't dare be critical of Coach Miller or anyone before him because they did a fabulous job. But if you want to go to the state championship game very few teams get there without being balanced.
"The best teams in the area, Marion Local and Coldwater, run and throw the ball and I want to bring that to Covington. I think that's been the missing link, and I think that can be my stamp on the program. Everything else they have…the work ethic, how hard they play, and that's a tribute to the community, the parents, the coaching staffs that have been here before. It's a nice situation to come to."
He promises some other changes, little things that he's picked up along the way from influential relationships and coaching mentors. A nuance here on the shape of his defense…and adjustment there on the splits of his offensive line. And working hard isn't always the answer. Sometimes you need to work smarter.
"I'm young, but I've learned a lot from some good people and coaches," says Cates. "Jason Schondelmyer will always be my greatest influence because I played for him, coached under him. But I've learned a lot from my association with Al Hetrick, at Versailles. I know I've lost some kids in the past from having practices that were too long, and too intense. Coach Hetrick used to say just work 'em hard for an hour and half and let 'em go home and be kids."
He still looks like he could play, even if a little heavier. And he walks with that same rocking gait to his step that you remember from his running days at Arcanum. But he's also smart, and introspective regarding influences which he cannot control in regards to what Covington needs to take its game to another level of achievement.
"The league," he says. "The Cross County Conference needs to become better, more challenging, for us to get better. The week to week competition makes you better. The MAC is the best example around, and I coached in that league. I know it makes you a better coach. You want good, tough games to find out where your weak links are. You can't be stomping everyone and discover your weaknesses. By the time you meet a really good team in the playoffs it's too late. If we can all push each other to get better it'll help everyone to have better success in the playoffs. We should all want to win a state championship."
Other sound bites:
Covington numbers are up, almost fifty in helmets last week: "When you have more numbers you have more competition and depth that's ready to play," says Cates.
On the popularity of football, compared to eras past: "I know there's concern over the safety of the game, but I think it's still a great game and there've been great changes to make it safer. I think the technology generation has a lot to do with any decrease in the popularity of football. It's not just football. But if kids are having fun I think they'll play football."
On the recent ban on Covington players talking to the press: "Our kids will be available to the press because I think it's a good experience for them. I'll be doing some coaching to make sure they handle it in the right way, but they will be free to talk."
He freely admits that the week of his opening game against St. Henry will be a nervous one. "No sleep on Thursday night," he assures. "But after the kickoff it becomes football and I'll be fine."
Respectful of what he's inherited, Ty Cates leaves little to the imagination of what he believes is possible…in case (or Cates) your wondering. In an eerie coincidence, he replaces a coach that once coached where he just left…Twin Valley South. It could happen again: Cates would take 86 wins in nine years in a heartbeat. You talk to him and you know he plans on it.
And even more!