The Buckeyes' backup catcher is in Lima this summer preparing for whatever comes his way in 2017. He hopes, of course, it's a lot of time behind home plate.
Lima – If you meet him you'll be surprised with Ohio State catcher Jacob Barnwell.
That is, his personality and demeanor belie what you might expect from one who plays baseball's most physically aggressive and demanding position.
At 6 feet and 185 pounds he's not physically imposing.
When he speaks he's definitive, yet quiet and understated. There's nothing rah-rah about him.
But when he puts on the gear and crawls behind home plate…that's another story.  He goes into character.  A prodigy from Boyd County High School in Catlettsburg, Kentucky, he has great hands – "quiet" hands in the vernacular of the position. He catches the ball easily, steadily, and without a lot of motion and distraction to umpires.
When he throws he gets the attention of opposing base runners as well as teammates.
"I played a couple of years of summer ball with him on the Huntington Hounds," says Marshall University pitcher Wade Martin, who hails from Wheelersburg, Ohio, just across the river from Catlettsburg.
"You didn't have to worry much about holding runners close to first base when 'Barney' was behind the plate. You just threw the pitch and got out of the way. His throw to second base was head-high and right on the money."
The sophomore-to-be is currently playing summer baseball in the Great Lakes Collegiate Summer League for the Lima Locos, riding buses daily across Ohio, prepping for what he hopes to be his opening towards everyday duty next spring with the Buckeyes. That said, incumbent catcher, and captain, Jalen Washington also returns next year from the 2016 Big Ten championship team.
But Washington returns pretty much by himself, with each of the other seven position players from this spring's Big Ten champions having either signed professional contracts, or graduated. Recruited originally as a middle infielder, there's speculation as to whether Washington will be given the opportunity to move back to the infield to replace either Craig Nennig at shortstop or Troy Kuhn at second base.
That would leave Barnwell with his own opportunity.  And the fact that he hasn't been home to Catlettsburg since February (a little homesickness?) doesn't diminish his enthusiasm to make the most of his summer of dress rehearsal to impress coach Greg Beals in fall practice come September.
In limited playing time for OSU last spring he started five games, had 23 plate appearances, and hit .130 with a pair of doubles. But his time was meaningful, going 2 for 3 in a mid-week start in May against nationally-ranked UAB. And he caught all nine innings of a con-conference shutout later in the month against Eastern Michigan.
"I was pretty satisfied with my year because it was pretty much what I thought it would be," he said after a recent Locos game. "I knew I was going to have to compete with older players for time, and things got better for me towards the end of the year. I started to figure things out from observing the older guys.
"The trip to Omaha and the Big Ten tournament was one of the greatest experiences of my life, winning the championship game against Iowa. Some of the upperclassmen told me how lucky I was to have that experience, to get it out of the way in my freshman year. It was a great time to be one of the guys, but I'd like to win more than one."
He's working diligently towards that hoped-for eventuality, splitting everyday catching chores in Lima this summer with DayFran Ortiz, from University of Northwestern Ohio.  And he's making the most of it. In 13 games and 33 official at bats he hitting a team-leading .364 for four doubles and 11 RBIs. Defensively he's made but one error in those 13 games and has thrown out five of eight trying to steal.
It bodes the question: What has he been told at Ohio State about his prospects, and their expectations, come next spring…regarding the second most important position on the field?
"We (Beals and Barnwell) talked about the season and about next year," he shares. "They told me they want me to compete to be the guy behind the plate next year, which means I have to go out there and earn it every day.
"I mean, they have a vision about what might happen next year, and there was some talk about Jalen spending some time in the infield, but I really don't know their plans.  I just know they want me to compete for the job."
The criminology major completed his freshman year with a solid GPA and a fresh perspective on the future, despite a schedule since February that will see him play 120 baseball games by summer's end.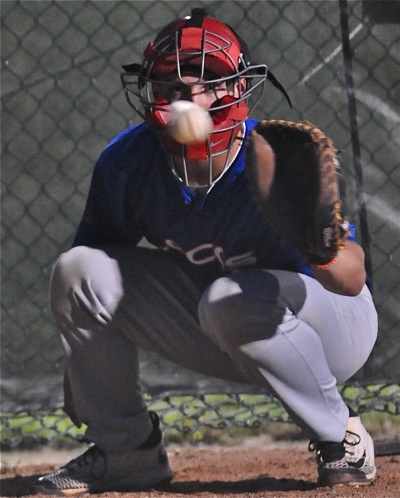 "It's been good here for me," he says, speaking of his summer in Lima. "The pitching in the league, overall, is not the same velocity as you see in the Big Ten, but they hit their spots and get guys out. I've figured some things out lately and I feel really comfortable at the plate.
"It's a grind after that many games, but it's nice to be out here every day and having the extra catcher makes it easier. I like baseball so much it would be hard to complain about it, so I'm just focused on getting better. If you would have told me this was going to happen to me when I was a sophomore in high school it would have been hard to believe. Ohio State, the coaches, and the way things have turned out have been great."
He concedes, with the loss of Nick Sergakis, Ronnie Dawson, Troy Montgomery, Jacob Bosiokovic, Troy Kuhn and Craig Nennig, the challenge to replace them next year through recruiting will be severe. The hope has to be…that others in positions like him are making the most of their own tune-up time.
"We lost a lot," he admits. "We're going to be young but I think we have the guys to come back and compete again."
With that, he thanked us for thinking of him, and for considering those same things he thinks about daily as he boards the bus for the next four-hour ride.  Home and Catlettsburg, for now, will have to wait.
Dress rehearsal continues for Jacob Barnwell.