52 years after the last championship in Cleveland, my colleague Dale Meggas missed something he would have dearly loved – and not just for the sake of a title.
I could not help but think of the late Dale Meggas Sunday night  as the Golden State Warriors' frantic last-second shot clanked off the rim, sealing the Cleveland Cavaliers' first NBA title.
No wait. The first title of any major sport in Cleveland since the Browns won on December 27, 1964. He should have been there to see it…but he wasn't. Dale died unexpectedly from a massive heart attack a year before it happened. The ultimate cheat!
And if you remember Dale, my college roommate, friend, and charter columnist for this website, he loved to writhe in the misfortunes of the typical Cleveland sports fan…because he was Cleveland's ultimate sports historian. He could tell you chapter and verse of that Browns win in '64, right down to how they did it and how it might not have happened if fate had not been so kind. How his dad scored two last-second tickets on the 40 outside the stadium just before kickoff.  That kind of thing.
He could go line by line on every Cleveland sports relationship ever gone bad – Rocky Colavito, Ernest Byner, Joe Charboneau, Paul Brown, and of course, Art Modell!
He was the ultimate cynic. In fact, I owe all of my cynicism to this day for the four years I spent banging around dorm rooms, locker rooms, and bar stools with him on campus at Ohio State. Show Dale a win and he'd always show you the top five reasons it almost didn't happen.  For years he wrote a column for the Cleveland paper entitled, appropriately enough…"20/20 Hindsight".
I watched as Draymond Green drilled LeBron going for that dunk with a minute left, knocking him to the floor. Remember how LeBron writhed in pain, holding his wrist, and how the entire bench and training staff came to his aid from the other end?
Then remember how he miraculously shook it off, as if that was enough theatre for the networks, and hit one of two foul shots?
Dale would have said, "He flopped to take momentum out of the game for Golden State. He made them stand around. Smart basketball. They couldn't run and shoot. He gave the defense time to rest and regroup."
Five Meggasisms that no one in Cleveland…except Dale…would have had the presence of mind to concoct.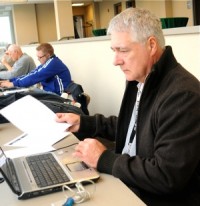 But don't let cynicism fool you. In the forty years of our friendship I never knew anyone more proud to be from Cleveland. Sure, he could find a myriad of ways to tell you why the Browns, Indians, Cavaliers and even high school sports were stacked against the rooting interests of average Joe fans.  But at the end of the day Meggas was always first to cling to the legacies that made his community unique.
He knew no strangers. In fact, when he took he me to my first Cavaliers game back in the early 70s they were playing in the old downtown arena. The Cincinnati Royals were in town that night, coached by legendary Bob Cousy. Two hours before the game there was Cousy sitting on the sidelines, dressed in a Royals warmup, smoking a cigarette. Undaunted, Meggas strides up to him and starts a conversation about a cousin or some other relative that knew him from his days at Holy Cross. And damned if Cousy didn't break into a smile and say that he remembered. Dale could find his way into a dialogue with just about anyone.
Once at the old Municipal Stadium, we ran into Herb Score and Joe Tait in the parking lot two hours before the game. Meggas sticks out his hand and before you know it we're sitting in the broadcast booth with Score as he prepared his day's scorecard, reminiscing with Dale about the '54 Indians that lost to the New York Giants in the World Series.
In our freshman year at Ohio State he climbed one of the north towers in "C" deck of Ohio Stadium to retrieve the ABC Sports banner after the Michigan game. That banner graced the walls of his dorm and apartment for the next four years, and I'm sure now still resides in the family home on Mars Avenue, in Lakewood.
Like many Clevelanders, he was totally turned off when LeBron left for Miami to join forces with Dwyane Wade and Chris Bosh. Just another curse on the town that gave him (James) his start, in Dale's words. Join the list: "the drive", "the fumble", and the "blown save" that cost the Indians the 1997 World Series against the Marlins.  "We're the city of almost,"  he once shared.
And of course I'm sure he had his take on LeBron's return. One more heartbreak waiting to happen, he probably said.
But I knew him well. And this remembrance is for all his friends and his family as they discover it on social media.  How when the clock wound to zero last Sunday night I'm pretty sure that for once in his life Dale Meggas would have had nothing to say. He would have just shook his head while he desperately worked at putting together his monologue…his "soapbox".  You know, finally some justice – one for the average fan.
The flop. Smart basketball. It kept Golden State out of its offense. Killed momentum. Gave the Cavs time to rest and regroup on defense. 'Bout time Kyrie Irving played to his potential.  And still another month before you can confidently put away your warm sweater for a Cleveland summer.
I can hear him, even though I couldn't hear him.
Sadly, we both missed out!