Long removed from the namesake of the activity they love, a new generation of players took advantage of Versailles' native Craig Stammen's weekend tournament to hone their skills and have fun playing baseball.
Versailles – Brady Ouhl and "Rocco" Knapke never heard of Gil Hodges, Pee Wee Reese, Duke Snider and Carl Erskine, all principal figures in Roger Kahn's 1972 classic book on the Brooklyn Dodgers of the 1950s, The Boys Of Summer.
Nor do they care. Like Reese, the "Duke", Erskine and their devoted fans from "Flatbush", Ouhl, from Piqua, and Knapke, from Versailles, and about 600 other boys just wanted to have fun playing baseball this weekend as they descended upon Versailles, Ohio.
To the old Dodgers it was their job. To a different generation of boys from a different summer, it's just something they like to do.
"If I wasn't playing baseball I'd probably be home swimming," said Ouhl, a sixth grader from Piqua. "I love playing baseball. It's one of my favorite sports."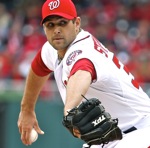 Enter Versailles baseball son Craig Stammen, several generations removed from Kahn's boys of summer, but well-known to the current generation who recognize him as a major league pitcher.  He, like them,  grew up with a dream to play as much as you can, for as long as you can, and who knows where it might lead you.
Currently pitching in the Cleveland organization, Stammen is on rehab assignment in Goodyear, Arizona. He called me on Thursday morning.
"Hey, I thought you might be interested in the youth baseball tournament this weekend in Versailles" he said. "Lot of kids, lot of people in involved. It's a good thing."
A good thing that bears his name, in fact, as Stammen has faithfully supported youth baseball in the area through this tournament for the past eleven seasons, ironically about the same number of years he's drawn a check as a professional.
"There's about 40 teams and somewhere between 600 and 650 boys here," said tourney volunteer Bernie Knapke. "Ironically, Craig and Cory Luebke (the other area major league pitcher from Maria Stein, currently with the Pittsburgh Pirates), played against each other in this event years ago.
And well, you really don't know where it can lead, do you?
Two teams of twelve-year-olds from Versailles and Piqua squared off Saturday morning in the opening game of the day on the neatly manicured diamond in North Star (outside Versailles) that bears Stammen's name, appropriately set between fields of growing corn…for some country flavor.
Strikes were thrown.
Base hits were lined to the reaches of the outfield.
Plays were made, exhibiting not only instinct for baseball, but as Brady Ouhl exclaimed, proof that baseball is indeed a frequent and favorite activity for those who played.
Versailles got the better of the kids from Piqua in this game, but Ouhl already had his sights set on their next game after exchanging recognition in the post-game handshake line with the Piqua players.
"I really like this tournament," he offered, well-spoken for his age. "I didn't get any hits this morning but I pitched three innings and only gave up one run. I hope we win the next game."
Twelve-year-olds are hard to impress, but where baseball's concerned Ouhl was soaking it in like a sponge.
"This is a great field,"  he said, approvingly.  "And there's plenty of shade if you get too hot."
Hodges, Reese and the original boys of summer would have been too much to expect, but Ouhl knew almost everything about tournament namesake, Craig Stammen?
"Oh yeah," he assured. "I know he's a pitcher in the major leagues and I think he plays for the Washington Nationals. I've watched him pitch before."
Brought up to date with the news of Stammen's new affiliation, he shrugged and continued. "I know he used to be in my mom's class. She was his teacher here in Versailles."
You really don't ever know, do you?
As the kids from Piqua and Versailles filed out, more kids from Russia and St. Henry filed in, spilling out on the field to loosen up their arms, play "burn out", "short hop" and the familiar games I remember from my own days in Little League.  I was reminded of what Stammen had said to me back in January.
"This community and baseball have given me so much over the years.  This is my chance to help give back.  Much is expected of those who have been given so much,"  he shared during his annual fund-raiser for area baseball at the local K of C hall.
He means it. More than occupied with his own baseball career and the rehabilitation of an arm injury that's kept him sidelined since early in the 2015 season, he nonetheless spent the necessary time on the phone from Arizona this week making sure that all the bases were covered back home for the 600 or so boys that had no such worries – they just wanted to play baseball.
"We hope to raise about $8,000," said Bernie Knapke as he hurried to is truck and off to another field to see yet another baseball game. "It all goes to support of youth baseball in our community."
Business at the concession stand was brisk, as those coming prepared to fortify, while those leaving caught something to eat on the road as they headed to their cars and the next game on one of the half dozen area fields in and around Versailles.
Public address announcer Steve Ruhenkamp, a local optometrist, reminded everyone as they entered, or left, "It's always a good day for baseball in North Star."
He was talking about, of course…different boys of a different summer!